EMERGE ARTISTS SHOWCASE ONE YEAR ANNIVERSARY

Thursday, November 21, 2013 from 7:00 PM to 11:30 PM (EST)
Event Details
EMERGE ARTISTS SHOWCASE ONE YEAR ANNIVERSARY
Mark your calendars for Thursday, November 21 inside Revival Bar. We will be featuring some new artists, and giving you a recap of what this year was all about. We are also hosting a POP UP Kitchen featuring chefs Anthony Mair and Torrie Wilson so come hungry and leave soulfully full.  We have had an incredible year showcasing many of the top upcoming talent in every genre of music and the momentum has gained tremendous response from the community with EMERGE hosting the Redpath Waterfront Festival for 4 days and TIFF for 7 days and Nathan Phillips Square this sumer in addition to the many monthly showcases and open mic events we have produced.  We look forward to continuing our effort to promote Canadian talent and thank you all for your support. 
Cindy Wilson, Ron Allen - EMERGE Artists Showcase Organizers
The EMERGE Artists Showcase is an eclectic collection of artists in genres from jazz r&b, country, folk, rock and soul.Performances will be accompanied a selection of Toronto's best live musicians.
Come meet some of tomorrows brightest prospects as you get a night filled with great music, soul stirring composers, and wonderful people.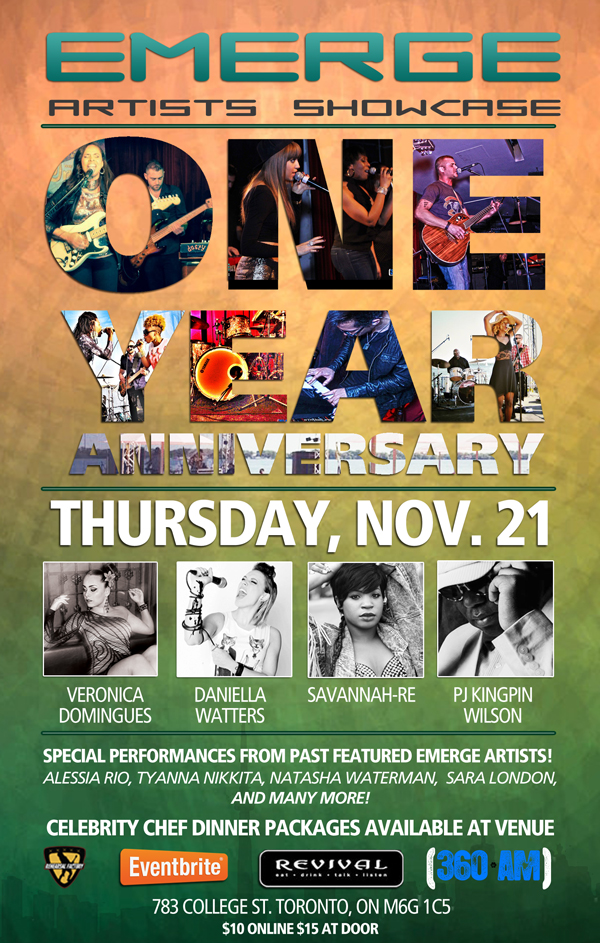 ---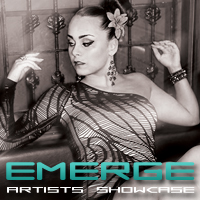 Veronica Domingues
Growing up in the west side of Toronto, Portuguese-Canadian artist Veronica Domingues always had a passion for music. At the age of 4 she was already singing to her family, but as she grew older, so too would her interest in music. While attending high school she was a member of the choir for 3 years. She performed in shows at her school, but really wanted to accomplish more than what she was already doing.
In 2010, Veronica Domingues was discovered by Jay L.A. Management and began her journey into becoming the soulful songstress she is today. During the year of 2011 Veronica decided it was time to start working on her own independent project. She decided to team up with producer Junia-T and Director/Filmmaker Customatic. "Just Chill", was released on May 10th, 2013.
After releasing the video for her second track "Keep On" featuring Bubba, Veronica received local as well as international recognition on SingersRoom, a prominent American website. While the applause keeps coming in for "Just Chill", Veronica has already set out to work on her next project (title and date TBA) and is looking forward to an exciting and busy 2013. "Just Chill" is now available on iTunes and Bandcamp.
Visit Veronica Domingues Website Here: http://www.veronicadomingues.com/
---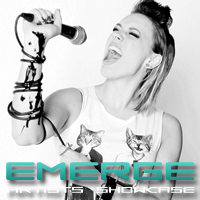 Daniella Watters
Music is Daniella's soul satisfier, soul sister, and her husband. Although she is married to music, the relationship is not monogamous. Daniella does not limit herself to one genre or one band! She sings Rnb, Blues, Jazz, Pop, Rock, Soul, and Funk, and plays her own original music and covers. Daniella writes original music, collaborates with artists and producers, does studio work for other writers, and gives vocal lessons. Her current goals are to collaborate with talented musicians, write music for herself as well as other emerging artists, and get music placements in radio/tv/film! Daniella released her self titled EP this summer and is currently working on her second EP. Daniella's marriage to the arts extends beyond just music with her love for musical theatre, creativity, advertising, and marketing. 
Daniella has an extensive background in music, musical theatre, and dance. She recorded her first song at age 11, was a member of a pop group by age 12, and came into the wild as a member of "Untamed", a girl pop band, alongside Alithea Watters and Kim Moffit by age 14. Untamed's official single, "You're Not Gonna Score," was played on heavy rotation on Kiss '92. Untamed released "You're Not Gonna Score" on MuchMusic and the video for "Nothing In This World" played on 36 stations across Canada. Untamed released their debut album "Go All Out" in 2002 and performed countless shows across Canada and the U.S.
Visit Daniella Watters Website Here: http://www.daniellawatters.com/
---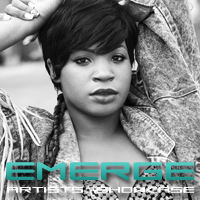 Savannah-Re
Having just burst onto the Toronto music scene in 2011, with her soulful sound and edgy penmanship, Savannah Re is already leaving her mark. This Canadian power house has been learning and growing, she continues to push to new heights. Singing an infusion of R&B, Savannah Re brings a new flare to the old classic.The single "Paranormal", already in heavy radio rotation (G987FM,105.5).
Vist Savannah-Re Website Here: http://savannahremusic.bandcamp.com/
---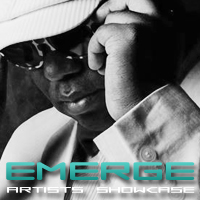 PJ "Kingpin" Wilson
If you're looking for old-time soul, PJ Kingpin Wilson is your man. Born and raised in the city of Barrie, PJ fell in love with the old sounds of Motown as a young boy. "My parents always played Smokey Robinson and Marvin Gaye in the house. It's an era I revisit all the time when it comes to my music." Inspired by his own father singing at church, PJ enrolled in vocal lessons and began his quest for music.
In high school, he experimented with different sounds. Working with local rap groups, to school choirs and bands, PJ was determined to have his silky smooth voice heard. In 2011, a chance meeting with Juno award-winning producer Chris Perry, led to a series of recording sessions that brought to life his first three-track E.P. entitled "Preface". The year after, PJ would continue to write and record but mostly spent the time developing his songwriting skills. "When I write, it's usually about love and relationships. I'm a very positive spirit and it's important that I illustrate that in my songs and in the way that I perform." Always striving for more, he would drive into Toronto every week to perform in the open-mic circuit in order to fine-tune his sound.
"Ultimately, I want my music to make audiences feel inner happiness. When they hear it, they are inspired to feel something and they know they are not alone in their situation. I want to be relatable as an artist." Embarking on an infectious musical journey where a revived sound of Motown and R&B will come alive, PJ Wilson is all smiles as he continues to draw in audiences with his soulful, never-ending, timeless tunes.
Visit PJ "Kingpin" Wilson website Here: http://www.pjwilson.com
---
EMERGE ARTISTS SHOWCASE FACEBOOK: www.facebook.com/emergeartistshowcase
EMERGE ARTISTS SHOWCASE TWITTER: www.twitter.com/emergeartists
Date: Thursday, November 21
Venue: Revival Bar - 783 COLLEGE ST. TORONTO, ON M6G 1C5
Showtime: 8PM Sharp
Tickets: $10 online via Eventbrite  $15 at the door
***Celebrity Dinner Packages Available at the Venue
---
Have questions about EMERGE ARTISTS SHOWCASE ONE YEAR ANNIVERSARY?
Contact 360AM
When & Where

Revival Bar
783 College Street
Toronto, ON M6G
Canada

Thursday, November 21, 2013 from 7:00 PM to 11:30 PM (EST)
Add to my calendar
Organizer

Artist Marketing and Management Firm focusing on merging talent, technology and branding within the entertainment industry
360AM Is and Artist Marketing and Management Firm focusing on merging talent, technology and branding within the entertainment industry.

We provide essential and unique services to Artists, Entertainment companies and Corporate Brands to achieve maximum results for each entity.

Our services include:

Artist Management/Consultation
Music Production
Music Placemet/Licencing
Marketing
Web and Mobile Application Development
Digital and Social Media Strategy
Event Management
Product Placement/Branding
Grant/Proposal Writing
Contact: 360am@live.com
Twitter@360amlive