Location
Fields Institute
Toronto, ON M5T 3J1
Canada
Description
Nature teems with self-organized forms that seem to spring spontaneously from the smooth background of things, by mechanisms that are not always apparent. Think of rippled sand on a beach or regular stripes in the clouds. Plants, insects and animals exhibit spirals and spots and stripes in an exuberant riot of colours. Fluid flows in amazingly regular swirls and eddies. The emergence of form is ubiquitous, and presents a challenge and an inspiration to both artists and scientists. In mathematics, patterns appear as solutions of the nonlinear partial differential equations in the continuum limit of classical physics, chemistry and biology. In the arts and humanities, "emergent form" addresses the entangled ways in which humans, plants animals, microorganisms inevitably co-exist in the universe; the way that human intervention and natural transformation can generate new landscapes and new forms of life.
With Emergent Form, we want to question the idea of a fixed world.
For us, Emergent Form is not just a series of natural and human phenomena too complicated to understand, measure or predict, but also a concept to help us identify ways in which we can come to term with, and embrace their complexity as a source of inspiration.
Join us for a discussion with artists, scientists and theorists on Apr 10, 2018
our guests:
Pier Luigi Capucci, Accademia di Belle Arti Urbino. Founder and director, Noemalab
Charles Sowers, Independent artist and exhibit designer, the Exploratorium
Stephen Morris, Professor of of Physics University of Toronto
Ron Wild, smART Maps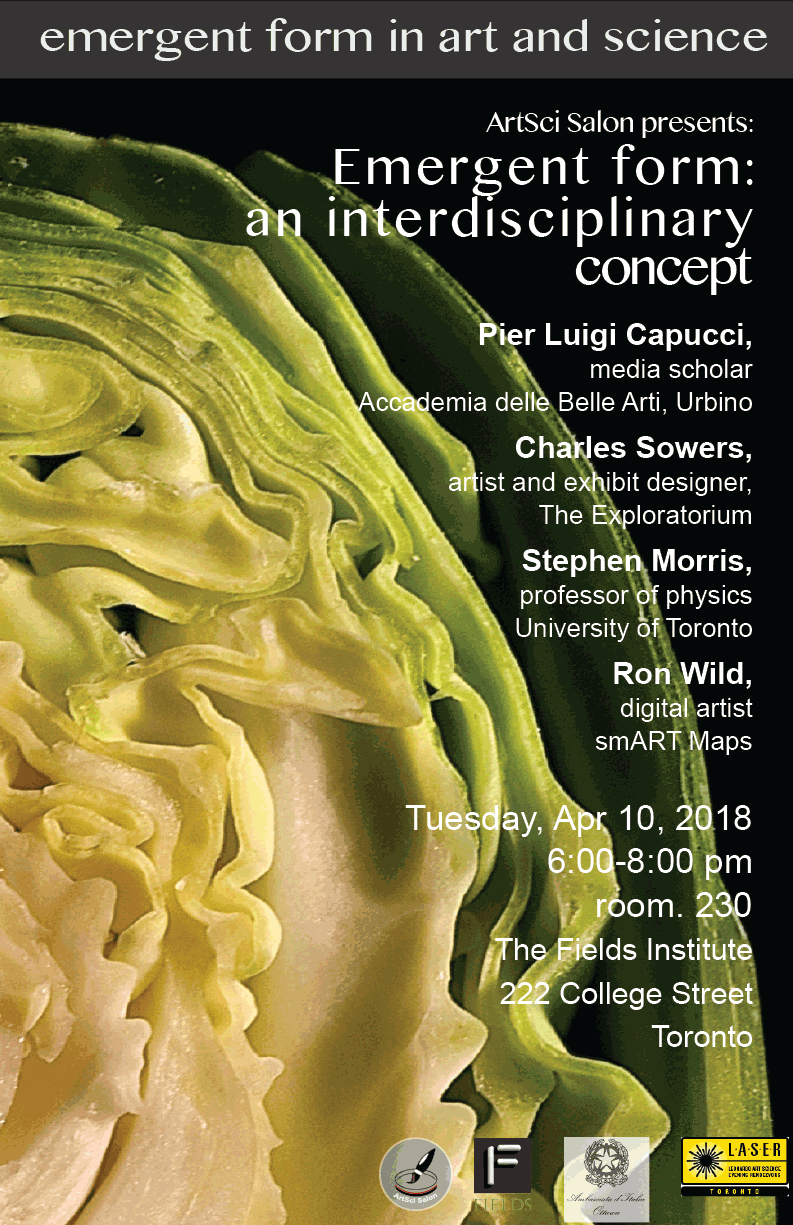 Pier Luigi Capucci
Pier Luigi Capucci is a scholar, an educator and a cultural manager in the media studies, the arts, and the relations among sciences, technologies and culture. He has been a teacher in the universities of Rome "La Sapienza", Bologna, Florence, Urbino, Lugano, and at the fine arts academies of Carrara and NABA-Milan. Since 2008 he has been a Supervisor at the T-Node Ph.D. Research Program of the Planetary Collegium, University of Plymouth, of which since 2013 he is the Director of Studies. Currently he is a teacher at the Fine Arts Academy of Urbino and at the University of Udine (Dept. of Mathematics, Computer, Multimedia and Physics Sciences). He extensively and internationally published texts, essays and papers in books, magazines and proceedings, organized exhibitions and symposia, managed projects and participated to conferences worldwide. In 1994 he founded and directed the first Italian online journal, NetMagazine/MagNet, on the relations between arts and technologies. In 2000 he started Noema, a series of projects and an online magazine about culture-sciences-technologies interrelations and influences.
Stephen Morris
Stephen Morris is the J. Tuzo Wilson professor of Geophysics in the Department of Physics at the University of Toronto. His experimental research projects have included icicle morphology, the cracking of mud and rock, and the washboarding of gravel roads. Recently, he has assembled the largest collection if icicle images ever made. He is an award winning university teacher and a fellow of the American Physical Society. He sometimes presents his scientific photographs as art. He is the Scientific Director of the ArtSci Salon.
Charles Sowers
Charles Sowers is an artist and exhibition designer based in San Francisco. He was exhibition director at the Willamette Science and Technology Center (WISTEC), Eugene, OR, and has been working as exhibition developer at the Exploratorium since 1998. The creator of numerous public arts commissions, Sowers' work presents actual physical phenomena - often of striking visual beauty – that draw people into a careful noticing and interaction. His installations seek to provoke a sense of delight and wonder and reward extended observation. Sometimes this involves developing an apparatus to recreate and highlight some natural phenomenon observed in the world – the swirl of fog blowing over a hill, the formation of ice on a puddle, or flow of water and foam on the beach as a wave drains away. These things can fascinate yet often go un-noticed until pointed out.
Ron Wild
Ron Wild is a western-Canadian Digital Artist currently working in downtown Toronto. Wild is known for his extreme mapping montage technique, which he uses to explore the divide between art and science and the interdisciplinary nature of human and natural phenomena. He is an emerging explorer at the art and science frontier, who bridges the divide between the two. His Maps has been exhibited in Toronto and New York City. Recently, Wild has developed an interest in geometry and is currently studying Buckminster Fuller's architecture and Leonardo Da Vinci's modular bridges that could quickly and easily be assembled or disassembled, creating sculptures with fascinating mathematical structures. His recent exhibition, smARTcities is on display until July 6 at the Atrium Gallery in the Vaughan City Hall.