Description
Data breaches and targeted hacks seem to make international headlines daily, with no sign of slowing down. From British Airways and MyFitnessPal to the infamous Cambridge Analytica-Facebook scandal, it seems that it's only a matter of time until your organization's data is compromised. With GDPR (General Data Protection Regulation) now in effect and the recent news of a massive €50 million fine against Google for failure to comply, data privacy has become a top concern for organizations of any size and industry.

This networking forum will discuss emerging risks in data privacy and information security, featuring a panel of experts to discuss how privacy risk impacts today's organizations, how to mitigate the risk and strategies to minimize the damage when a breach does occur.
Why attend?
You'll have an opportunity to network with your peers and learn from experts in risk, compliance and InfoSec. Oh, and we'll be serving beer, wine and snacks too!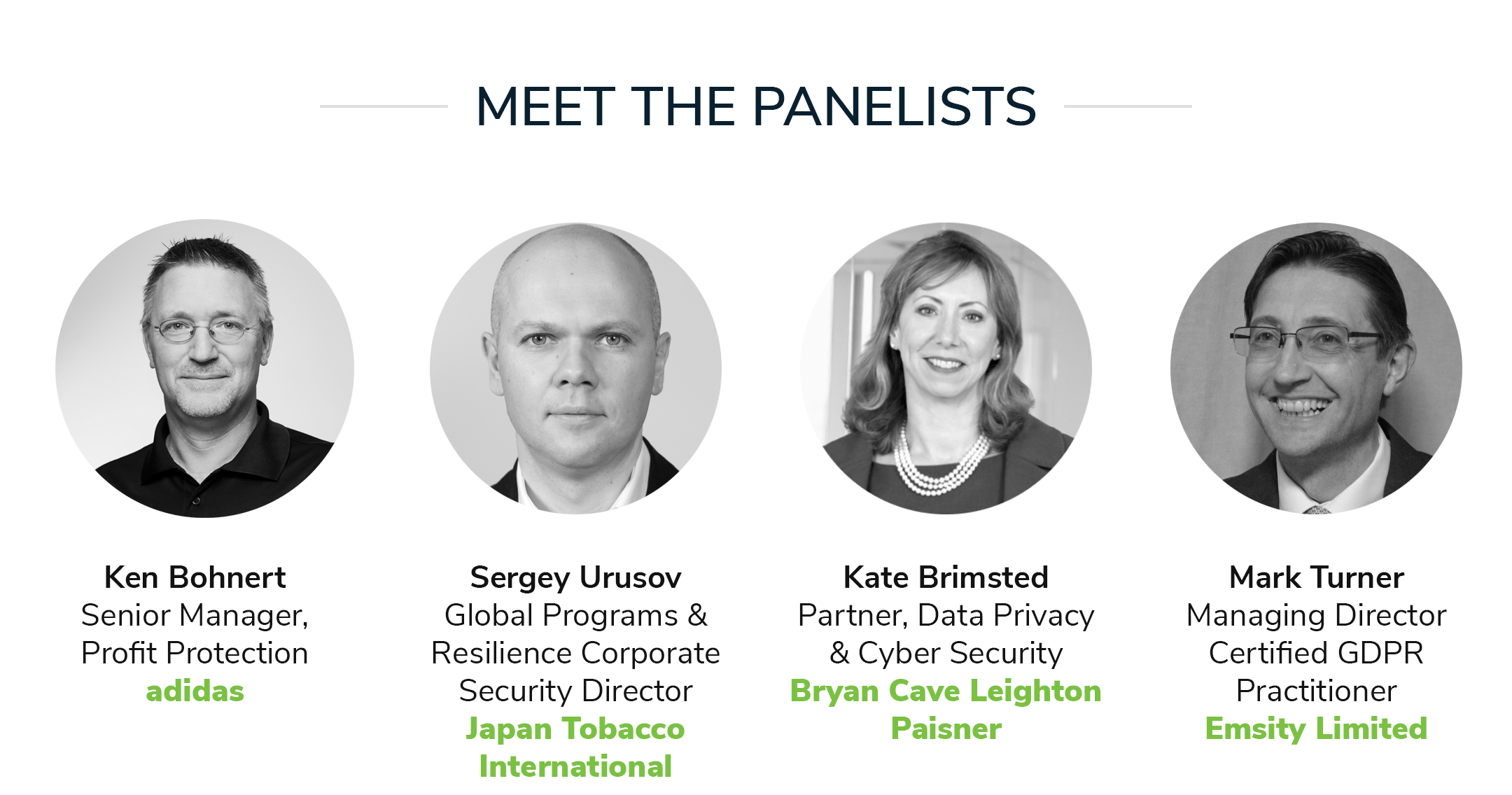 Ken Bohnert, Senior Manager, Profit Protection, adidas
Ken is adidas Group's Senior Manager of Global Profit Protection, responsible for delivering investigations solutions to the adidas Global Profit Protection Team, including projects like Data Mining, Case Management, In-Store Assessment Tool, Investigation Training, and E-Com monitoring. Ken is a member of several Professional Security Groups, including ASIS, ASW, Chairman for the German Retail Security Network, and Co-Chairperson for the Oracle XBRi Exception Based Reporting Special Interest Group.
Sergey Urusov, Global Programs & Resilience Corporate Security Director, Japan Tobacco International
Sergey started his career in 1998 in the Federal Security Bureau (FSB) of Russia, serving in various roles of increasing responsibility over state secrets and information resources protection, analytics and investigations. In 2002 he transferred to the private sector and joined a number of multinational companies of oil, pharmaceutical and FMCG industries, including Total, Shell, British American Tobacco, Novartis and Japan Tobacco International.
At present he leads a central security team that manages global corporate security (CS) programs, including travel security, intelligence, risk and crisis management; maintains CS software platform; and acts as a back office for regional country and local CS members.
Kate Brimsted, Partner, Data Privacy & Cyber Security, Bryan Cave Leighton Paisner
Kate advises clients on all aspects of law associated with "data". This ranges from "personal data" (about identifiable people) and the impact of the EU General Data Protection Regulation in force in 2018, to industrial data, trade secrets and confidentiality. Cyber security law is a growing part of her practice.
Over some 20 years in the city, Kate has built a reputation as a "go to" person for strategic and pragmatic data privacy advice on complex projects and issues. She enjoys grappling with the subtleties of data protection and security; her aim, though, is to focus on the issues which really matter for her clients and to work collaboratively with them to arrive at clear and practical solutions.
Mark Turner, Managing Director, Certified GDPR Practicioner, Emsity Limited
Over the course of a thirty year career, Mark has held a variety of roles within the defence and aerospace sector including Royal Naval weapons engineer, R&D Project Manager, Head of Internal Audit, and Vice President of Risk Management. Mark is now the Managing Director of Emsity Ltd, a risk management software consultancy.
As the Chairman of the Institute of Risk Management Innovation Special Interest Group, Mark has recently organised a symposium on the impact of Artificial Intelligence on the risk management profession and published a practitioner guide to horizon scanning.
Amongst his many areas of interest, Mark is particularly interested in the Artificial Intelligence arms race currently raging between cyber security and cyber criminals, and how this war is rapidly making the majority of an organisation's conventional security measures obsolete.