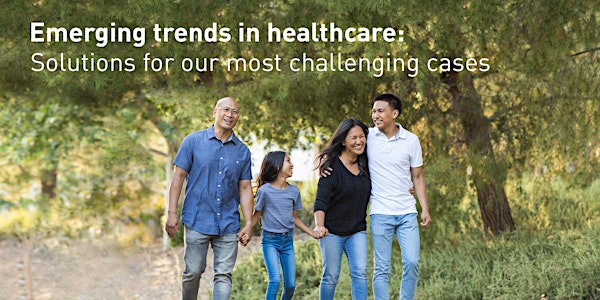 Emerging trends in healthcare: Solutions for our most challenging cases
A complimentary virtual conference on emerging trends in healthcare and addressing the most challenging cases in today's workforce.
About this event
Date: November 15th, 2022
Time: 9:00 am –12:00 pm (PST) | 10:00 am –1:00 pm (MST) | 12:00 pm –3:00 pm (EST) | 1:00 pm – 4:00 pm (AST) | 1:30 pm – 4:30 pm (NL)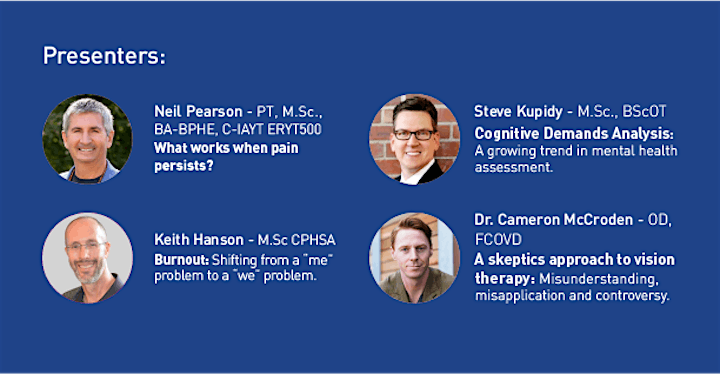 AGENDA:
Note: All times below are EST!
12:00 p.m.
Welcome and Introductory Remarks - Fahreen Rayani / Sylvie Bourgeois / Rene Huellstrung
12:10 - 12:50 p.m.
Session 1: Neil Pearson - PT, M.Sc., BA-BPHE, C-IAYT ERTY500
What works when pain persists?
Pain is always multifaceted, emerging from the interplay of various biopsychosocial factors. Evidence shows that the words we use, the way that we educate, and the expectations we impose on people with persisting pain can all impact outcomes. This session reviews pain science, and provides rationale for using language and technology that supports realistic outcomes, including our ability to influence pain, recover greater ease of movement and return to function.
12:50 - 1:30 p.m.
Session 2: Keith Hanson - M.Sc CPHSA
Burnout: Shifting from a "me" problem to a "we" problem.
Employee burnout is one of the top organizational risk factors that funders face today. This session will review the scope of the problem, key system drivers, and how to shift our thinking, along with practical strategies to address burnout.
1:30 p.m.
Break
1:35 - 2:15 p.m.
Session 3: Steve Kupidy - M.Sc., BScOT
Cognitive Demands Analysis: A growing trend in mental health assessment.
Cognitive Demands Analysis (CDA) is a proactive tool to assist with mental health assessments, and has become increasingly requested by funders. This session will provide an overview highlighting the utility of CDA's, considerations in making a cost benefit analysis surrounding the use of CDA's, and scenarios where CDA's are not indicated.
2:15 - 2:55 p.m.
Session 4: Dr. Cameron McCroden - OD, FCOVD
This session will help you understand how to navigate this controversial area of rehabilitation, including when vision therapy is indicated and when it is not.
2:55 p.m.
Concluding Remarks and Thanks - Rene Huellstrung
3:15 p.m.
Sign off
Who should attend?
Case managers, adjusters, healthcare professionals, disability management professionals, human resources and health and safety professionals.
For more information, contact Rene Huellstrung at rene.huellstrung@lifemark.ca