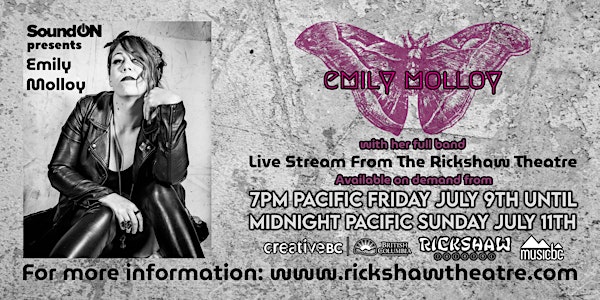 Emily Molloy Live Stream from The Rickshaw Theatre
SoundOn Presents Emily Molloy Virtual Concert Live from the Rickshaw Theatre
About this event
SoundON Presents Emily Molloy Live Stream from The Rickshaw Theatre
Watch Demand from 7PM Friday July 2nd to Sunday Midnight July 4th
By Donation
Emily Molloy
Emily Molloy is one part soul, one part blues and a gallon of rock and roll. Her voice would be at home in the smokey basements of a Chicago cabaret or down the graffiti and rain soaked back alleys of Seattle. Emily has performed at Canadian Music Week, Rockin' River Fest and Pemberton Music Festival. She was also named the winner of the 2015 Whistler Music Search.
Emily has become a staple of the Vancouver music scene, with an all-star cast of some of Canada's best musicians behind her. As her career grows, the need for an introduction dissipates.
Partners
This event is presented with support from SoundON, Creative BC, and the Province of British Columbia.
Music Heals
SoundON has partnered with Music Heals on an ongoing resiliency fund, should you wish to donate and support Music Heals you can do so here: DONATE TO MUSIC HEALS
Emily Molloy Online
Refund Policy
No refunds - unless event is cancelled.