Decentralization and creativity: Ankhtyfy, Sirenput, and Sattjeni. The First Intermediate Period.. Gayle Gibson's talk 3 part 1.
About this event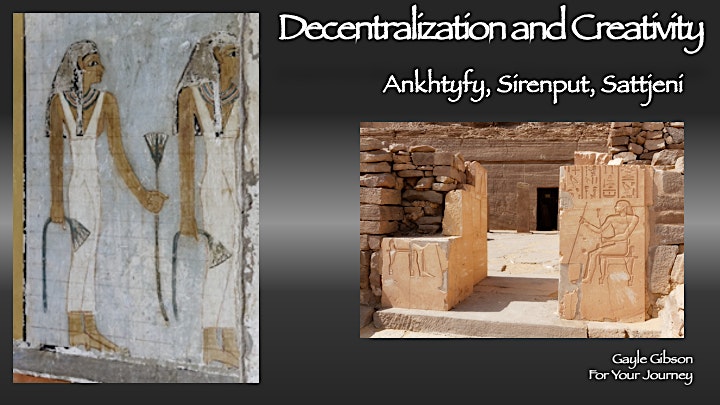 Eminent Egyptians: Living in Interesting Times
The Ancient Egyptians did not want to be forgotten. In the tombs of the rich and powerful, and even of minor bureaucrats, the names and titles of the deceased were written over and over. Statues and reliefs show their status and beauty. In some cases, we have documents that describe the activities and hopes of long-dead Egyptians. In this course, we will examine some of these fragments to try to learn something about the lives and characters of these ancient people whose images and works still fascinate us.
Join Gayle Gibson in this series of Eminent Egyptians, series of 8 talks split into two sets of 4. We will be recording for those in different times zones to catch up or re watch.
PART ONE
Talk #1 Building pyramids: Akhhaf, Merer and Petety May 3, 22
From Ankhhaf, the king's half-brother and vizier, to the teams of sailors and longshoreman who loaded copper and fine stone for the Great Pyramid, we will visit with the people who did the physical labour and respectfully salute those who organized the workers and made sure they were fed.
Talk #2 Explorers, Enforcers, and Distinguished Women: Harkhuf, Hekaib Weni, Nebet, and Peseshet. May 17, 22
By the Sixth Dynasty, towering pyramids were no longer being constructed, but smaller pyramids held texts concerning the nature of the gods and the afterlife. Ambitious men could work their way to the top by organizing trading expeditions to Nubia and the Sinai, fighting foreigners who opposed Egyptian expansionism, and practicing the management of princes and kings. Meanwhile back at the Residence, there were woman doctors and even a woman Vizier.
Talk #3 Decentralization and creativity: Ankhtyfy, Sirenput, and Sattjeni. May 31, 22
The First Intermediate Period, a time traditionally seen as chaotic, has been revealed a period of tremendous creative energy. As Egypt's centralized state grew weak, tough and brilliant provincial families transmitted culture while preserving law and order.
Talk #4 Something Old, Something New: Sobek-Neferu, Senebkay, and Apepi. June 14,22
Sometimes history rhymes. During the Second Intermediate Period, kings in Thebes faced a powerful Nubian enemy to the south and the sophisticated Hyksos kingdom in the Delta. Did the Thebans feel that they were fighting for their lives and culture, or were the occasional battles something that ordinary people could almost ignore? Did Climate Change bring an end to the Middle Kingdom? What do we know of the woman king, Sobek-Neferu? What of Seneb-Kay and the kings in Abydos. Seneb-Kay died in battle – against whom was he fighting? And though later Egyptians portrayed the Hyksos as godless barbarians, Canaanite rulers like Apepi seem to have been literate internationalists. Under the Hyksos, some of Egypt's most important medical treatises were copied and preserved, and in later years, Ramesses the Great would look back on them as ancestors.
This is a series of 4 talks every second Tuesday at 7pm EDT May 3, 17, 31 & June 14. You can purchase one talk for $15 or all 4 for $50. Gayle will have a continuation in the series, with a set of 4 talks in July/Aug (see separate event listing for part 2 talks) All talks will be on Zoom and will be recorded for those who can not attend the live talk.
Gayle Gibson is a respected Canadian Egyptologist and a Departmental Associate at the Royal Ontario Museum. She worked for over 20 years as a popular teacher, lecturer and Egypt specialist at the ROM, appears frequently on television as a "guest expert" and has lead many groups around Egypt! Her main area of expertise as an Egyptologist concerns mummies and their coffins. Gibson was partially responsible for identifying Pharaoh Ramesses I, (Ramesses II's grandfather!) among the forlorn mummies at the old Niagara museum, and giving him an assist on the road home to Egypt.