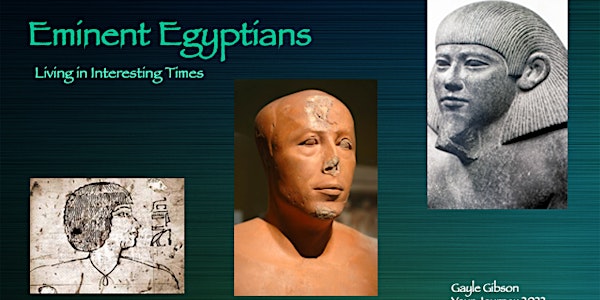 Eminent Egyptians:Part 2:Talk 8 - Patriots and Quislings: Montuemhet...
Patriots and Quislings: Montuemhet, Wadjahorresent, and Sematawy-Tefnakht. After the Persian Invasion of 525.. Gayle Gibson's part 2 talk 8
About this event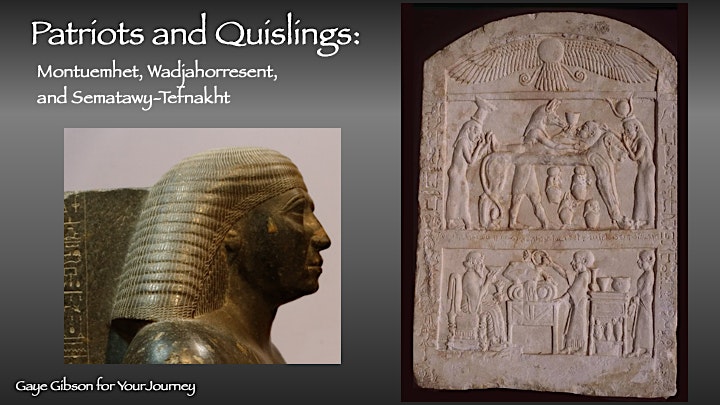 Eminent Egyptians: Living in Interesting Times Part 2
The Ancient Egyptians did not want to be forgotten. In the tombs of the rich and powerful, and even of minor bureaucrats, the names and titles of the deceased were written over and over. Statues and reliefs show their status and beauty. In some cases, we have documents that describe the activities and hopes of long-dead Egyptians. In this course, we will examine some of these fragments to try to learn something about the lives and characters of these ancient people whose images and works still fascinate us.
Join Gayle Gibson in this series of Eminent Egyptians, series of 8 talks split into two sets of 4. We will be recording for those in different times zones to catch up or re watch.
PART TWO
Talk #5 Hatshepsut's Best Friend Forever: Senenmut July 12 - 7pm
The Woman King was blest with brilliant courtiers and she was wise enough to give them the freedom to innovate. No one was more important to Her Majesty than a man from a small town whose ambition, curiosity, and talent made him one of the most famous and interesting men who ever lived in Ancient Egypt, or anywhere else.
Talk #6 Architects, Carpenters, and Bullies: The Workers in the Place of Truth. Kha, Sennedjem, Anhurkhau, Paneb - July 26 - 7pm
The Village, now known as Deir el Medina, was home to some of Egypt's greatest artists, the men who decorated the royal tombs in the Valley of the Kings. Formal and informal records survive in great numbers to tell us of their lives, and give us insights into their personalities.
Talk #7 The God's Wives and the Hands of God: Shepenwepet, Amenirdis and Nitikret Aug 9 - 7pm
While Egypt's ruling families changed from Libyans to Nubians and back to Libyans, a handful of powerful women provided religious and cultural continuity and stability. What do we know of these royal princesses who wrote their names in cartouches and performed the duties of kings in Thebes?
Talk #8. Patriots and Quislings: Montuemhet, Wadjahorresent, and Sematawy-Tefnakht. Aug 23 - 7pm
After the Persian Invasion of 525 bce, Egypt became a minor player in new world where power shifted to the Persian in the East, then North to Greece. While princes and kings died fighting, the Mayor of Thebes, an admiral, and a priest managed to preserve their own lives and fortunes, and saved thousands of their countrymen, by switching sides and making peace with Egypt's conquerors.
This is a continuation from Part 1 in the series - 4 talks (talks 5-8). Talks are every second Tuesday at 7pm EDT July 12, 26, Aug 9, 23. You can purchase one talk for $15 or all 4 for $50. This is a continuation in the series from Gayle, first set of 4 talks in May/June (see separate event listing for part 1 talks) All talks will be on Zoom and will be recorded for those who can not attend the live talk.
Gayle Gibson is a respected Canadian Egyptologist and a Departmental Associate at the Royal Ontario Museum. She worked for over 20 years as a popular teacher, lecturer and Egypt specialist at the ROM, appears frequently on television as a "guest expert" and has lead many groups around Egypt! Her main area of expertise as an Egyptologist concerns mummies and their coffins. Gibson was partially responsible for identifying Pharaoh Ramesses I, (Ramesses II's grandfather!) among the forlorn mummies at the old Niagara museum, and giving him an assist on the road home to Egypt.