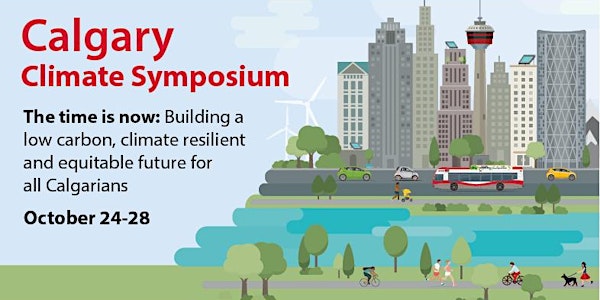 Emissions Neutral Buildings: Supporting New Net Zero Construction
Emissions Neutral Buildings: Supporting New Net Zero Construction and Accelerating Building Retrofits - Calgary Climate Symposium
About this event
Federal and local governments, corporations, and investors are committing to and supporting economy wide targets to reach net zero emissions by 2050. With buildings constituting 18% of our national carbon emissions, it is imperative that we accelerate retrofits and go deeper than ever before on carbon reductions. At the same time, Canada is also experiencing a critical housing shortage. Canada Mortgage and Housing Corporation estimates Canada needs 5.8 million new homes by 2030 to tackle the affordability challenge, and these homes need to be net-zero long before 2030 if we are to effectively address climate change. However, there are supply issues, skilled labour shortages and the cost of financing is going up. Join representatives from the Low Carbon Cities Canada network to learn about the programs and initiatives they are undertaking to help build industry capacity and accelerate deep carbon reduction retrofits in both our housing stock and the commercial building sector.
Moderator: Mike Mellross, Alberta Ecotrust
Presenters:
Sarah Buckle, Halifax Climate Investment, Innovation and Impact (HCi3) Fund
Sarah is an experienced sustainability leader with over 20 years effecting positive and transformative change through strategy and innovation. Sarah was recently appointed as the Executive Director and Chief Climate Investment Officer leading the newly established Halifax Climate Investment, Innovation and Impact (HCi3) Fund, an operating subsidiary of EfficiencyOne. In 2019, Sarah was a recipient of Canada's Clean50 award recognizing her leadership in sustainability. Sarah serves on the Board of the Halifax Partnership and is a former Board member of the Canadian Urban Transit Research Innovation Consortium (CUTRIC) and the BC Environmental Managers Association.
Bryan Purcell, The Atmospheric Fund
Bryan is the Vice President of Policy and Programs at The Atmospheric Fund (TAF), an award-winning public agency dedicated to addressing climate change in the Greater Toronto and Hamilton Area. Bryan's work focuses on accelerating decarbonization through development of innovative policies, programs, and business solutions. Bryan has been instrumental in designing and implementing a range of climate solutions, including key roles in the development of the Toronto's TransformTO Climate Plan and the Toronto Green Standards for new construction. Bryan oversees TAF's Retrofit Accelerator team, which partners with housing providers to scale-up deep energy retrofits that enhance indoor environmental quality and create green jobs.
Melina Scholefield, Metro Vancouver Zero Emissions Innovation Centre
As a civil-environmental engineer with over two decades of public and private sector experience, Melina has a long-standing dedication to community-building, sustainability, innovation, leadership development and collaboration across sectors and disciplines. In 2020, Melina was named Water Steward of the Year by the Canadian Water and Wastewater Association for her leadership and impact in the Canadian Water industry. In 2021, Melina received the YWCA Women of Distinction Award in Environmental Sustainability. Melina has graduate certificates in Values-based Leadership and Change Management from Royal Roads University and is currently pursuing her MA in Leadership specializing in Executive Leadership.
About the Calgary Climate Symposium
The Calgary Climate Symposium is an opportunity to open up the conversation about climate change – how and why to talk about it, how it affects Calgarians and what we can do about it together. Connect with community leaders, entrepreneurs, prominent climate experts and City staff for a series of unique (and free!) virtual learning opportunities at the Calgary Climate Symposium, October 24 to 28, 2022.
The Calgary Climate Symposium will explore:
how Calgary can position itself for a low carbon future and leverage economic opportunities,
how Calgary can strengthen communities to be resilient to climate change impacts and hazards, and
how to ensure no one is left behind as we plan for the future.
View the complete symposium schedule and register for other sessions at Calgary.ca/ClimateSymposium. Join the Calgary Climate Symposium conversation: #yycClimateSymposium
Microsoft Teams Live Events:
Session participants are encouraged to look at the system requirements provided by Microsoft to ensure they will be able to participate.