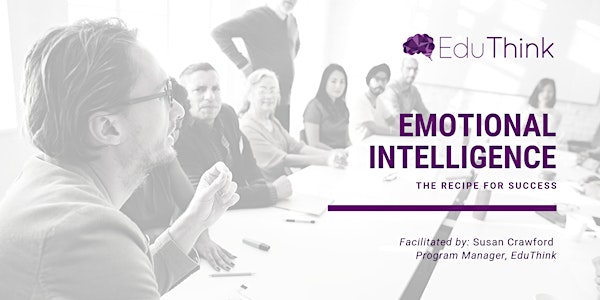 Emotional Intelligence & You: The Recipe For Success
Emotional Intelligence (EQ) is the "secret sauce" to success in the workplace.
When and where
Location
Grand Innovations 96 Grand Avenue South Cambridge, ON N1S 2L9 Canada
Refund Policy
Contact the organizer to request a refund.
Eventbrite's fee is nonrefundable.
About this event
Overview:
Studies show that 90% of top performers have high Emotional Intelligence (EQ). Now more than ever, employees, managers and executives are called forth to demonstrate and cultivate the competencies of EQ, including self-awareness and expression, interpersonal relationships, problem-solving and decision making.
The Workshop:
Our interactive workshop provides participants with the tools required to understand the importance of Self-Awareness and Self-Management. The workshop includes an interactive discovery of skills and behaviours using discussion groups, exercises, personal development planning and coaching. Participants will develop interpersonal skills including conflict resolution, communication, mindfulness and stress management.
Through this full day workshop, learners of all ages can improve their communication and interpersonal skills by incorporating Self-Awareness and Self-Management tactics into their daily lives. This skill development will permit them to better interpret and respond to others.
This workshop will assist individuals to uncover and leverage their strengths and understand how the dynamics of interpersonal relationships and collaboration are keys to personal and professional success.
Duration:
Full Day Workshop with lunch, snacks and networking opportunities.
Outcomes:
Participants will
Gain an understanding of how Emotional Intelligence works and why it can be a valuable asset in your personal and professional lives.
Feel empowered to recognize and understand their own emotions and apply this awareness to manage behaviours and make effective decisions.
Open up new ways of seeing, understanding and relating to themselves and others so that they can communicate with ease, lead with integrity and work with impact, starting from the inside out.
Create an action plan to help to further develop an area of their EQ.
Facilitated by Susan Crawford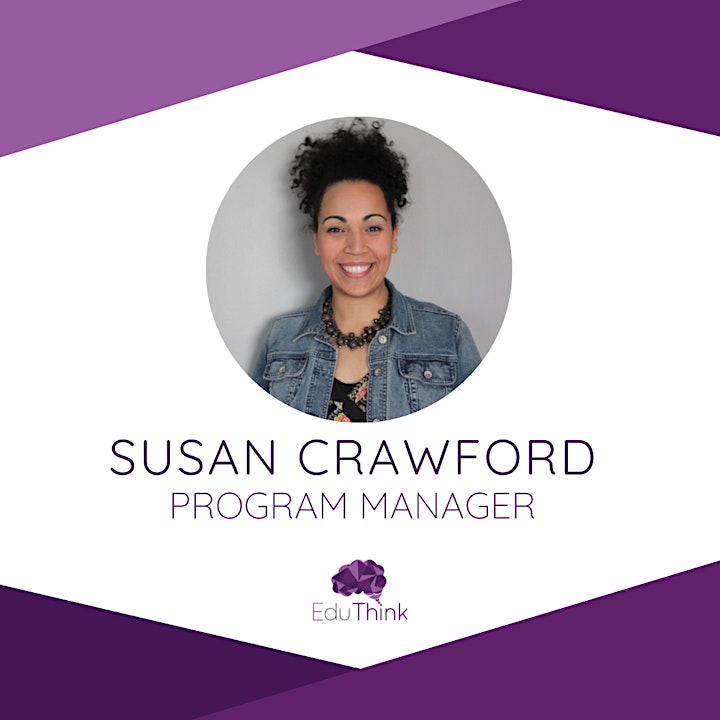 Susan is a dynamic, engaging and creative facilitator, coach and speaker. Her charismatic and authentic approach to personal and professional development make her a unique addition to EduThink.
In her workshops, Susan expertly weaves her personal and professional expertise together to create a learning environment where individuals and teams thrive. She delivers impactful, thought-provoking and sustainable results while guiding learners through experiential and practical learning.
Susan's facilitation and coaching include areas of:
Emotional Intelligence
Self-Awareness & Self-Reflection
Effective Leadership
About EduThink:
EduThink provides interactive education programs that empower learners of all ages to better understand the processes that impact the way that we interact with each other.
Our programs enable individuals and teams to learn new skills and reach their full potential through the development of global competencies including; Critical Thinking, Problem Solving, Wellness, Resiliency, Collaboration and Global Citizenship.
We challenge schools, communities and organizations to think critically about real-world issues and investigate them from multiple perspectives.
Learn more at https://www.workplace.eduthink.ca