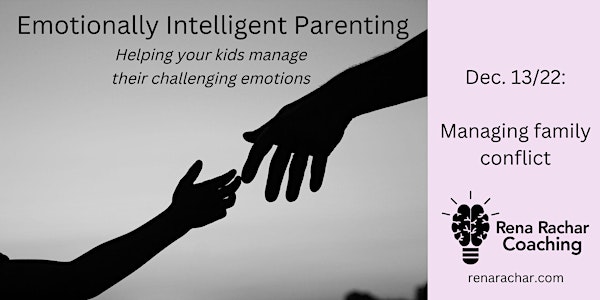 Emotionally Intelligent Parenting- Managing Family Conflict
This class will teach you a blame-free resolution model that will help you and your kids quickly get to the heart of your conflicts.
Refund Policy
Contact the organizer to request a refund.
Eventbrite's fee is nonrefundable.
About this event
Resolving conflict is a skill we wish we didn't have to learn…but here we are. Most of us don't have the awareness and language to bring quick resolution to our conflicts. Here's the thing: when we can specifically label what we are feeling and effectively ask for what we need, everything else gets easier. Thankfully, all of this can be learned and practiced.
Join me on December 13th on Zoom for a one hour class that will teach you how to uncover the hidden assumptions that complicate our relationships and stress us out. And learn a conflict resolution model that quickly gets to the heart of the matter without casting a single word of blame.
SPECIAL OFFER: Save $10 if you purchase two classes at once. Details for the Dec. 6 class, REGULATION AND EMPATHY:We will discuss specific techniques that will help you and your children bring calm to the emotional storms. You will learn ways to interact with your children that will make them feel emotionally safe in your presence. And I will teach you the magical question that will change the way you show up for your kids when they come to you with their challenges.
Send any questions to rena@renarachar.com. I can't wait to see you online!Rena Rachar, Emotional Intelligence Coach & EPSB Approved Success Coach
What others have to say about Rena's classes:"Rena has a warm, engaging and energetic teaching style that allows you to just settle in and enjoy the process of learning. Rena is highly competent; very resourced with tools and insights, but delivers it all in a very digestible and translatable manner. We so appreciated her humour, positive presence and incredibly helpful and insightful program. Highly recommended!
~Jenn Banas, MPCC; RPC; CCTP; Director, Parkland Wellness Centre
"Rena's presentation on emotional intelligence at our school was engaging, informative and entertaining. The reaction from my colleagues was nothing but positive, with comments of "when can she come back" being made even before she had left! Within a day of learning from Rena's presentation, I was equipped with background knowledge and tools that gave me confidence to effectively help children who were having regulation issues that were interrupting their learning."
~Brenda Weber, former Assistant Principle, Pollard Meadows School