Description
Want to attract top talent?
Attend our leadership course to uncover your unique employer brand
Blu Ivy Group invites emerging and established HR leaders to a one-day leadership course that will help you unlock, activate and measure your employer brand—so you can attract and retain the best talent in the marketplace.
Join us to learn the full life cycle and measurable impact of an employer brand strategy that will make your company irresistible to top talent. Through a mix of theory and team-based case study workshops, you'll gain a stronger understanding of employer brand strategy and walk away with insights you can put into action immediately.
As Canada's leading employer brand authorities, we've built employer brand strategies for Canadian and global employers like H&M, Lowes, The Beer Store and Starbucks. We'll share best practices, critical project touch points and recommended action plans that will position you for success.
What you'll learn
Establishing key metrics: We'll guide you through the process of building a scorecard to help you assess your strategy and gain actionable insights that you can put into practice the very next day.
Getting all lines of business on board: Does your senior leadership team know what a successful employer brand strategy looks like—and the kind of impact it can have? Find out how to get the message across all lines of business.
Uncovering the EVP: Why do people join your organization and what makes them stay? Discover global best practices and use our unique methodology to uncover your EVP and ensure it has a solid foundation for long-term success.
Brand activation: Create a ripple effect that will engage your employees and build pride and ambassadorship, not to mention the greatest ROI with your target candidate audience. We'll work through planning an activation strategy, timing, critical areas of focus and additional considerations to set you apart in the talent market.
Social and digital employer brand best practices: What are the best social media platforms to promote your employer brand? How can you better use employer ranking sites and ensure the right message is getting out? Plus, learn which key actions drive the biggest ROI and best practices and metrics to measure the impact of your efforts.
Employee brand ambassadorship: Do your employees live and breathe your employer brand and communicate those values to external talent, customers and colleagues? Find out how to build internal and social brand ambassadors. We'll look at strategies to keep them motivated and break down when to recognize and reward to make the biggest impact.
Who should attend
Professionals new to the employer brand function
Employer brand professionals looking to optimize their approach

HR and talent acquisition leaders who want to advance their employer brand knowledge or implement an employer brand strategy in the coming year
About Blu Ivy Group
We partner with executives to build award-winning people practices, inspire extraordinary employee engagement and cultivate desirable workplaces. We help businesses attract and retain top talent by building exceptional and authentic workplaces that set them apart from their competition.
Our dynamic employer brand leadership course will be led by Co-Founders Stacy Parker and Leandra Harris. Recognized internationally as leaders in the employer branding field, they've been featured keynote speakers at:
The Retail Council of Canada

World Employer Brand Day, Prague

Ontario Teachers Pension Plan Executive Leadership Summit

MacKay CEO Forum

Two Ten HR Summit, New York

Disrupt HR

The HRUnconference, Toronto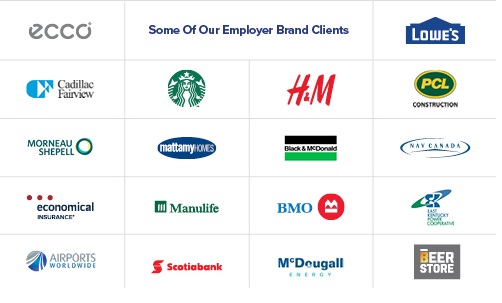 Date and Time
Location
Refund Policy