Join Us For Our Virtual Job Fair Connect face to face with potential employers virtually and network with organizations looking to hire.
About this event
We bring job seekers & employers together.
Connect face to face with potential employers virtually and network with organizations that can help you along your career path.
Join Us For Our Virtual Job Fair
The Employment Expo: Virtual Job Fair delivers an engaging experience that helps find gainful employment for local job seekers and connects employers with top talent through 1:1 video interviews, live chat, live broadcasts, and online recruiting tools.
Click here for job seeker registration
Click here for exhibitor pricing & info
VIRTUAL EXPO
Learn About Opportunities
The Expo area is our virtual vendor booth exhibition hall. Our easy-to-navigate lobby serves as the springboard to deeper engagement with recruiters. Find out in a short video what opportunities are available, ask questions or submit your resume.
NETWORKING
Automated, 1:1 Matchmaking
Networking lets you network just like you would at an in-person event. Our connection discovery tool pairs up job seekers & employers in 1:1 conversations via live video. Conduct video interviews during the event to effortlessly move top candidates through the funnel.
SESSIONS
LIVE Panel-style Presentations
Employers can stream live video sessions to present information about the company, culture, opportunities and engage with candidates like never before. Attendees can gather around virtual roundtables, ask questions and gain valuable insight.
SOME OF OUR TRUSTED CLIENTS
We have helped 400+ Organizations
Companies, schools, associations, and more have saved time & money with Employment Expo to meet their hiring goals.
"Excellent job fair for job seekers who meet various employers in different industries to net work for employment opportunities. Also there is assistance from non profit agencies like Job Start who can assist with the tools of finding suitable employment in the candidates field of choice!"
~ SELINA
"The employment expo brings out a large number of quality candidates. We at the Ontario Chamber Of Commerce are very happy with the jobseekers we met as well as the business connections we made at the expo and highly recommend it."
~ BOJAN
BECOME AN EXHIBITOR
Exhibitor Booth Pricing
Becoming an exhibitor at the Employment Expo allows your company or organization the opportunity to connect directly with job seekers and recruit qualified candidates.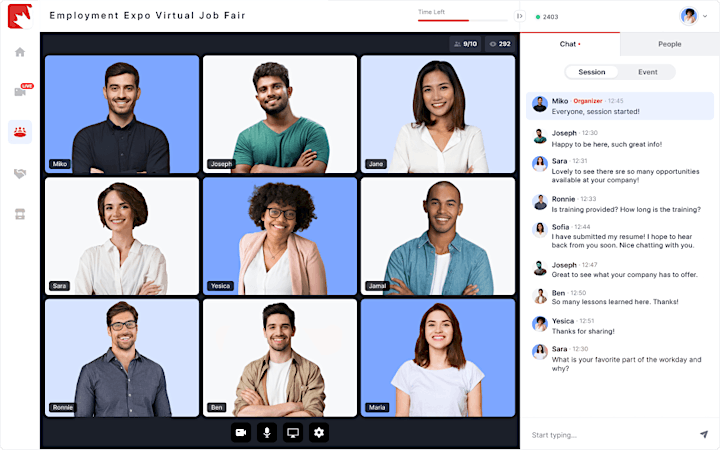 Organizer of Employment Expo Virtual Job Fair
Employment Expo Canada is dedicated to supporting job seekers and aspires to bridge the gap between job seekers and employment by connecting and job seekers and potential employers.  
Our company focus is helping job seekers find employment, and individuals looking for career
direction employment training .  Our objective at Employment Expo Canada is to increase employment opportunities for job seekers looking for full-time, part-time, internship and co-op positions.
The Employment Expo provide a great recruitment platform for employers looking to hire a diverse group qualified candidates and for job seekers to network and connect face to face with potential
employers and organization that can help them with their career paths.