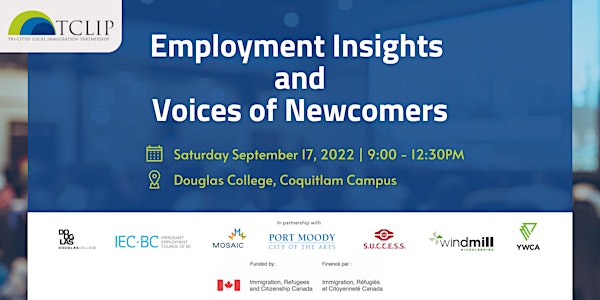 Employment Insights and Voices of Newcomers
Join us for a dialogue event between employers & newcomers to discuss how we can make hiring practices more inclusive in the Tri-Cities.
When and where
Location
Douglas College, Coquitlam Campus 1250 Pinetree Way Theatre A1470 Coquitlam, BC V3B 7X3 Canada
About this event
Event Description:
On Sept. 17 the Tri-Cities Local Immigration Partnership will host the Employment Insights and Voices of Newcomers event at Douglas College's Coquitlam Campus.
The Employment Insights and Voices of Newcomers is a chance for employers and newcomers to come together to discuss the local job market and how to ensure hiring practices are more inclusive in order to support newcomers to fulfill their goals and employers to thrive.
These discussions will provide insights to newcomers on how to achieve their professional goals in Canada, how to overcome the challenges jobseekers face and thrive in the new job market. Conversations will also support local employers to understand how to tap into the pool of newcomer talent, retain staff by being more inclusive and continue to grow in an ever-changing economy.
We hope to see you there!
Light refreshments will be provided. The event is free and open to the public, but registration required.
---
Event Details:
Date: Saturday September 17, 2022
Time: 9:00a.m. - 12:30p.m. (PST)
Location: Douglas College, Coquitlam Campus | Theatre A1470, 1250 Pinetree Way, Coquitlam B.C. V3B 7X3
Agenda:
8:15-9:00 - Check-in and Registration
9:00-10:45 - Inclusive Hiring Discussion Panel + Audience Q&A
10:45-11:45 - Networking Sessions: Build Connections with Employers
11:45-12:30 - Employment Skills Workshops
Inclusive Hiring Discussion Panel: Newcomers, job seekers, employers, and HR professionals will come together to discuss the local job market and learn from each other on a variety of employment-related topics. Conversations will focus on common barriers that newcomers face, transferrable and interpersonal skills, managing expectations during the recruitment process, and understanding international credentials.
Networking Sessions: The networking sessions are a great opportunity for newcomers and job seekers to build new connections with employers and learn about potential career opportunities. You will be able to speak one-on-one with our diverse group of networking facilitators and they will be answering any questions you may have.
Employment Skills Workshops: There will be 3 different workshops for attendees to choose from:
Workshop 1: Navigating Licensed Professions (presented by Douglas College Career Paths for Skilled Immigrants Program)
Join Career Paths staff for a discussion about how to navigate pathways to licensure across the myriad of information (and mis-information). Jurisdiction over credential recognition is, in most cases, held by the provinces but is delegated to professional regulatory bodies.
For regulated occupations - nurses and other kinds of health practitioners, engineers, technicians, and even HR Professionals, for example - there are differing provincial standards and practices. That means that an individual seeking recognition for their credentials would need to apply to each provincial regulator, where the assessment is often based on different rules and criteria. Career Paths for Skilled Immigrants supports skilled immigrants to weigh the various options and decide next steps while pursuing licensed professions within British Columbia.
Workshop 2: Creating and Expanding Your Canadian Network (presented by MOSAIC Employment and Language Services)
Understanding the value of networking can help you find a job, grow your career and strengthen your professional success. In this workshop, we will discuss "Why is networking important here in Canada?" and share some tips to help you network effectively.
Workshop 3: Core Skills for Success (presented by S.U.C.C.E.S.S. Immigrant Settlement and Integration Program)
What are some core skills needed to find a job successfully in Canada? Active listening? Communication? Critical thinking? Problem solving? Digital Literacy? Based on the current BC labour market information, this will be an interactive session to help newcomers recognize some of the most important and common core skills to take the next step in your career. The workshop will cover how to build those core skills and share resources such as various free ESL programs, volunteer opportunities, and mentoring programs.
*Please note that this is a knowledge-sharing event. It is not intended to be a job fair, career coaching, or discuss specific industry accreditations and recruitment cycles*
---
*Privacy statement*
S.U.C.C.E.S.S. may use Eventbrite to collect your personal information for the purpose of managing registrations for the event as well as future communications. If you choose to use Eventbrite to register for this event, please note that Eventbrite will collect your IP address, event responses, name and contact information, and that this information will be stored and may be accessed outside of Canada. By clicking on the register button, you are consenting to your personal information being disclosed and/or potentially accessed outside of Canada with immediate effect.
If you do not want to register for the event using Eventbrite, please contact the event organizer directly at tricitieslip@success.bc.ca.
You can view the S.U.C.C.E.S.S. privacy statement here: https://successbc.ca/privacy/protection-of-personal-information/