Description
EmPower 2020
A two-day personal growth intensive for leaders and entrepreneurs.
January 18-19, 2020 - Victoria, BC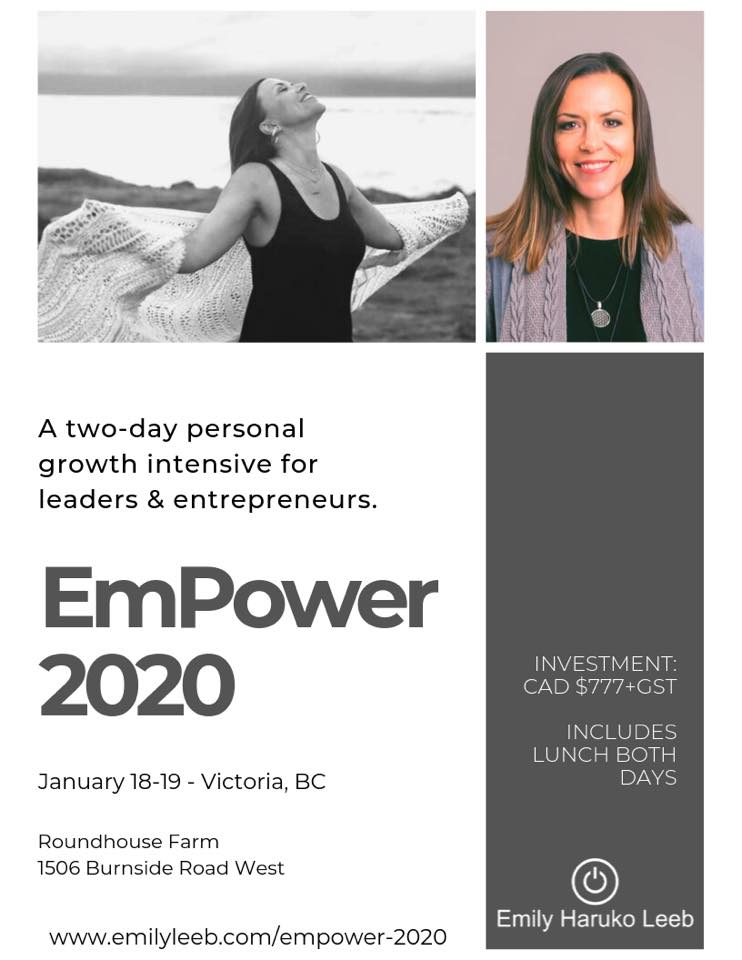 A two-day journey to transform the relationship with yourself and make 2020 your best year yet!
Join me, transformational leader, life & business coach, Emily Leeb on a two-day journey to the most optimal and powerful version of yourself.
In this two-day, personal growth intensive we will be cultivating the awareness and tools you need to make 2020 the year that embraces the most powerful version of yourself ever. This is the foundation for your most epic life.
My superpower as a leader and coach involves helping people foster the best relationship with them self that they've ever experienced in honour of creating a future filled with fulfillment, purpose, connection, pleasure, impact and joy.
On January 18 & 19, 2020 I'll be guiding a group of courageous individuals on a path to the most powerful relationship with them self that they have ever experienced. Will you be one of them? We'll be cultivating self-acceptance for all of who you are. We'll be practicing what it looks like to accept your past and actually thrive from it. We'll be developing your communication skills so that you can talk to yourself and others more powerfully (and lovingly). The byproduct of this is the most impactful, fulfilling relationship with yourself, your loved ones, your colleagues and your peers than you have ever experienced. These relationships will thrive with honesty, integrity, vulnerability, power, fun & play.
Allow 2020 to be the foundation year for the rest of your most epic life. Embrace 2020 as the year that surrenders your defences and cultivates alignment and flow with ease and grace.
This event is for you if:
you want to learn to love & accept yourself and your past on a deeper level.

you want to develop your leadership skills in life, relationships & business.

you are committed to personal growth & self-development.

you're tired of getting in your own way when it comes to creating the empowering, fulfilling future you know is available to you.

you're ready to welcome like-minded, driven & supportive connections and community into your life.

you want to die with less regrets than if your life keeps on the same path it is right now.

you are ready to surrender your defences in honour of creating 2020 as the foundation year for your most epic life lived.
Logistics & Investment
Dates & Times:
January 18 9am-6pm - coffee, tea, snacks & lunch included, provided by Nature's Chef
January 19 9:30am-5:30pm - coffee, tea, snacks & lunch included, provided by Nature's Chef
Location:
The Roundhouse Farm - 1506 Burnside Road West - Victoria, BC
Investment:
CAD $777 +GST*
*accommodations not included
Space is limited.