Description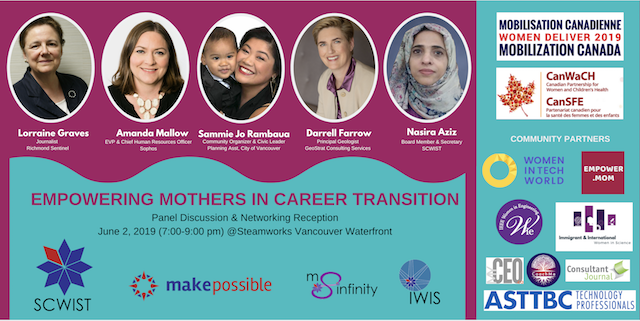 One of the prevailing theories on the gender gap in wages is that it is caused in part by women taking time off to raise families...." - Time Magazine
---
The objectives of this event are:
To bring together mothers relaunching careers and STEM Women Leaders who have navigated similar situations in their career journey,
To spark conversation and rally support for resources and policy changes to facilitate career-relaunching mothers' re-entry into the workforce.
---
Women Deliver 2019, the world's largest conference on the health, rights and wellbeing of women and girls will be held in Vancouver, Canada from Jun 3-6.
Canada is seizing upon the global spotlight and momentum that the Conference provides to improve Canada's leadership on gender equality through the Women Deliver 2019 Mobilization Canada spearheaded by the Canadian Partnership for Women and Children's Health (CanWaCH).
In line with its advocacy for Women's Economic Empowerment and Equal Opportunity, the Society for Canadian Women in Science and Technology (SCWIST) is hosting a panel discussion in collaboration with community partners, on "Empowering Mothers in Career Transition" starting the conversation to identify barriers, supports , resources, and policy changes addressing the needs of women who are relaunching careers after extended leave from the workforce due to child and/or elderly care.
This is the first of a series of events aimed at creating a roadmap and stronger advocacy for policy changes supportive of mothers returning to work.

#SCWIST
#WeDeliver2019 #Délivrons2019

---

PROGRAM

7:00- 8:00 pm Panel discussion with Q&A
8:00- 9:00 pm Networking reception (cash bar) and raffle* draw

---
PANEL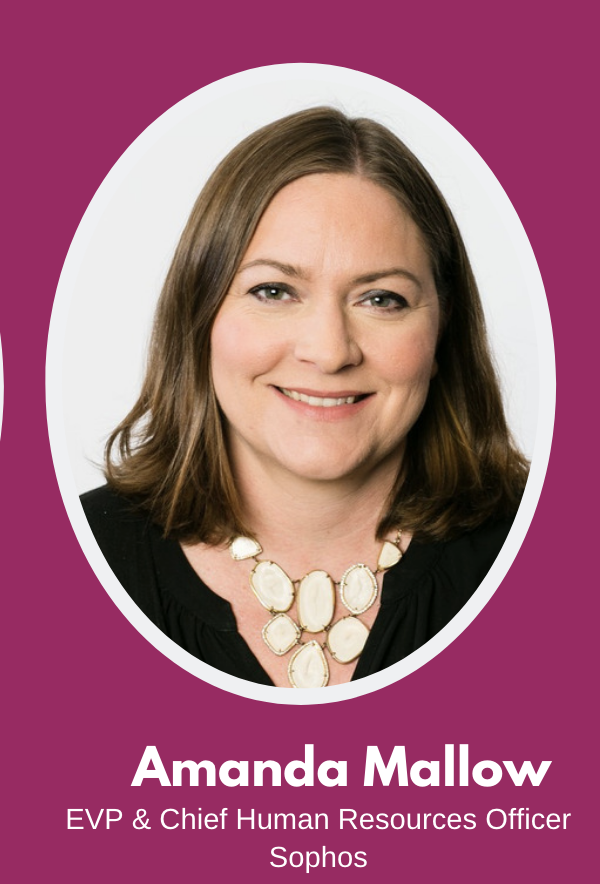 At Sophos, Amanda is responsible for the global HR strategy for 3,500 employees worldwide. She has over 20 years' experience in human resources functions at technology organizations with a focus in the cybersecurity industry. She has a proven track record of leading teams that deliver record numbers in attracting, hiring and maintaining top talent in high growth businesses and transformational settings.
Amanda was previously Chief Human Resources Officer for endpoint security firm, Absolute Software. Prior to Absolute, Amanda was the Global VP, Human Resources of network security company, Fortinet.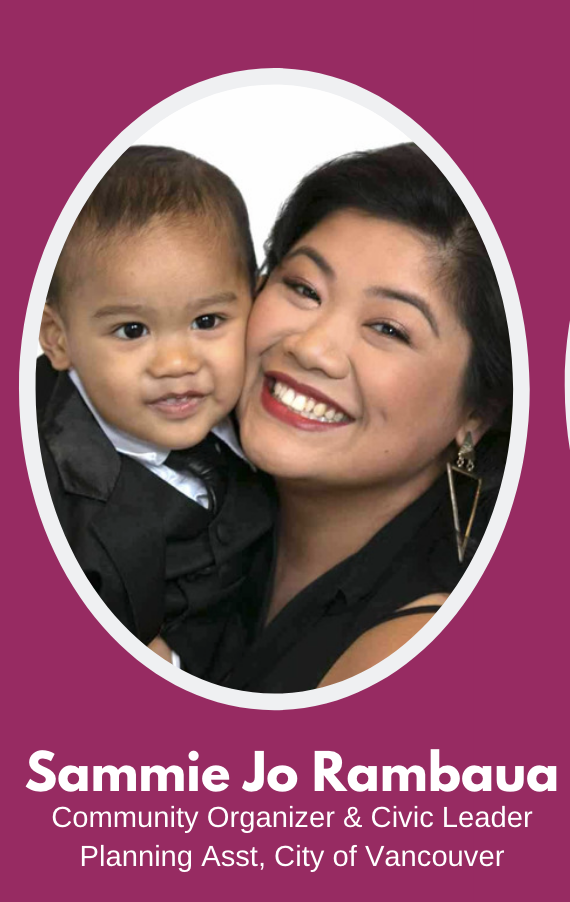 Sammie Jo is a Vancouver community organizer and civic leader who worked in a variety of roles as youth settlement worker and employment program assistant specializing in services for survivors of abuse and violence, event management entrepreneur, community engagement and communications strategist. She is currently a part-time planning assistant with an Arts and Culture portfolio at the City of Vancouver.
Sammie Jo is a volunteer board member of the Southeast Asian Cultural Heritage Society (SEACHS) and Tulayan (a non-profit Filipino-Canadian organization). She is passionate about building inter-generational and inter-cultural bridges, which are vital in a dynamic and growing city. In 2010, Sammie Jo received the Vancouver-Kensington Community Leadership Award, and in 2011, the Filipino Canadian Cultural Heritage Society Maharlika Award for Community Service for youth. Sammie Jo's "why" in life is son Pablo, 3 years old.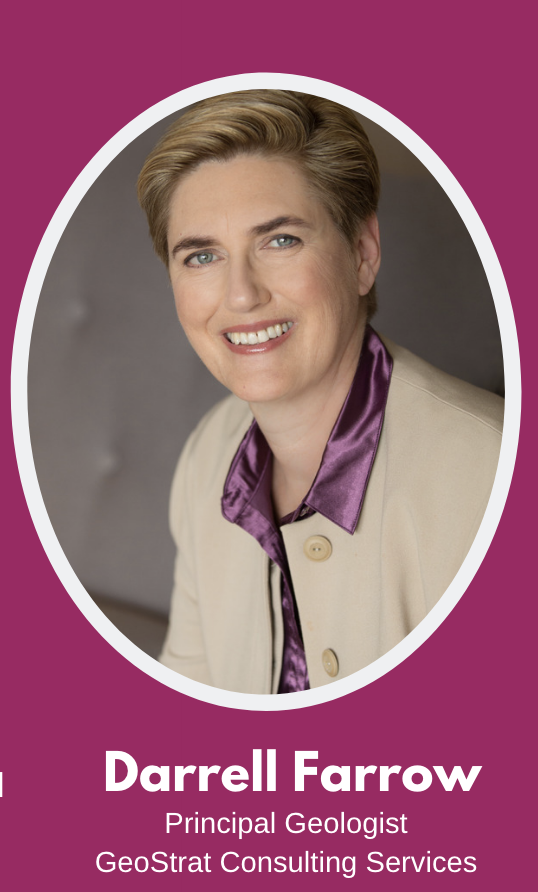 Darrell is a geologist with over 30 years of experience leading and mentoring in a male- dominated industry. She's spent her career navigating the oldest of old-school boys clubs: the South African Mining Industry. Darrell started her career as the first woman geologist employed in the mines and worked her way into senior technical management. All while balancing a successful career with raising a family and creating an equal parenting partnership with her husband.
Darrell believes whole-heartedly that it is possible for women to be successful and step out of the roles and patterns they've learned from a young age. Now Darrell is a leadership coach working with ambitious women who want to achieve their career goals while successfully parenting and leading balanced lives.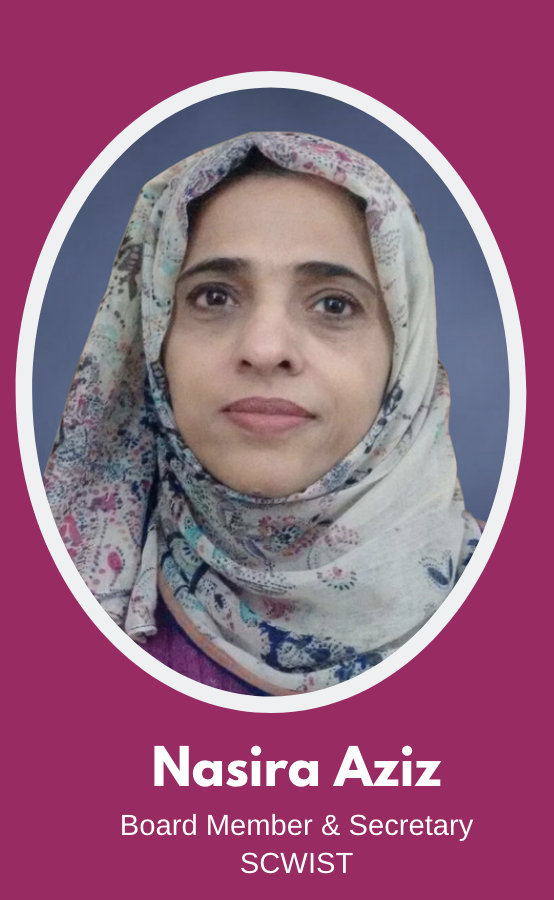 Nasira has a masters degree in Chemistry. After moving to Canada in 2003, she devoted herself to raising her five children. A role which was and still is demanding and requires her to wear many hats ranging from a household administrator, resource manager to mentor and coach. She diligently and proudly performed all these roles with measurable success. Once her children were in high school and university, she went back to school to prepare herself for returning to the workforce. She obtained another BSc degree, this time in Interactive Arts and Technology from Simon Fraser University and an MBA from University of Fredericton.
Nasira is looking forward to embracing her life-long vision of making education accessible to all. In the early years of her career, she became part of a campaign where she went door-to-door in rural Pakistan, persuading parents to send their children, especially girls, to school. Now with a diverse background in sciences, a variety of experiences with formal technology and business subjects, as well as understanding of the challenges local and immigrant students face on their journey to learning, she is aiming to tke on a career in teaching and realizing her passion for education.

MODERATOR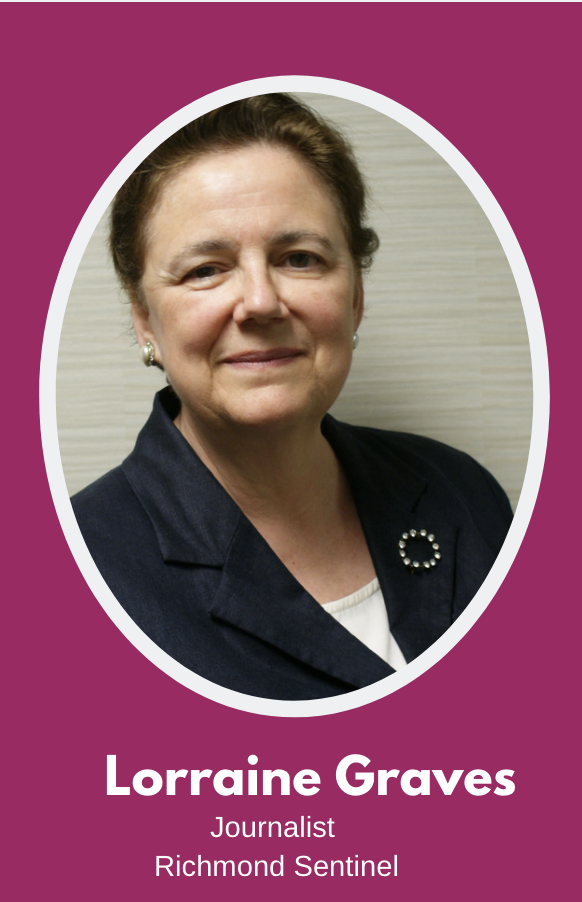 Lorraine found her path late in life. Combining her education in science and her love of news media, she became one of the first three science broadcast journalists in Canada. Her first science TV story was in the late 70s. She went on to create, produce and host Breakthrough™ which was Canada's second national science series and the first hosted by a woman. While working on development for a second season as well as a new series, Vintage Pix/Pentimento she was put on bedrest. While editing her TV series, Baby's Day' at 3 am on the North Shore, when her son was 18 months old, she decided that was it. Lorraine stayed home with the child she didn't think she'd get to have for the next 18 years, also doing elder care for family members as they became frail.
With her son raised and the last elder gone, Lorraine started work as the arts and science reporter at the brand new Richmond Sentinel newspaper. The money's not great but the self-respect that comes with resuming a career is worth gold.
---
---
COMMUNITY PARTNERS
IEEE Vancouver Women in Engineering
Applied Science Technologists & Technicians of BC
Immigrant and International Women in Science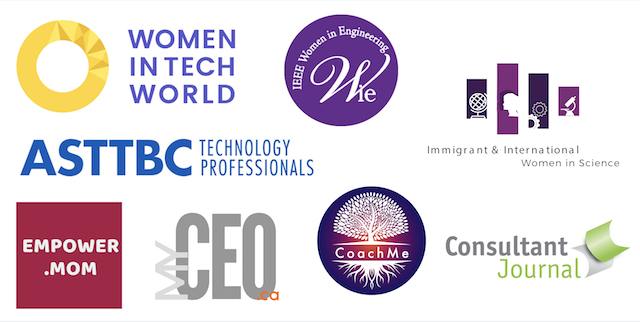 ---
Organizer of Empowering mothers in career transition: panel discussion & networking reception
The Society for Canadian Women in Science and Technology ( SCWIST) was founded in 1981 as a not-for-profit association aimed at encouraging women into Science, Technology, Engineering and Mathematics (STEM). SCWIST aims to support and promote the education of girls and women through programs and activities in partnership with the community.
SCWIST has a spectacular record of boosting the numbers, retention and status of women in the workplace by facilitating networking, mentoring and advocating woman-friendly policies.
SCWIST also highlights opportunities, achievements and positive messages for and about women in the field through raising public awareness and guiding policy implementation.
Our VALUES
Empower, Include, Inspire, Connect, Sustain
Our VISION
To create an environment where women and girls in Canada can pursue their interest, education, and careers in STEM (science, technology, engineering, mathematics) without barriers.
Our MISSION
We aim at realizing our values through:
Providing activities, mentorship, and leadership that support women and girls in accomplishing their dreams
Removing barriers and raising public awareness by promoting and advocating for inclusive policies and equitable practices in education, the workplace, and in government
Inspiring innovation and encouraging excellence through positive role models and outreach programs
Fostering connections through professional networks and programs we develop in partnership with the community
Boosting the numbers, retention, and status of women in the workplace by facilitating networking, mentoring, and advocating woman-friendly policies
Members include university undergraduate and graduate students, post-docs, technicians, technologists, research scientists, professors, engineers, consultants, unemployed and retired women scientists.