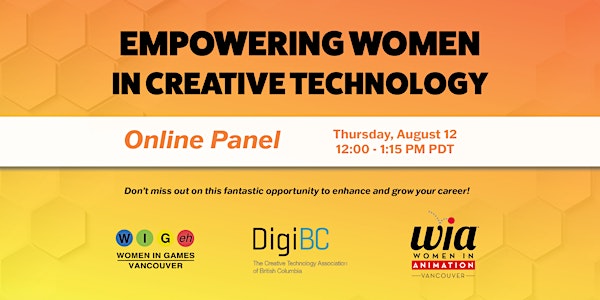 Empowering Women in Creative Technology Panel
Calling all women* in the creative tech industry! Don't miss out on this fantastic opportunity to empower and grow your career!
About this event
Be inspired to take charge of your career in the creative technology industry. Meet and greet with some of the sector's influential trailblazers while learning the basics of networking, how to handle bullying/sexism, communicating and understanding your worth, expanding your influence, and more! We want you to come away from this workshop with added confidence and life skills that will help advance your career.
Facilitator
Cathy Lim (HR Director, PopReach Inc)
Panelists
Jennifer Twiner McCarron (CEO, Thunderbird / Atomic Cartoons)
Heidi Eaves (COO, Relic Entertainment)
Sara Maseko (Director of Finance, SkyBox Labs)
Karen Addison Te (Development Director II, Electronic Arts)
~ Learn more about our panelists! Check out their profiles here. ~
-------------------------------------------------------------------
ATTENDANCE NOTES
FYIs
This will take place virtually over Zoom
Meeting link will be sent out on August 11
Gender
This event is intended for all Women*. We say women with * because "female" or "women" is not an accurate description for all. Using * is to specifically and intentionally include cis and trans women, as well as non-binary, agender or intersex folx and other gender minorities.
Code of Conduct
By attending this event, you agree to adhere to WIGeh's code of conduct, which you can find here: WIGeh Code of Conduct
Privacy and Photography
Online DigiBC and WIGeh events use Zoom, and as such we cannot guarantee that no photos or screenshots will be taken of you during the event. We love it when our members connect at our events using both video and audio, but we understand if our members prefer to participate with their video turned off to preserve (more of) their privacy.
-------------------------------------------------------------------
DigiBC is the industry association that represents BC's creative technology sector. Our membership consists of companies from the video games/interactive, VFX, animation, and VR/AR sectors, as well as technology enablers and service providers who work alongside our members. DigiBC's mission is to promote, support, and accelerate the growth of creative technology to the benefit of current and future generations.
Women in Games Vancouver (WIGeh) is a local community group focused on promoting talent diversity and the advancement of underrepresented people in the video game development industry. Activities include events and workshops that facilitate local networking to get people to the right places.
Women in Animation (WIA) is an advocacy organization dedicated to advancing women in the field of animation and making women's voices heard. WIA envisions a world where women share equally in the creation, production, and rewards of animation, and provides resources and connections to make it happen. The Vancouver chapter kicked off in 2018 and is proud to support women in animation, VFX, games, and VR/AR.