Sales Have Ended
Registrations are closed
Looking forward to see you!
Sales Have Ended
Registrations are closed
Looking forward to see you!
Description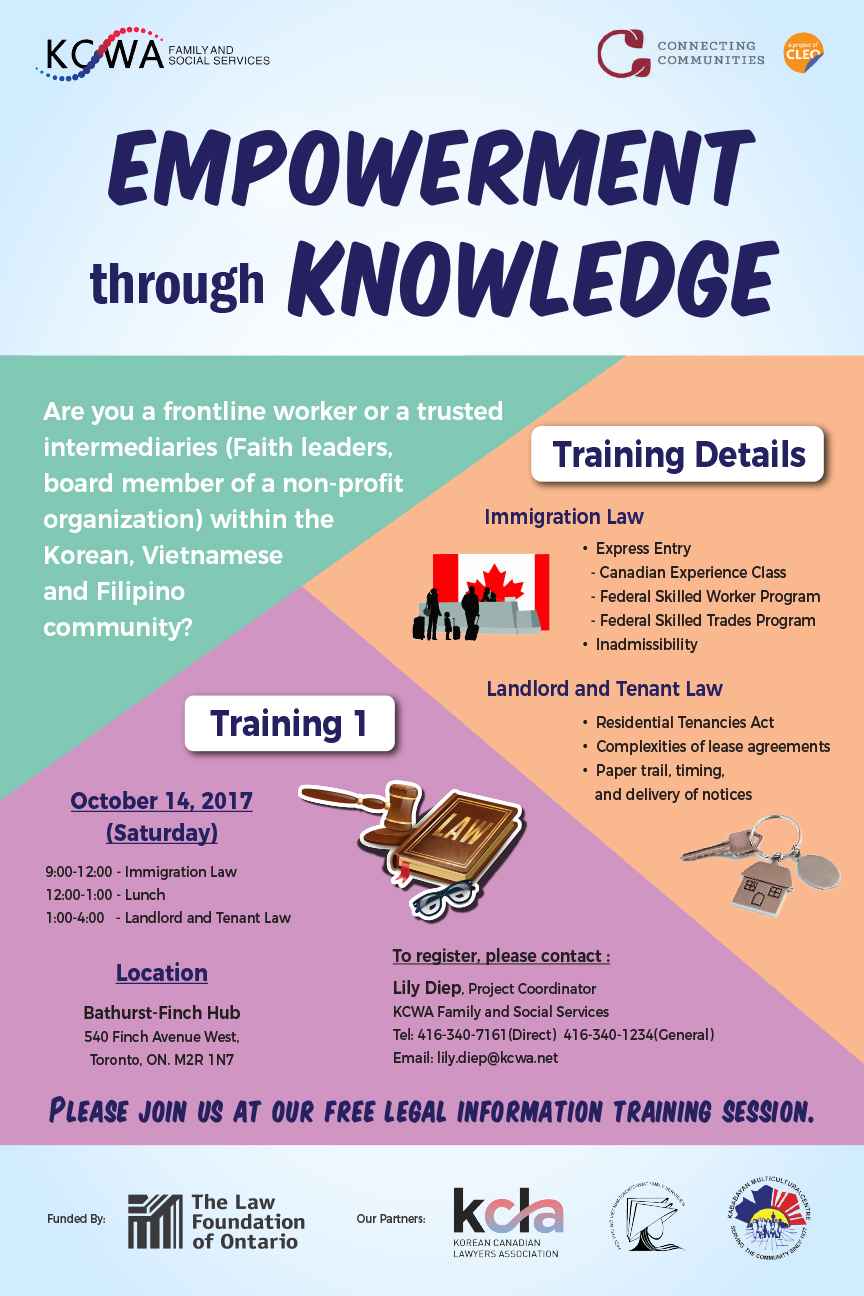 The 'Empowerment Through Knowledge' Project is an one year project funded by the Law Foundation of Ontario to provide legal information on landlord and tenant law and immigration law to various Non-English speaking community organizations. This project is one of many initiatives by Connecting Communities, projects within Community Legal Education Ontario (CLEO) to provide legal information to people who's first langauge is not English and face significant barriers to accessing accurate legal information and services they need. This project is led by KCWA Family and Social Services (KCWA) in partnership with the Korean Canadian Lawyers Association (KCLA), VWAT Family Services (VWAT), and the Kababayan Community... Service Centre Inc. (KCSC). The project will mainly focus on providing education and training of landlord and tenant law and immigration law through workshops to frontline workers at a non-profit organization and trusted intermediaries such as faith leaders and board members of non-profit organizations associated with the Korean, Vietnamese and Filipino community. The contents of this training will be based on each community's needs assessment, with key issues identified through one on one interviews with frontline workers and focus groups. The training will be provided through a series of workshops, each focusing on topic areas in English and Korean. The training in English will be provided to frontline workers and to intermediaries for 3 hours on each topic.
Stream 1: English
9:00-12:00 Canadian Immigration Law
- Express Entry
- Inadmissibility
12:00-1:00 Lunch (Will be provided)
1:00-4:00 Landloard and Tenant Law
- Residential Tenancies Act
- Complexities of lease agreements
- Paper trail, timing & delivery of notices