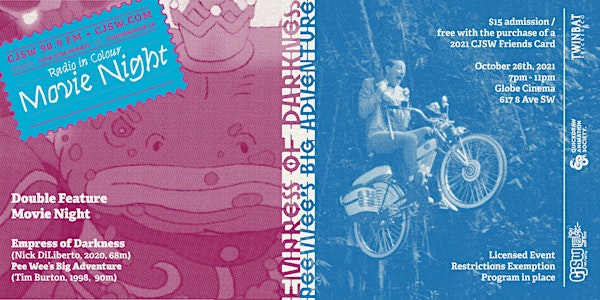 Empress of Darkness (2020) and Pee-wee's Big Adventure (1985)
Location
Globe Cinema
617 8 Avenue Southwest
Calgary, AB T2P 1H1
Canada
CJSW Funding Drive Double-Feature Movie Night
About this event
CJSW Goes To The Movies, 7:00pm-11:00pm, 26 October 2021 at the Globe Cinema (617 8 Ave SW). Quickdraw Animation Society, Twinbat Sticker Company and CJSW are happy to present a special double-feature movie night to celebrate the 2021 CJSW Funding Drive. This licensed movie night will screen Empress of Darkness (2020, Nick DiLiberto - Calgary theatrical premiere!) and Pee-Wee's Big Adventure (1985, Tim Burton - Director) at Calgary's premiere arthouse/repertoire cinema, The Globe Theatre.
Doors open - 6pm
Empress of Darkness - 7pm
Pee-wee's Big Adventure - 8:30pm
Tickets are $15 at the door or FREE with proof (your emailed receipt from a donation made in October 2021 or purchase of a Friends card at the event) of support over $30 for the 2021 CJSW Funding Drive - Radio in Colour. Support CJSW by visiting cjsw.com/donate today and see you at the movies!
COVID Restrictions Exemption Program and any other protocols will be in place for this event.