Description
We are excited to visit Miami with the LHP and R Gedale Fenster with friends! R Gedale Fenster will open our events in his energized inspiring way, and then follow with Emuna Words of Chizzuk & Blessings from Rav Shalom Arush - הרב שלום ארוש Shlita - live translation from Rabbi Lazer Brody, with music to add to the huge energy TBA! (Some Spanish translation an option!)
Please note our Miami hosts are asking for a $10 entrance fee to help make the event way beyond #inspiring #innovative and #emunamusic filled experience! Please share our event updates and look forward to being together in the year here in the holy land and in North America with good health all!

Emuna Tour is for our #Future, this will be to innovative and inspire, ready to transform personal to global #Emuna Growth Together!

... The Emuna Tour Begins 14th/15th Oct- Toronto. 16th Oct- Montreal (The Montreal Event there will be a $10 charge plz go to correct link for Tickets - ravarush.eventbrite.ca). 17th Oct- Chicago. 18th-20th Oct- Miami. (The Miami Event now needs $10 payment, apologize for the seemingly free ticket option, this was our hope and our hosts now require $10 contribution! Link coming soon!) 21st-22nd Houston, 22nd Oct- Manhattan. 23rd Oct- TBA,NJ. 24th OCT Woodmere Cong. Beth Ephraim Yitchok - CHAZAQ MEGA EVENT, NY. 25th-29th Oct- Cleveland! To the Holy land....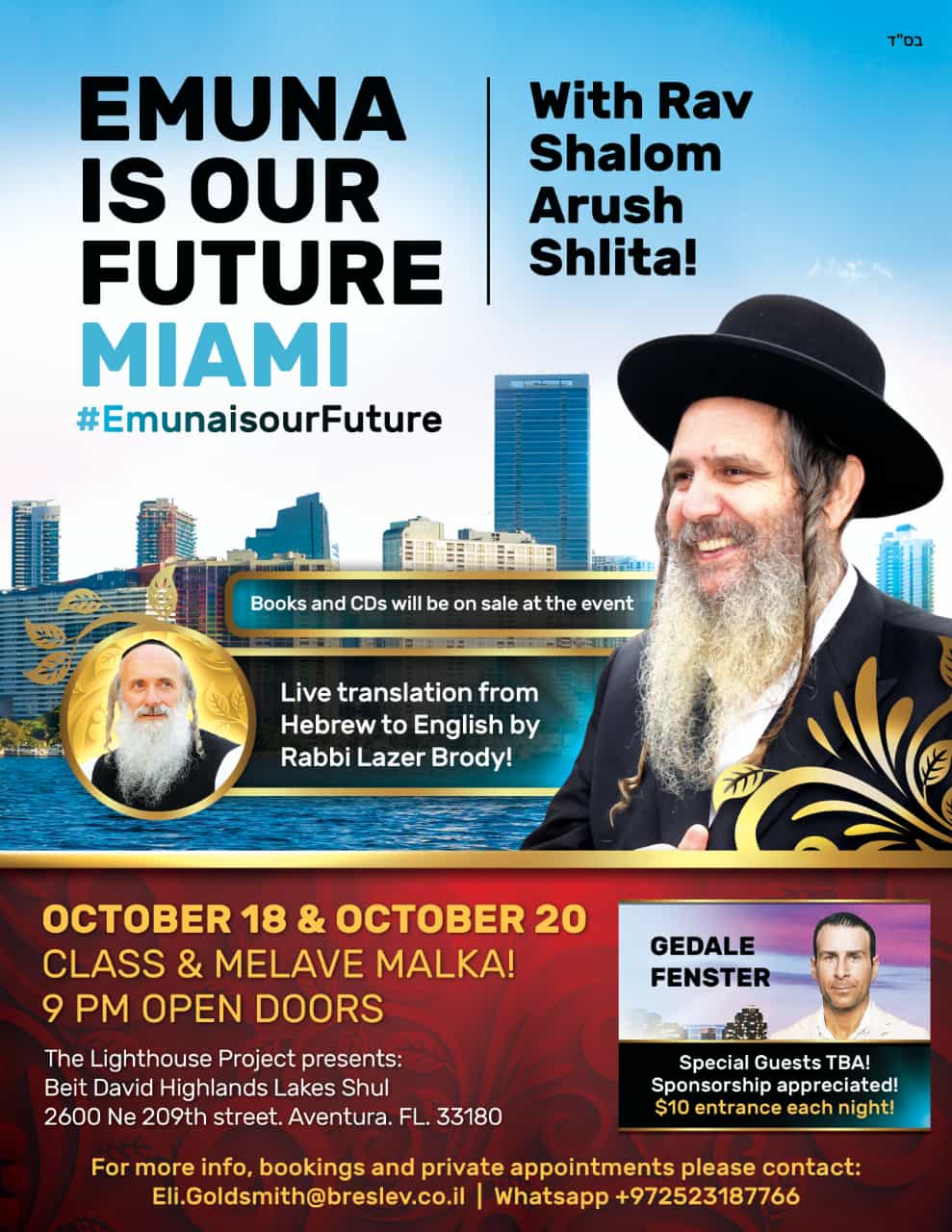 Join & Partner with our Emuna is our Future Tour! With Emuna & Blessings from Rav Shalom Arush - הרב שלום ארוש Shlita - www.breslev.co.il/emuna-is-our-future With full Emuna Tour Schedule & Links for our #Future will be innovative, Unity Inspires Projects focused and ready to bring personal to global #Emuna transformation!
https://www.breslev.co.il/emuna-is-our-future.html Click here to Partner!
To contact directly plz email - eli.goldsmith@breslev.co.il
Please listen to our almost daily #podcast #emunaflow - anchor.fm/breslevIsrael/
#Inspire #EmunaisourFuture #tour #updateTBA #Love #Joy #Soul #Share!