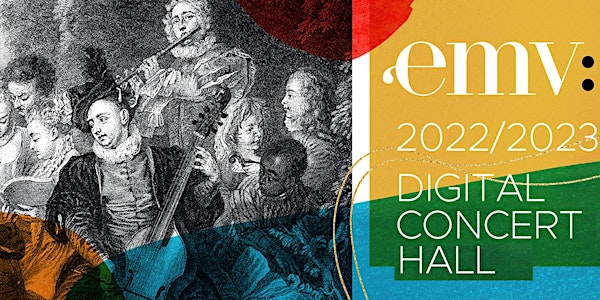 EMV's Digital Concert Hall 2022/2023 Season Package
EMV's 2022-23 DIGITAL CONCERT HALL Season features seven concerts and intimate conversations with the artists!
Refund Policy
Contact the organizer to request a refund.
Eventbrite's fee is nonrefundable.
About this event
221 days 6 hours

Mobile eTicket
**Links to view the concerts will be sent once they become available, and can be viewed until May 31st, 2023 at 11:30 p.m. PST **
Individual Concerts Are Available for $20 Each
Who killed Leclair? A Murder Mystery Concert, INFUSION BAROQUE with MIKE FAN, ACTOR
Works by Jean-Marie Leclair
Release date: October 22nd, 2022.
(Recorded in a private home in Montreal in July 2022)
Infusion Baroque invites you to investigate the real-life murder of violinist-composer Jean-Marie Leclair, found stabbed to death in his home in Paris on October 23, 1764. Despite a thorough investigation and a plethora of suspects, no one was ever charged with the crime. Was it the composer's estranged wife? A jealous colleague? Or something more sinister? Learn the details of the original investigation while enjoying a sumptuous program of music by the slain composer, and get to the bottom of Who Killed Leclair! Click Here for More Details!
From WAR to PEACE: Heinrich Schütz and his Time, MUSICA INTIMA, CAPPELLA BOREALIS and PACIFIC BAROQUE ORCHESTRA, dir. by ALEXANDER WEIMANN
Arwen Myers & Danielle Sampson, sopranos; Nicholas Burns, also; Lawrence Williford, tenor and Sumner Thompson, bass.
Works by H. Schütz, G. Gabrieli, J.E. Kindermann, S. Michael., M. Franck, A. Berger, S.T. Staden, E. Widmann and Sophie-Elisabeth von Braunschweig-Wolfenbüttel
Release date: November 11, 2022, 7:30 p.m. PST
(Recorded at St-Andrew's Wesley United Church, Vancouver, on November 5)
A collection of musicians, including musica intima, Capella Borealis, and the Pacific Baroque Orchestra, join forces to mark the 350th anniversary of prolific composer Heinrich Schütz's death. Directly affected by the violence and political tension that accompanied the Thirty Year's War (1618–1648), Schütz produced works of comfort and lamentation to directly comment on the conflict. Alongside the famous Saul, Saul, was verfolgst du mich? (1650) and settings of the Psalms of David are works by the composer's contemporaries, revolving around the ever-prevalent theme of peace in times of war. Click Here for More Details!
FESTIVE CANTATAS: BACH MAGNIFICAT & BWV 110
Hélène Brunet & Arwen Myers, sopranos; Krisztina Szabó, alto: Jacques-Olivier Chartier, tenor and Sumner Thompson, bass Pacific Baroque Orchestra dir. by Alexander Weimann.
Works by J.S. Bach
Release date: December 22, 2022, 07:30 p.m. PST
(Recorded at the Chan Centre, on December 18, 2022 )
The boys' choir of the St. Thomas church in Leipzig was founded in 1212, and to this day, it still is one of the most prestigious ambassadors of musical culture in Germany. Historically, the choir director had to prepare the services in four churches and organize the music for city functions. Bach held the position from 1723 to his death in 1750; he was appointed only after two of his colleagues, further up on the list, Telemann and Graupner, had declined.
One of Bach's major tasks was to provide annual cycles of cantatas for each Sunday. In his first year of taking up the post, Bach set the text of the (Latin) Magnificat with four inserted (German) hymns for a performance at Christmas, giving birth to one of his most popular and festive compositions. In this performance, we pair the famous Magnificat with cantata 110, which Bach composed for Christmas 1725, in his third year as cantor and director of the St. Thomas church. Vancouver's Pacific Baroque Orchestra is joined by three natural trumpets, as many baroque oboes, and a stellar cast of singers, under the inspired direction of Alexander Weimann. Click Here for More Details!
The Odyssey of Krystof Harant, CONSTANTINOPLE, CAPPELLA MARIANA and BILL RICHARDSON
Musical voyage to the Holy Land in the steps of a Czech Renaissance humanist
Works by Kâsebâz-i Misri, Pishref-i Misri & Sama'i, Kryštof Harant, Seyyid Seyfullah
Release date: January 20, 2023, 07:30 p.m. PST
(Recorded at Christ Church Cathedral on December 1, 2022)
The life journey of the Czech nobleman, traveller, humanist, soldier, writer and composer Kryštof Harant from Polžice and Bezdružice ended prematurely on the Old Town Square in Prague on June 21, 1621, when he was executed for participating in the Protestant Bohemian Revolt. The goal of this project of Ensemble Cappella Mariana is to present his surviving compositions and introduce listeners to his literary legacy – his record of a unique trip to the Middle East which he chronicled in his book Journey from Bohemia to the Holy Land, by way of Venice and the Sea published in 1608.
Harant's colourful work, narrated by Bill Richardson, will guide you on a musical journey to the exotic lands of Cyprus, Jerusalem, Sinai, and Cairo, where, in addition to Harant's compositions, we will also hear the music of distant lands as he himself heard them. Click Here for More Details!
Concerto d'Amore: Overcoming rivalry, PACIFIC BAROQUE ORCHESTRA, dir. by ALEXANDER WEIMANN
Works by G.F. Handel: Concerto grosso op 3/3, HWV 314
G. Bononcini: Concerto for violin, violoncello, and strings, in F major
G.P. Telemann: Concerto for flute, violin, and strings, TWV 53:A2
C.H. Graupner: Concerto for flute, viola d'amore, and strings, GWV 725
Release date: February 14, 2023, 07:30 p.m. PST.
(Recorded at St-Andrew's Wesley United Church, Vancouver, on February 11, 2022)
The concerto is all about bringing things together: the term derives from Latin concertare, meaning "to work together with someone," "to agree." That same root word, however, also means "to contend, dispute, or debate," suggesting that the concerto brings its participants into creative tension, even friendly competition. If the Baroque concerto models a kind of relationship, it's one in which some lively argument is productive, in the end, of a sweeter and more satisfying harmony. Click Here for More Details!
Raise, Raise the Voice , REGINALD MOBLEY, COUNTERTENOR & PACIFIC BAROQUE ORCHESTRA, dir. by ALEXANDER WEIMANN
Works by Bach, Handel, Purcell and Duke Ellington
Release date: March 24, 2023, 07:30 p.m. PST.
(Recorded at Christ Church Cathedral, Vancouver, on February 3, 2023)
Reginald Mobley returns to Vancouver to share his incomparable artistry with Alexander Weimann and the Pacific Baroque Orchestra in a unique recital. Reggie's strong devotion to social and political activism has helped him focus on a desire to make a difference within the arts, particularly with the massive inequality regarding race, gender, and sexuality within the classical music industry.
'Raise, raise the voice', one of Henry Purcell's most attractive smaller-scale works, praises Apollo on 'sacred Music's holy day.' This title also serves to remind us of the importance of raising all the artistic voices of our rich and diverse world. Click Here for More Details!
Beethoven & Liszt : A Musical Affinity, OLGA PASCHENKO, FORTEPIANO
Beethoven: Hammerklavier opus 106
Liszt: Funerailles n7, S.173, Miserere, d'après Palestrina n8, S.173. Consolations nn1,2 S.172, La Lugubre Gondola No. 2 S. 200
Schubert-Liszt: Auf dem Wasser zu Singen
Release date: April 5, 2023, 07:30 p.m. PST.
(Recorded at Christ Church Cathedral, Vancouver, on April 8, 2022)
Beethoven's Piano Sonata No. 29 in Bb Major, Op. 106 is extreme in every way – tremendously long and a challenge to the limits of both piano and pianist with its wide dynamic and pitch range; virtuosic, constantly shifting musical textures; almost unbelievably fast metronome markings and tumultuous expressivity. Having become completely deaf by 1816, Beethoven also suffered frequent illness and the piece is marked by struggle throughout, exemplified in the unusual conflict between two keys a semitone apart: B-flat Major and B minor.
Franz Liszt is credited with giving the first public performance of Beethoven's Piano Sonata No. 29, Op. 106 in 1836 at the Salle Erard in Paris. It was the last sonata he ever performed, and one he so admired that he published an edition of it, transcribed its third movement for string ensemble, and taught it to his students. Like Beethoven, Liszt famously challenged the boundaries of piano technique, colouristic texture, and expressivity. However, the selection of pieces on this program shows Liszt's more introspective side, reflecting on suffering and the nature of life and love. The final piece on the program is Franz Liszt's youthful transcription of Schubert's song "Auf dem Wasser zu Singen". This song text reflects on the passage of time and concludes with the narrator's wish to escape time, much in the way that Beethoven and Liszt have, upon the towering, radiant wings of their music. Click Here for More Details!