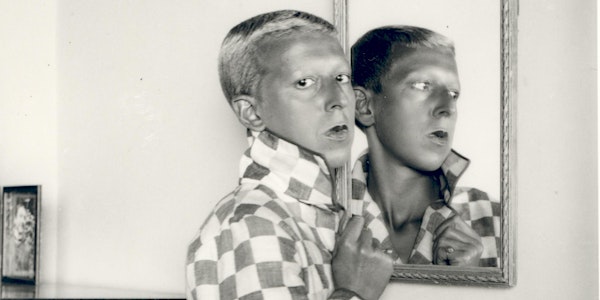 En théorie : Les mots et les images de Claude Cahun... et de Moore
Location
Ottawa Art Gallery
50 Mackenzie King Bridge
Ottawa, ON K1N 0C5
Canada
Présentation de l'œuvre littéraire de Claude Cahun suivie d'une lecture | A discussion on the literary work of Claude Cahun and reading
About this event
Présentation de l'œuvre littéraire de Claude Cahun suivie d'une lecture d'un certain nombre d'extraits de ses écrits, ainsi que d'images (graphiques et photographiques) réalisées dans une démarche collaborative avec l'artiste Marcel Moore.
Ce programme sera animé par la professeure Andrea Oberhuber.
Aucune lecture préalable n'est nécessaire. Les ressources seront lues et commentées en groupe lors de l'événement, et la discussion aura lieu en français.
Programmation en français.
Inscription requise.
Andrea Oberhuber est professeure titulaire à l'Université de Montréal où elle enseigne les littératures française et québécoise, notamment l'écriture des femmes (XIXe-XXIe siècles), les avant-gardes historiques et la photolittérature. Elle a dirigé, entre autres, les collectifs Claude Cahun : contexte, postures, filiation. Pour une esthétique de l'entre-deux (2007), Fictions modernistes du masculin-féminin : 1900-1940 (avec A. Arvisais et M.-C. Dugas ; PUR) et Héritages partagés de Claude Cahun et Marcel Moore (avec A. Arvisais ; cahun-moore.org), ainsi que des dossiers de revue pour Études françaises (2004) Dalhousie French Studies (2009), Mélusine (2012) et Textimage (2019). Son essai hybride Corps de papier. Résonances est paru en 2012 chez Nota bene. Avec Catherine Mavrikakis, elle codirige depuis 2012 la revue numérique MuseMedusa. Ses recherches portent actuellement sur « Le Livre surréaliste au féminin : faire œuvre à deux » (projet CRSH). Depuis 2018, elle est directrice de l'antenne Figura-UdeM.
-----------------------
In Theory: The words and images of Claude Cahun... and Moore
A discussion on the literary work of Claude Cahun, followed by a reading of text excerpts and presentation of graphics and photographs created by Cahun in collaboration with artist Marcel Moore.
This program will be facilitated by Dr. Andrea Oberhuber.
No pre-reading is required. The material will be read and discussed as a group during the event, and the discussion will be led in French.
This program is in French.
Registration required.