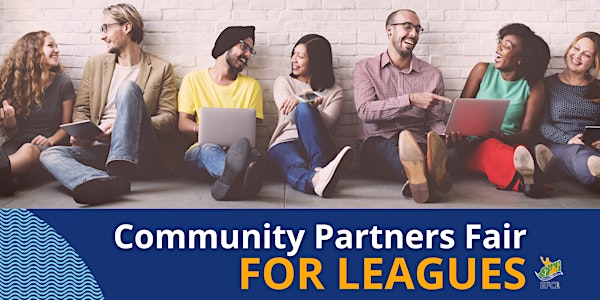 Enabling Participation and Wellness. League-Community Partners Fair
Meet organizations that work with seniors, mental health challenges and community wellness for programming and partnership opportunities
About this event
Your League is invited to meet with folks from organizations that work with seniors, mental health challenges and community wellness to hear about partnership opportunities, and to plan and deliver programming for your community.
Outline of Event
This will be a virtual informal mixer held on Zoom. It'll start with a brief overview by the EFCL to share the impact of partnership opportunities between Leagues and local non-profits.
We'll then have each partner give a five minute introduction about their organization and the opportunities they provide.
We'll then break all the partners into a different breakout room, and Leagues will be able to speak to partners to get more details about partnership opportunities. Some partners have a brief presentation planned, others are more conversational. Each partner has been briefed about Edmonton's Community League Movement by the EFCL and is open to working with the specific needs of your community to create meaningful partnerships.
Every 15 minutes Leagues will be encouraged to switch rooms
There will be a specific room for League-to-League discussions and to converse with the EFCL
Who should attend?
All board members are welcomed. In fact, we invite multiple members from the same board as some opportunities might resonate more a certain role. In addition, some opportunities provide professional development for individuals.
Who can you meet? (List is still being updated).
AdaptAbilites- learn about ways AdaptAbilites can support your League in modifying spaces and programming to be inclusive of adults with disabilities. You can also learn how to partner with AdaptAbilites with their new citizen engagement initiatives (a program where AdaptAbilties supports adults with disabilities to volunteer and participate in community engagement activities).
Art Hives- One of the main objectives of art hives is to provide creative, radically inclusive, multi-generational and FREE opportunities for community members to build relationships and resilience through art making. Learn how your League can host a one off or permanent art hive in your amenities.
Canadian Mental Health Association (CMHA) Recovery College- Learn how CMHA can work with your League to provide mental wellness workshops and opportunities to League members and the wider community for free or low cost.
Men's Sheds- a grassroot initiative that is about bolstering mental wellbeing for men (though women are welcome to attend) through community participation and engagement. Men's Sheds would teach Leagues how to operate this program as a program of the Leagues.
Sage Seniors and Housing- Learn how your Leagues can be part of Sage's 2022 Seniors Health, Wealth and Housing Forum. Sage is also looking to support Leagues interested in engaging with their senior population through programming or events.
Some partners are looking for hall space and have the ability to pay for hall rentals. Those who do not are open to working with the League to secure funding for rentals or finding another way to cover costs.
There is no expectation that Leagues have to sign up for opportunities at this fair. The goal of this program is to make it easier for Leagues to connect with organizations looking to partner and run programming with the League.