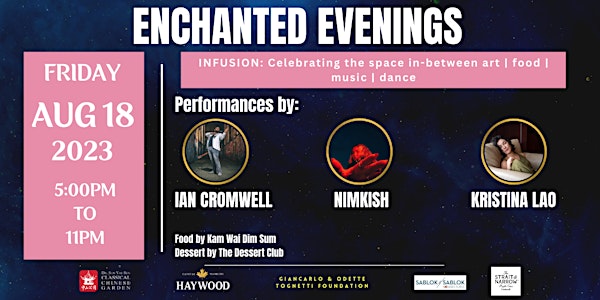 ENCHANTED EVENINGS CONCERT SERIES with Ian Cromwell, Nimkish & Kristina Lao
INFUSION: An immersive and unique celebration from the space in-between art | food | music | Dance
By Dr. Sun Yat-Sen Classical Chinese Garden
Date and time
Fri, Aug 18, 2023 5:00 PM - 11:00 PM PDT
Location
Dr. Sun Yat-Sen Classical Chinese Garden 578 Carrall Street Vancouver, BC V6B 5K2 Canada
Refund Policy
Contact the organizer to request a refund.
Eventbrite's fee is nonrefundable.
About this event
Join us on Friday August 18th from 5:00pm to 11:00pm as we celebration from the space in-between art | food | music | Dance during this immersive experience featuring the fearless lyricism from the multitudes of Indigenous rising star Nimkish, the alternative punched-up funky interpretations of rock and pop classics from Ian Cromwell and Kristina Lao's softly articulated Brit-lilt vocals, socially-charged storytelling.
What is included in the ticket:
Admission to the Garden
A specially curated menu from our friends at Kam Wai Dim Sum
A delicious dessert by The Dessert Club
Access to a 45-minute musical performance by Ian Cromwell
Access to a 45-minute musical performance by Nimkish
Access to a 45-minute musical performance by Kristina Lao
Art and Dance Performances
Special activation by Elliott Slinn
Born in Vancouver and raised across Canada, Ian Cromwell has one true home: the stage. A classical violinist by training, Ian has spent more than 20 years performing with classical ensembles, symphonies, quartets, and as a solo performer. His charismatic performances have made him a repeat performer at events such as the Science World 'Science of Cocktails', and Car Free Day Vancouver
Ian's love and deep passion for music winds its way through alternative, jazz, hip-hop, and R&B to take the form of punched-up funky interpretations of rock and pop classics.
To fully immerse in the multitudes of Indigenous rising star Nimkish is to honour the past, look ahead to the future, and bask in the resplendent present all at once. The Vancouver-based marvel-in-the-making is fearless in her lyricism, confronting anti-Indigenous racism and colonial violence alongside other hard subjects like anxiety, grief and heartache. To the great tradition of singer-songwriters healing through their music, Nimkish brings a bright-eyed aim to flourish in all she has experienced.
Her lyrics give affirmation to past pain while living in the moment. To some it may sound like escapism, to others it may sound like moxie-driven R&B-pop pulsing through the club.
Kristina Lao is a mixed race, interdisciplinary Artist-Advocate from Hong Kong. Passionate about socially-charged storytelling, her softly articulated Brit-lilt vocals float pensive melodies over breath-catching choruses.
Influenced by Paul Simon, Regina Spektor, and Tracy Chapman, Lao is a fierce advocate for positive social change and artivism. She is currently writing with engineer and producer Karl Dicaire (Big Wreck, Danko Jones, Mother Mother)
For more information please email us at events@vancouverchinesegarden.com
Re-imagined during 2022, the Enchanted Evenings Concert Series provides a safe, inclusive, creative space and platform for local BIPOC artists featuring a diverse range of musical genres reflecting the rich cultural mosaic of Vancouver's arts & culture scene.
Supported by Haywood Capital Markets, Giancarlo and Odette Tognetti Foundation and Sablok & Sablok, Notaries Public. Garden bar drinks provided by local distillery Strait and Narrow
Ian Cromwell - Bittersweet Symphony (The Verve cover)
Nimkish - YSB (feat. ASCXNSION)
Kristina Lao - Paper Boats (Lyric Video)
About the organizer
It is a unique venue for cultural programming and events, including guided tours, concerts, festivals, exhibitions, receptions, and educational programs.
As a registered not-for-profit all Garden revenue goes toward the fulfillment of our mission to bring together cultures and communities through educational and public programs.