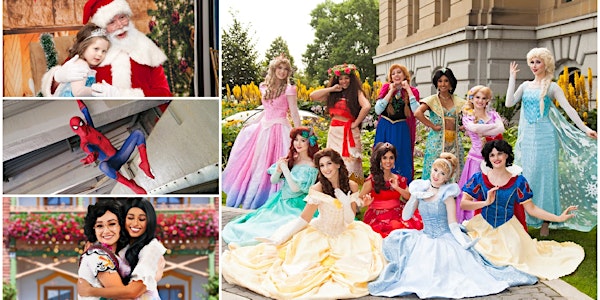 Enchanted HOLIDAY Ball with Princesses, Spiderman and SANTA - Session 1
A magical day with your favourite Characters and special guest Santa! Join us for Dancing, Musical Performances, and other activities!
When and where
Location
Fantasyland Hotel Beverly Hills Ballroom 17700 87 Ave NW Edmonton, AB T5T 4V4 Canada
About this event
Our most elaborate event of the year is BACK! We cordially invite you to attend the Enchanted Holiday Ball featuring 14 Characters! Princesses, Princes, Spiderman as well as very special guest… SANTA! 
We are mixing Princess and Holiday magic together to create a wonderful experience for the whole family, that will create lifelong memories! Your child will experience the feeling of being a real Princess or Prince, as they are announced by a Royal Announcer, enter a beautiful ballroom, and dance and sing the day away with their favourite Characters!
The value is tremendous! Your ticket includes: 14 Characters, a large variety Desserts/Beverages (with gluten free and vegan options, all nut free!), Glitter Tattoos, Balloon Making, Photo Opportunities, Singing and Dancing performances, interactive activities, AND every little princess and prince is presented with a mini gift upon entry. We'll even have a photographer at the event capturing the magic. It will be a truly magical day for all who attend! 
(**We are also offering 2 Special Add-On Options, see below for details**)
Held at the Fantasyland Hotel in the royally grande "Beverly Hills Ballroom", this event will be a truly magical one that you will not want to miss! Your family will feel like they stepped right into a story book! There will be many photo opportunities, please make sure to bring your own camera so you can capture the magic! We're so excited to make every child and adult alike feel like Royalty for the day!
Our Royal Balls have been recognized as one of Edmonton's & Area's premier and most popular events for children and families! We have not yet held one that did not completely sell out! This will be our 3rd year of bringing magic to the city through our events and we can't wait to welcome you!
**Please note that this is a standing/dancing event, there will be no sit down tables, though some seating will be available for those who wish to sit during the event**
We are offering 2 Ball Sessions:
Session 1: 11:00AM - 1:00PM
Session 2: 2:30PM - 4:30PM - https://enchantedholidayball2022session2.eventbrite.ca
LOCATION: Fantasyland Hotel
PRICE: $70 per person (Each attendee requires a ticket), Babies under 1 year old Free (Please note strollers will have to stay outside of the room)
-----------------------------------------------------------------------------------------------
**WE ARE ALSO OFFERING 2 SPECIAL ADD ON OPTIONS:**
VIP Group Photo Package:
Treat your child to an extra special experience! Includes an exclusive Professional Photo with all 14 Characters and a mini meet and greet! Photos will be available for unlimited downloads on a private gallery after the Ball.
Price: $20 per each Child attending the Photo Session/Meet and greet (parents permitted for free)
Royal Up-do Boutique Package:
Make your child feel absolutely "Royal" for the Ball! The hour before the ball, your child will receive a "Magical Sparkly Up-do" (or other Sparkly hair style for Short or Thin Hair). Its the ultimate magical experience!
Price: $30 per Child receiving the Hairdo
-----------------------------------------------------------------------------------------------
Tickets are limited, we recommend getting your tickets quickly to avoid disappointment! All tickets must be purchased in advance, THERE WILL BE NO TICKETS AVAILABLE FOR PURCHASE AT THE DOOR.
IMPORTANT: Please make note of any dietary restrictions when you reserve your tickets. We want to make sure there is treats available for everyone! 
Price is per person, and each child and adult attending will need a ticket. Please note that Children must be accompanied by at least 1 adult in the group, no solo child drop offs will be permitted. No single adults attending without children. Only ticket holders will be permitted, no exceptions. There will be no tickets available at the door.
FAQ'S:
Does everyone need a ticket?
Every Child and Adult attending will need a ticket. Babies under 1 year old may attend for free but must sit on the lap of an adult. Please note that all strollers must stay outside of the room, due to limited space.
Is there a Dress Code?
We do not have a dress code! But we do find that children usually arrive wearing their favourite Royal Attire! Adults are also welcome to dress up as well, as this will be a Royal Affair!
How long will the event be?
The event will be 2 hours in length!
Are you able to accommodate dietary restrictions or allergies?
Please let us know when purchasing your tickets if your child has a dietary restriction or allergy, and we will do our very best to have treats for everyone!
Will there be tickets at the door?
We will NOT be selling tickets at the door, all tickets must be purchased online prior to the event. Those arriving without a ticket will not be permitted into the event.
What age group is this suitable for?
This event will be fun for anyone who loves Princesses! We find our main age group to be ages 2-10, but anyone is welcome!
Can I Drop my child off at the event?
All children must be accompanied by at least 1 adult, no drop offs will be permitted. 
Can Adults dress up?
Adults can dress up in their nice attire yes! We just ask that no adults come dressed as any of our Princess characters, in order to preserve the magic.
Will there be seating available at the event?
This is a standing/dancing event, there will be no sit down tables, though some seating will be available for those who wish to sit during the event
Will there be food at the event?
We will be focusing on Fun Sweet Treats, and will be providing a large selection of magical Desserts and Beverages! We recommend having a meal or snack before the event, as there are no meals provided at the event.
Will there be parking available at the event?
Yes! Fantasyland Hotel (Located near West Edmonton Mall) has a large free parking lot available for our guests. 
Do you offer Refunds:
If the event is able to proceed, the tickets will be non-refundable, no exceptions. However, if any Covid restrictions prevented the event from going on, we would refund all tickets!