Description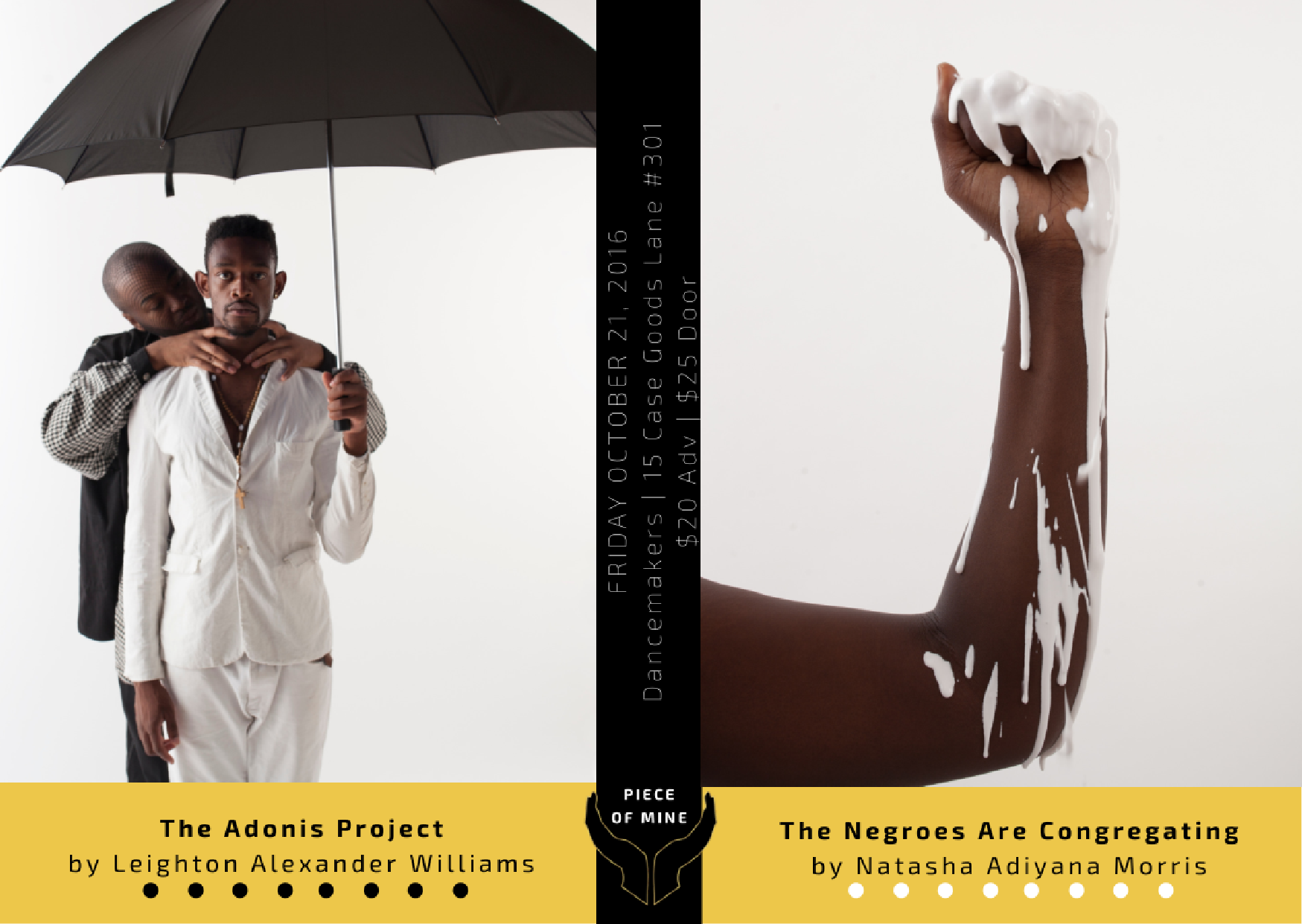 The People have Spoken! Didn't catch the show at the PIECE OF MINE Festival or want to see it again? (Yes, there are many who have come twice). Here's your chance! Only 90 seats are available, tix will sell fast. After sold-out shows, catch the final double-bill encore presentation of:
The Adonis Project by Leighton Alexander Williams
THE ADONIS PROJECT is, at face value, a story about human beings and their relationship to vanity. The play follows Beauty and her struggles navigating the dating world, as problems arise due to partners wanting more from her (Perfection). Soon she meets a surgeon named Alexander Castle, who shows her a different way of living and uses her as a muse to pitch his new groundbreaking idea: a world where everyone gets the opportunity to be deemed flawless and equal. Consequently, this proposes conflicts with government laws and things take a turn for the worst.
The Negreos Are Congregating by Natasha Adiyana Morris
THE NEGROES ARE CONGREGATING is a contemporary look at race relations 2.0. Speaking directly to the (Canadian) audience, the play displays seemingly everyday encounters but extracts political correctness. It's bubbling, haunting, and 100% unapologetic.
Please be advised: Boths show include mature content not suitable for younger audience members
Date: Friday October 21, 2016
Location: Dancemakers Theatre Studio | 15 Case Goods Lane #313 within the Distillery District
Time: 7:00 PM doors open | 7:30 PM showtime | includes intermission
Tickets: $20 in advance, $25 at the door
* Optional talk back will take place after the show.
* Admission increased by $5 as the remount is being independently produced.
To contact the organizer please email info@pieceofminefest.com.