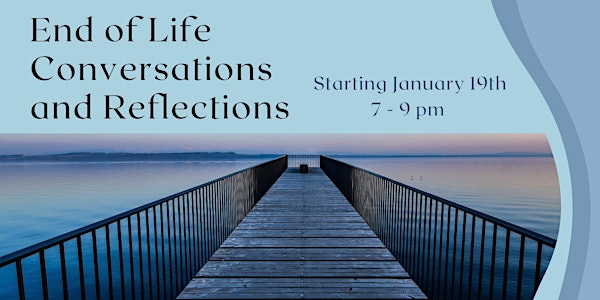 End of life Conversations and Reflections.
An invitation to learn, reflect and share experiences of Death and Dying. 6 classes to explore through discussion, activities and inquiry.
When and where
Location
The Every Day Counts Building 319 East 14th street North Vancouver, BC V7M 1P6 Canada
About this event
You are invited to take a deep dive into End of Life questions with a intimate group of like minded people. A six week journey to unpack your beliefs and values around Death and Dying to help you live better now.
THIS TICKET IS FOR ALL SIX CLASSES starting on Thursday 7-9pm January 19th 2023.
The following dates are Jan 26th, Feb 2nd, Feb 9th, Feb 16th and last class Feb 23rd.
This opportunity is for anyone who wants to embark on a journey to explore their feelings, values and relationship with death. When we choose to take a look at the physical, emotional, mental and spiritual aspects of death, we can uncover fears that hold us back from living our best life right now. By addressing our beliefs and prioritizing our values, we can be more intentional with honoring ourselves and our loved ones .
Participants will be encouraged to gently stretch their boundaries with activities designed for personal inquiry and group dialogue. Throughout the six weeks, your guides will provide educational, practical and spiritual tools to enhance the integration of this unique experience.
To get the full benefit of this course attendance to all 6 classes is recommended.
Because of the sensitive nature of this subject it is not recommended for people who have suffered a recent loss or diagnosis.
Your guides will be: Toni - Certified Yoga Therapist, End of Life Companion and Clinical Hypnotherapist and Zahra – End of Life Companion, Palliative Care Nurse and Clinical Hypnotherapist
Details:
Six weeks every Thursday starting January 19th, finishing February 23rd 2023
Time: 7pm- 9 pm
Cost: Because of out generous sponsorship from McKenzie Funeral Services we are able to offer this course for $50 non-refundable fee which includes all six sessions!
Location: Every Day Counts building. 319 East 14 Street, North Vancouver, BC V7M 1P6. Entrance from 13th Street.
Parking: Free street parking on 13th Street and paid parking in Hospice.
Questions? Please us at email: Endoflifereflections@gmail.com
We are grateful for our partnership with the Every Day Counts Program
Generously Sponsored by McKenzie Funeral Services

As the only family owned and operated funeral home in West & North Vancouver our goal is to treat every family we serve as if they were a part of our family, with compassion and dignity. Losing someone we love is never easy. The reality of grieving is simple: we don't forget, move on, or have closure. Instead we honour and remember the ones we love. No two people are the same, so no two funerals should be the same. We invite you to learn more about our services and how our family can serve you and your family.
- George & Mildred McKenzie
Owners & Funeral Directors of McKenzie Funeral Services
Please call 604-926-5121 with any questions or immediate need.
https://www.mckenziefuneralservice.com/