Ending The Silence: A Double Pandemic (COVID-19 & Gender-Based Violence)
A 3-part digital series that focuses on addressing and responding to gender-based violence in immigrant and refugee communities.
About this Event
"Domestic violence is not a private issue – it's a community issue. And it takes a community to end domestic violence." (Immigrant and Refugee Communities, 2020). Ending the Silence is a project that is hosted by the Newcomer Students' Association in collaboration with the Ontario Council of Agencies Serving Immigrants (OCASI) under the 2020-2021 Immigrant and Refugee Communities Neighbours, Friends and Families (IRCNFF) Campaign.
This 3-part digital series focuses on addressing and responding to gender-based violence in immigrant and refugee communities. With this project, we aim to raise awareness about gender-based violence by running informative public forums and community educational events, and provide tangible solutions about how we can address and respond to domestic violence in immigrant and refugee communities across Ontario.
The need to discuss the issue of gender-based violence has never been greater. According to data released by Statistics Canada, during the first four months of the COVID-19 pandemic, police services reported a 12% increase in domestic disturbances and domestic disputes calls. Ending the Silence will build knowledge, action and leadership in response to domestic violence in the community. This project is our initiative to promote action against domestic violence by empowering immigrant and refugee communities.
First session: A Double Pandemic: COVID-19 and Gender-Based Violence, is taking place on December 10th, 2020.
This event is part of the 16 Days of Activism against Gender-Based Violence, which is an annual international campaign that starts on November 25th, the International Day for the Elimination of Violence against Women, and ends on December 10th , Human Rights Day.
*A Zoom link will be emailed to registered attendees prior to December 10*
Please note this virtual event will be recorded. If you do not wish to be recorded, please contact us at events@mynsa.ca prior to December 10th and we will be happy to discuss alternate options for participation.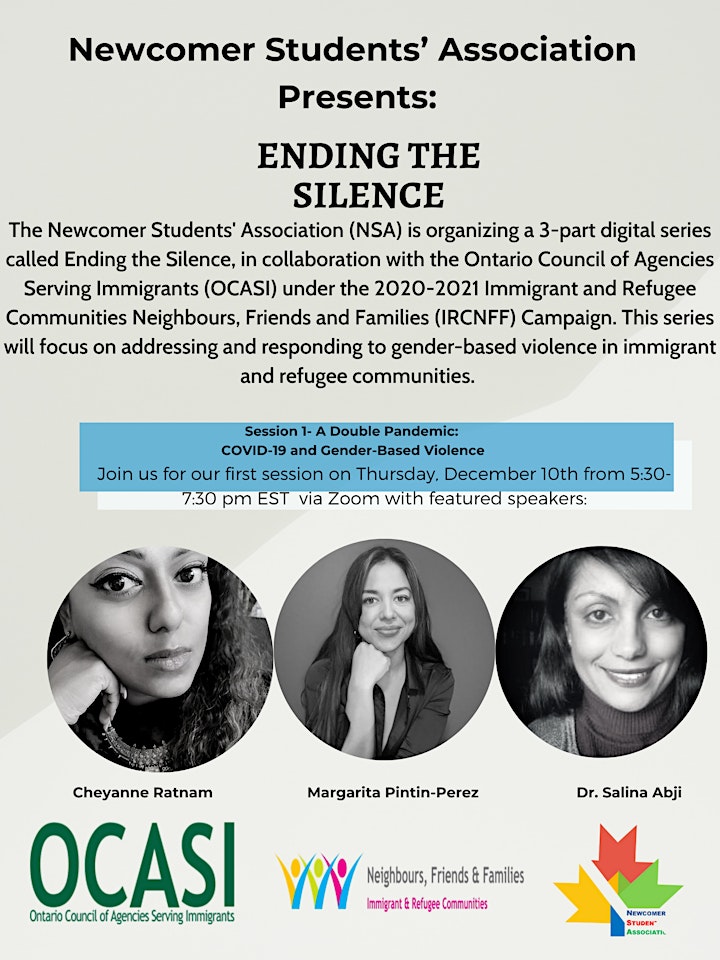 CONFIRMED SPEAKERS:
Cheyanne Ratnam
Cheyanne is a founding member, and lead, of the Ontario Children's Advocacy Coalition, and is on the board of directors of both Scarborough West Community Legal Clinic and the Children's Aid Society of Toronto, as well as a member of the Children in Limbo Taskforce. Cheyanne is also an Advocate regarding Childhood Sexual Abuse, and is a survivor herself. Previously, Cheyanne was the founder and co-manager of the "What's The Map?!" project, mobilizing young people with lived experience of homelessness from the global south to nurture a more coordinated system through multi-governmental policy circles and cross-sectoral community engagement. Cheyanne holds bachelor's and master's degrees in social work, and has appeared on The Agenda with Steve Paiken, Global News, and other media platforms. Some topics she has experience in (lived experience and professional), and is highly passionate about include: youth homelessness, youth in/from the child welfare system, Intimate partner violence and gender based violence, educational outcomes of vulnerable populations, and childhood sexual abuse.
-------------------------------------------------------------------------------
Salina Abji
Salina is a sociologist who studies the politics of gender, race and immigration status. She has published extensively on migrant rights activism in Canada in response to border enforcement, immigration detention, and access to citizenship for migrant women survivors of gender-based violence. She holds a PhD in Sociology from the University of Toronto and an MSt. in Women's Studies from Oxford University.
Salina currently provides strategic research support to NGOs primarily in the immigration and anti-violence sectors. She has also been an active member of the Rights of Non-Status Women's Network, a grassroots advocacy network, for the past ten years.
-------------------------------------------------------------------------------
Margarita Pintin-Perez
Margarita is Senior Coordinator of the Initiative to End GBV against Immigrant and Refugee Communities at OCASI – Ontario Council of Agencies Serving Immigrants. Margarita earned a PhD (2019) in Sociology from El Colegio de la Frontera Sur, Mexico and a Master of Social Work (2011) from the University of Toronto. Her research is interested in violence, specifically examining the role of discourse and space in securing racial and gendered violence against migrant communities. She has completed research in Canada and Mexico with published work on feminist research methods and different forms of symbolic and structural violence. Returning to Canada in 2019, she started her position at OCASI coordinating a national project focused on supporting an infrastructure of advocacy leadership among survivors of GBV and communities long time working to support non-status, refugee and immigrant women.
-------------------------------------------------------------------------------
Moderator: Sara Asalya
Sara is the Founder and Executive Director of the Newcomer Students' Association. She has a long track record of developing, managing and evaluating different programs and projects targeting immigrant and refugee communities internationally and in Canada, with a particular focus on immigrant women settlement experiences, and social and economic integration. Sara was recognized as Canada's Top 25 Canadian Immigrant for her leadership, and for being a champion for immigrants and refugees civic engagement, and political participation.