Ending the Silence: Reimagining Cross-sectoral Responsive Support for GBV
A 3-part digital series that focuses on addressing and responding to gender-based violence in immigrant and refugee communities.
About this Event
This 3-part digital series focuses on addressing and responding to gender-based violence in immigrant and refugee communities. With this project, we aim to raise awareness about gender-based violence by running informative public forums and community educational events, and provide tangible solutions about how we can address and respond to domestic violence in immigrant and refugee communities across Ontario.
Following two successful sessions in the Ending The Silence series, this final session will focus on reimagining cross-sectoral responsive support for gender-based violence survivors.
The COVID-19 pandemic has compelled careful consideration of post-COVID recovery planning in all sectors, we can take this as an opportunity to address existing systemic and institutional challenges in Canada. Gender-based violence has been noted as a growing "parallel pandemic' that is plaguing women in Canada, as such the final webinar in the Ending the Silence series hosted by the Newcomer Students' Association (NSA) and the Ontario Council of Agencies Serving Immigrants (OCASI) will focus on critical analysis of a few key questions including:
Why efforts in addressing gender-based violence so far have failed in Canada?
Why has the situation necessitated a cross-sectoral response for efforts to end domestic violence?
What are the systemic and or institutional barriers to achieving this goal?
What policies are needed in each respective sector to have an impact in ending gender-based violence against women in Canada
*A Zoom link will be emailed to registered attendees prior to March 1st*
Please note this virtual event will be recorded. If you do not wish to be recorded, please contact us at events@mynsa.ca prior to March 1st and we will be happy to discuss alternate options for participation.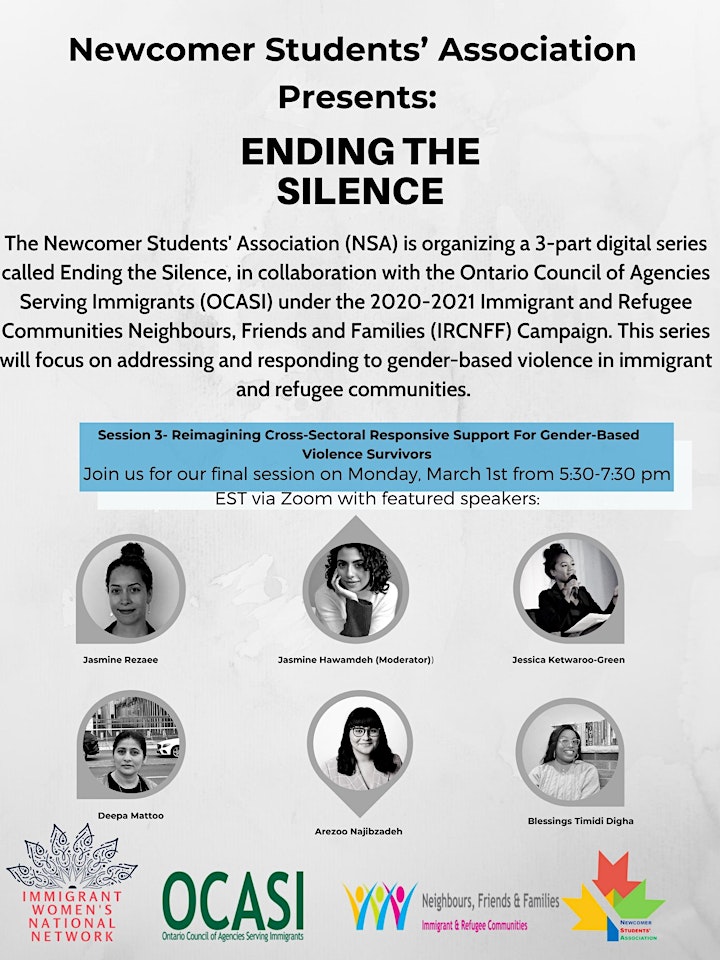 MODERATOR: Jasmine Hawamdeh
Jasmine Hawamdeh is a proud Palestinian-Canadian from Scarborough, TO. She is an independent artist, communications specialist and housing worker.
Jasmine has extensive experience engaging community members in policy through education and decision making opportunities. She lead a province wide student strike against the cuts to education, mobilized and rallied students to vote in the federal election and uses her art as an avenue for advocacy. She currently works as a housing worker at an Emergency Women's Shelter.
SPEAKERS:
Arezoo Najibzadeh, Founder & Managing Director at Platform, She/her
Sector: Women Capacity Building
Arezoo is a social innovator, communicator and a curator of powerful conversations and spaces. She is the founder and Managing Director of Platform, a non-profit organization that builds civic leadership capacity among Black, Indigenous, and racialized young women and gender-diverse youth. Platform enables young women to take on active roles within their community through local initiatives and civic engagement by strengthening young women's leadership capacity within their respective communities, enabling active engagement within the Canadian politics.
Through her work at Platform, Arezoo is advancing the conversation on gender and politics beyond representation to promote meaningful inclusion and prosperous futures for marginalized communities. Arezoo is recognized as a civil society leader and is the 2020 YWCA Toronto Young Woman of Distinction and a Women Deliver Young Leader.
-------------------------------------------------------------------------------
Jessica Ketwaroo-Green, Director of Advocacy and Public Policy at Canadian Women's Chamber of Commerce
Sector: GBV Advocacy and Public Policy
Jessica holds a Bachelor of Arts in Politics and Governance from Ryerson University focused on social justice, gender equity and policy studies. Throughout her professional career she has worked primarily in the non-profit sector coordinating programs to advance the social, political and economic position of women and gender diverse peoples in Canada. As a principal consultant, Jessica has supported private, for profit organizations and the public sector to strengthen individual and organizational capacity addressing racism and gender inequity. She is the Director of Advocacy and Public Policy with the Canadian Women's Chamber of Commerce. Her work has spanned a from sexual violence, intimate partner violence and women's economic security. As an independent consultant, she has delivered keynotes, workshops, and training on anti-black racism, gender, equity, and inclusion to strengthen individual and organizational capacity.
-------------------------------------------------------------------------------
Jasmine Rezaee, YWCA Director of Advocacy and Policy
Sector: Health & Community Services
Jasmine is an experienced public affairs leader. She is the Director of Advocacy & Communications at YWCA Toronto—one of Canada's leading women's organizations— and a Board Member at Access Alliance Multicultural Health & Community Services.
Jasmine has more than 12 years of nonprofit advocacy experience in gender equality, racial justice and poverty reduction in progressive leadership roles in Vancouver, Montreal and Toronto. Jasmine is committed to working with government, media and community partners to advance social change. She holds an MA in political science from the University of Toronto. Her work has been published in NOW Magazine, Ricochet Media, Policy Options, This Magazine, The Toronto Star, and Rabble.ca.
-------------------------------------------------------------------------------
Blessings Timidi Digha, Community Facilitator at Family Service Toronto
Sector: Family Services
Blessing is Community Facilitator at Family Service Toronto. She is a feminist, advocate, storyteller, public speaker and Community Based Researcher in Gender Based Violence, Sexual Reproductive Health and human rights. She has 15 years of experience in counselling and Crises Prevention and Intervention work in girls and women's Sexual Reproductive Health and rights addressing issues such as Teenage Pregnancy, Menstruation, Rape, Female Genital Mutilation among others, highlighting the blurred lines between Culture, Religion and Gender Based Violence. She volunteers with the End FGM Canada Network.
Blessing is committed to leveraging research and storytelling to enable community mobilization and engagement to address broader social hierarchies, power identities and existing structures that impact black, brown, indigenous, and racialized immigrant girls and women.
-------------------------------------------------------------------------------
Deepa Mattoo, Executive Director at Barbra Schlifer Commemorative Clinic
Sector: GBV Legal
Deepa Mattoo is the executive director of the Barbra Schlifer Commemorative Clinic. Previously, she was the Clinic's director of legal services. Before joining the Schlifer Clinic, Deepa was the project co-ordinator, staff lawyer and executive director at the South Asian Legal Clinic of Ontario. 
In her role as the executive director, Deepa oversees the Clinic's strategic direction and provides leadership to the legal, counselling and interpretation departments. Deepa is directly involved in critical projects related to the criminalization of women, sexual violence and the precarious status of women, the risk assessment of gender-based violence, and inter-disciplinary case management. Deepa also provides leadership for the Clinic's intervention and advocacy work and has appeared before parliamentary committees and UN civil society meetings on a wide range of social justice and human rights issues. She has also represented hundreds of clients at multiple tribunals and courts in numerous jurisdictions including the Supreme Court of Canada. 
Deepa is an Adjunct Professor and Visiting Faculty at the University of Toronto's Faculty of Law. She is also an Adjunct Professor at Osgoode Hall Law School where she is the co-director of the Feminist Advocacy Program, hosted at the Schlifer Clinic. Deepa was the Law Foundation of Ontario's 2017 Community Leadership in Justice Fellow at Factor-Inwentash Faculty of Social Work at the University of Toronto. She has trained thousands of service providers for best practices and legal education to work with forced marriage survivors, racialized non-status women, and immigration law clients in the context of gender-based violence.