Playing the best of Soca, Reggae, Dancehall, Afrobeat, Soca and Chutney
About this event
DJ Sweet Chunes & Friends presents "ENDLESS SHADES OF SUMMER" The Virtual Boat Ride on Zoom!
Join us as we celebrate our Caribbean culture through music and dance. Come and catch this vibe in a virtual fete alongside amazing DJs playing the best of Reggae, Dancehall, Afrobeat, Soca and Chutney.
Featuring:
All you need is your fabulous self, access to the internet and either a phone, computer, iPad or TV. Grab your drinks, turn on your camera and let's have some fun!
Once you register for your ticket, you'll be sent the link 48 hours ahead of the event date. Check your junk mailbox if not found in your inbox.
Download the Zoom app (for free) on the device you intend to use before the session starts.
SPONSORED BY MYLIME RADIO | ACE LIMERZ ENT | FREESTYLE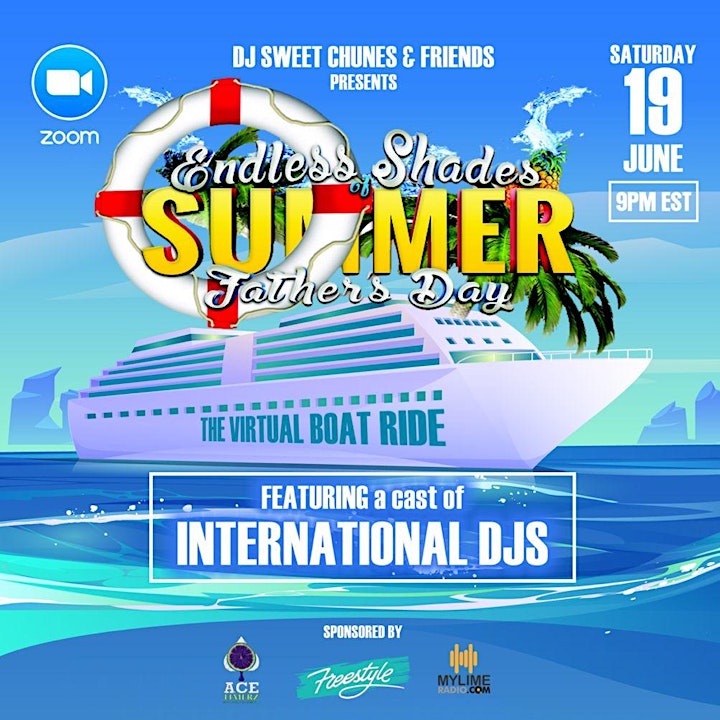 Organizer of Endless Shades of Summer - The Virtual Boat Ride on Zoom
DJ Sweet Chunes is one of Ottawa's most requested DJs. It all started with a burning desire to provide what was missing within Ottawa's Caribbean community - music in the Soca genre. Sweet Chunes started his career in the DJ world at the early age of 13 in Trinidad where he closely observed his uncle, DJ Prime Time, at events and started honing his craft. Today, quite the versatile DJ, he plays not only Soca, but caters to the lovers of Dance, Hip-Hop, RnB, Reggae, Dancehall, and Afrobeats, playing music for the past ten years and entertaining huge crowds.
From Charity events to Weddings to Private parties, you can find DJ Sweet Chunes keeping his listeners engaged by mixing, scratching and blending soca instrumentals with today's club hits. He has played at Nightclubs such as Kinki Lounge, The Avenue, Calypso Hut, Mansion, City, Flybar, Rituals, V Lounge, Blueprint, Elements and Czar; and is a promoter of the concept events. The yearly anticipated Privé, I AM Caribbean, Endless Shades of Summer and Sunset Lime are sold out events.
Featured in major festivals in Canada and Trinidad and Tobago such as Trinidad and Tobago Carnival, Toronto Scotia Bank Caribbean Carnival, Montreal Carifesta Festival, Latin Ottawa Festival and Carivibe Ottawa Festival, DJ Sweet Chunes shares his love for music and the Caribbean culture near and far. This DJ has played alongside well-known DJs such as; Mikey Wizdom, Papa Richie, DJ Kane, DJ Puffy, Kevin Baker, DJ Stephen, Willy Chin, DJ DOC, D'Bandit, Production Sounds, Private Ryan, Starting from Scratch, Dr. Jay, Soca Sweetness, DJ Mase and D'Enforcas Sound Crew to name a few.
The 2020 pandemic created a unique opportunity for DJ Sweet Chunes to entertain a global audience. Over the past year, DJ Sweet Chunes joined his fellow DJs and began providing carnival experiences via Zoom and Twitch. It's not only about playing music, it's also about creating the vibe and atmosphere that truly embodies and brings the Caribbean culture to life.
Today, you can find him playing on Mylime Radio and CHUO 89.1FM Freestyle show in Ottawa. Follow him on Social Media and Twitch to keep up with upcoming events and where you can find him playing. DJ Sweet Chunes is about reaching out, not only to the Caribbean community but also to new listeners and sharing his love of music with all.
Good vibes all around!