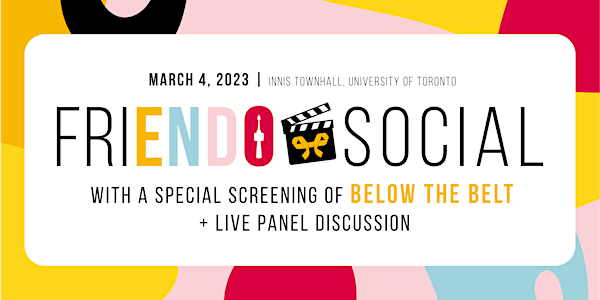 Endometriosis FriENDO Social: Below the Belt Film with Q&A Panel Discussion
Join the endometriosis community for a day of fun, education, and a special screening of the film Below the Belt. Get your tickets early!
When and where
Location
2 Sussex Ave 2 Sussex Avenue Toronto, ON M5S 1J5 Canada
About this event
To celebrate Endometriosis Awareness Month, attend our FriENDO Social at Innis Town Hall (2 Sussex Avenue, Toronto) on Saturday, March 4 and experience an afternoon of community building and support. We will watch the film Below the Belt, directed by Shannon Cohn. This documentary follows the story of people living with endometriosis as they navigate life and the healthcare system.
Schedule (Tentative)
1:30 p.m. - Doors open
2:00 p.m. - Activities, socializing and fun prior to the screening. Enjoy our hot cocoa bar, receive a seated massage and much more.
2:45 p.m. - 4:00 p.m. - Film screening
4:00 p.m. - 5:00 p.m. - Moderated panel discussion with Q&A (Q&A link sent out with ticket purchase on Eventbrite)
5:00 p.m. - 6:00 p.m. - Cocktail reception including (non)alcoholic beverages and passed hors d'oeuvres with community photo opportunities
7:30 p.m. - 9:00 p.m. - Dinner at 360 Restaurant, CN Tower (additional fee)
The Panel
Following the film, hear an engaging discussion from our expert panel, moderated by local on-air personality and journalist, Faiza Amin (@Faiza_Amin | @Faiza_AminTV). They will discuss their perspectives on the film, while also sharing their knowledge about endometriosis and the healthcare system.
You will have the option to submit your questions for our panelists when you purchase (a) ticket(s) to our event.
The panelists include:
*Dr. Jill Andrew, PhD, MPP - Gender and healthcare inequities advocate (@JillsLastWord)
*Laura Millions Cone - Endo warrior featured in Below the Belt (@livelikelotuswarrior)
*Danielle David, MSW, RSW - Registered social worker and psychotherapist (@infiniteinsightstherapy | @InsightsWithD)
*Anusha Gandhi - Endo warrior and owner of Ottawa health clinic, Femade (@femade.ca | @FemadeCa)
*Eileen Holowka - Montréal based researcher and social media advocate (@derangedpoetess)
*Jill Mueller - Pelvic floor physiotherapist (@endotogether | @PelvicHealthPT)
*Kate Wahl - EndoAct Canada researcher (@endoactcanada)
*Dr. Chloé Roumain - Fertility specialist (@FFFinfertility | @tripodfertility)
Raffle tickets will be on sale at the event for those interested in winning a special prize. VIP guests will receive preferred seating, a swag bag and a free raffle ticket, with a chance to win a gift basket full of surprises, plus a discount to our next event!
For an additional fee ($90 + taxes and gratuity), you may choose to attend dinner at the CN Tower's 360 Restaurant, where we will enjoy a three-course meal and continue the conversation. The CN Tower will be illuminated yellow for Endometriosis Awareness Month that same night. Dinner is scheduled for 7:30 p.m. Please note: There will be a 7-minute walk to St. George subway station, followed by a 25-30 minute subway ride to Union Station/CN Tower. Or personal transportation to the CN Tower is required.
Join us as we raise awareness for the 1 in 10 affected by endometriosis.
Tickets are limited! We strongly recommend purchasing your tickets early to avoid disappointment.
We strive to host inclusive, accessible events that enable everyone to engage fully, including people with disabilities, to engage fully. To respect those with allergies and environmental sensitivities, we ask that you please refrain from wearing strong fragrances to the event.
To request accommodation or for inquiries about accessibility, please contact (Tami and Leah, endometriosisevents@gmail.com).
COVID health and safety advice is being monitored and we will adjust policies as necessary. Masking is optional.
We look forward to seeing you on March 4th!
The Organizers
Alex @yellowbowsxo; Bev @unwellunlimitedly; Denise @respekendo; Kirsty @kirsty188; Michelle @the.happy.pelvis; Sara @survivingendo; Tami & Leah @endoevents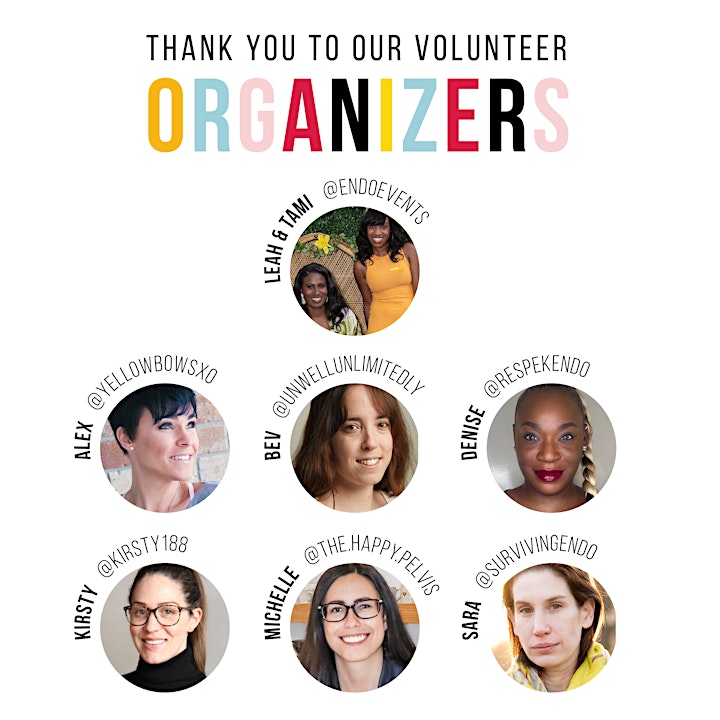 The Sponsors
Diva; Ohnut; OLG; The Old Spaghetti Factory; The Keg; Nature's Path Organic Foods; Longo's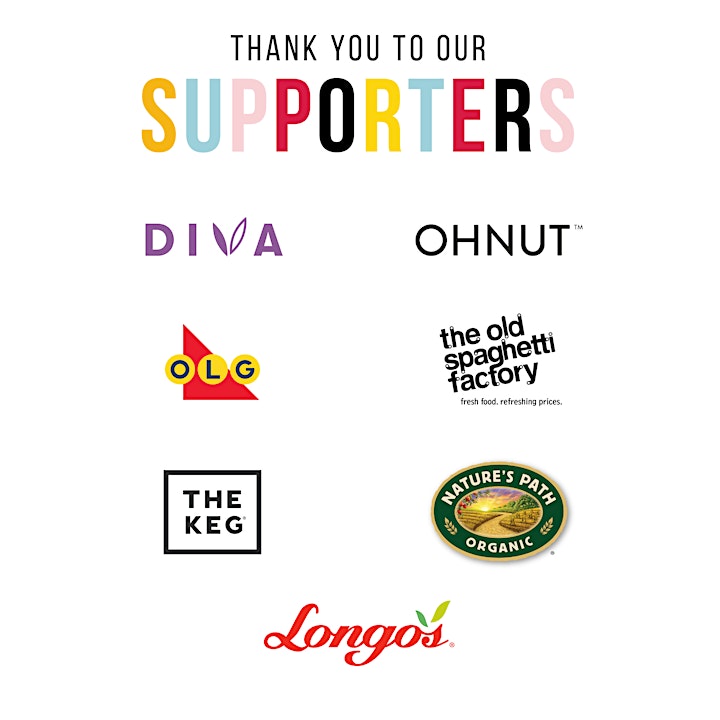 The Menu (360 The Restaurant at the CN Tower) *Additional Fee