Endurance exercise and your heart: The good, the bad, and the ugly
When and where
Location
Sandhill Winery 1125 Richter Street Kelowna, BC V1Y 2A2 Canada
Description
Join Dr. André La Gerche, cardiologist at St. Vincent's Hospital in Melbourne Australia and senior research fellow at the University of Melbourne, Australia, to learn how endurance exercise impacts the human heart.
La Gerche is a leading cardiologist who specializes in cardiac imaging. He is a Future Leadership Fellow of the National Heart Foundation and a NHMRC Career Development Fellow. La Gerche is well known for his research within elite sporting communities and he is regularly asked to provide expert comment or to present to health professionals, community, sporting groups and the media. La Gerche is the Director of the recently formed National Centre for Sports Cardiology, a strategic partnership between clinical researchers who specialise in sports cardiology.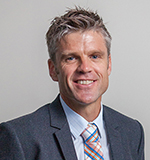 La Gerche is interested in the interaction between exercise and heart function and wants to develop more effective methods for studying the heart when it is being exerted during exercise. He has developed novel echocardiographic and cardiac magnetic resonance imaging (CMR) methodologies for assessment of the right ventricle and pulmonary circulation during exercise. These have been applied to the assessment of heart failure, congenital heart disease, pulmonary hypertension and athletes. La Gerche has over 160 peer -review publications and text-book chapters including publications in Circulation and the European Heart Journal.
Among the studies being conducted by La Gerche and his team is a pivotal international prospective longitudinal Pro@Heart study. This study will detail the evolution of exercise-induced cardiac remodelling (athlete's heart) amongst elite junior endurance athletes. It will quantify individual variance in the extent and rate of development of athlete's heart, identify its genetic determinants and assess clinical outcomes. The study will be conducted over 25 years, enabling the long-term health benefits of endurance sports training to be assessed.

La Gerche is hosted by the Centre for Heart, Lung and Vascular Health (CHLVH), which is a centre for research excellence in the School of Health and Exercise Sciences at UBC Okanagan. The CHLVH performs research specifically focused on heart, lung and vascular health throughout the human lifespan.