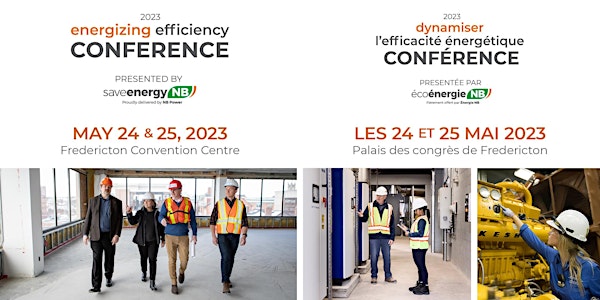 Energizing Efficiency 2023 Dynamiser l'efficacité énergétique
Building a greener and more efficient future for New Brunswick / Un futur plus vert et plus efficace pour le Nouveau-Brunswick.
Date and time
Wed, May 24, 2023 8:00 AM - Thu, May 25, 2023 4:00 PM ADT
Location
Fredericton Convention Centre / Le Palais des congrès de Fredericton 670 Queen Street / 670, rue Queen Fredericton, NB E3B 1C2 Canada
Refund Policy
Contact the organizer to request a refund.
Eventbrite's fee is nonrefundable.
About this event
1 day 8 hours

Mobile eTicket
BUILDING MOMENTUM * POURSUIVONS NOS EFFORTS
Significant change is underway, but momentum must continue to avoid the worst impacts of climate change. That momentum will spur action from all of us – individuals, communities, businesses, governments and utilities – to use less energy, from cleaner sources, to use it more efficiently and to support with advocacy, equity, policy and infrastructure. We can't leave anyone behind.
Des changements importants sont en cours, mais nous devons continuer à déployer les efforts nécessaires pour éviter les pires conséquences liées au changement climatique. Nous devons tous agir - particuliers, communautés, entreprises, gouvernements et services publics - pour consommer moins d'énergie, produite à partir de sources plus propres, et l'utiliser de manière plus efficace, et pour soutenir les actions de sensibilisation, d'équité, de politique et d'infrastructure. Nous ne pouvons laisser personne de côté.
Let's come together to share best practices, learn from each other, talk about solutions and look for ways to collaborate. / Rassemblons-nous pour partager les meilleures pratiques, apprendre les uns des autres, discuter des solutions et envisager des possibilités de collaboration.
This year's conference will feature the following topics / La conférence de cette année portera sur les sujets suivants :
Energy Efficiency / Efficacité énergétique
Opportunities to save energy, money, and lower greenhouse gas emissions come from reducing energy waste and improving efficiency. We will strive for solutions that have mutual benefits and provide support where and when it is needed.
Les possibilités de réaliser des économies d'énergie et d'argent et de réduire les émissions de gaz à effet de serre découlent de la réduction du gaspillage d'énergie et de l'amélioration de l'efficacité. Nous nous efforcerons de trouver des solutions qui présentent des avantages mutuels et nous fournirons un soutien là où il est nécessaire.
Energy Management / Gestion de l'énergie
Managing energy helps drive operational savings and the sharing of energy and equipment data. It can also improve overall well-being, boost productivity, increase ROI and extend the lifespan of equipment.
La gestion de l'énergie permet de réaliser des économies sur le plan de l'exploitation et de partager les données relatives à l'énergie et à l'équipement. Elle peut également améliorer le bien-être général, stimuler la productivité, augmenter le retour sur investissement et prolonger la durée de vie utile de l'équipement.
Carbon Reduction / Réduction des émissions de carbone
Reducing carbon emissions helps ensure cleaner air, water and food. At every opportunity we can embed sustainable technologies, energy solutions and behaviours across households, facilities, communities as well as transportation and energy infrastructures.
La réduction des émissions de carbone permet de préserver la qualité de l'air, de l'eau et de la nourriture. À chaque occasion, nous pouvons intégrer des technologies, des solutions énergétiques et des comportements durables dans les foyers, les installations, les communautés ainsi que dans les infrastructures de transport et d'énergie.
WHAT TO EXPECT? / QUOI FAIRE ?
This year's conference will once again share best practices, case studies, innovative techniques and energy solutions, while enhancing the conversation with content and resources from well-respected speakers in the areas of clean energy, transportation, energy efficiency, building systems, community planning and policy.
La conférence de cette année portera sur les meilleures pratiques, les études de cas, les techniques innovantes et les solutions énergétiques, et favorisera la conversation grâce au contenu et aux ressources présentés par des intervenants très respectés dans les domaines de l'énergie propre, des transports, de l'efficacité énergétique, des systèmes de construction, de la planification communautaire et des politiques.
WHAT IS INCLUDED? / Q U'EST-CE QUI EST INCLUS ?
Registration for this two-day conference includes access to keynotes, breakout sessions, exhibits, breakfast, lunch, and nutritional breaks, as well as a ticket to the conference dinner with entertainment on Wednesday, May 24.
L'inscription à cette conférence de deux jours comprend l'accès aux conférences principales, aux sessions en petits groupes, aux expositions, au petit-déjeuner, au déjeuner et aux pauses nutritionnelles, ainsi qu'un billet pour le dîner de la conférence avec des divertissements le mercredi 24 mai.
DEADLINE TO REGISTER is Friday, May 19, 2023.
LA DATE LIMITE D'INSCRIPTION est fixée au vendredi 19 mai 2023.
FAQs
What's the refund policy? / Quelle est la politique de remboursement ?
Cancellations received before midnight on Friday, May 19 are eligible for a 100% refund. Cancellations received after Friday, May 19 are not eligible for a refund but are tranferrable. / Les annulations reçues avant le vendredi 19 mai à minuit donnent droit à un remboursement à 100 %. Les annulations reçues après le vendredi 19 mai ne donnent pas droit à un remboursement mais peuvent être transférées.
Is my registration fee or ticket transferrable?  / Mes frais d'inscription ou mon billet sont-ils transférables ? 
Registrations are transferrable but must be submitted by request to angela@pretzelproductions.ca no later than 48 hours prior to the event. /Les inscriptions sont transférables mais doivent être soumises par demande à angela@pretzelproductions.ca au plus tard 48 heures avant l'événement.
How can I contact the organizer with any questions?  
For questions regarding registration/ Pour les questions concernant l'inscription : angela@pretzelproductions.ca 
For questions regarding conference agenda / Pour toute questions concernant l'agenda de la conférence : conference@nbpower.com
ACCOMMODATIONS * HÉBERGEMENT
The Hilton Garden Inn Fredericton is pleased to offer conference delegates a discounted rate on guest rooms on Tuesday, May 23 and Wednesday, May 24, 2023. There are also a limited number of guest rooms available at the Crowne Plaza Fredericton. / Si vous venez d'ailleurs, le Hilton Garden Inn de Fredericton est heureux d'offrir aux délégués de la conférence un tarif réduit sur les chambres le mardi 23 mai et le mercredi 24 mai 2023. Il y a également un nombre limité de chambres disponibles au Crowne Plaza de Fredericton.
Conference Preferred Room Rate / Tarif préférentiel
Standard guest room rate at both hotels is $134.00 and $154.00 for a king room + applicable taxes and fees. / Le tarif pour une chambre standard dans les deux hôtels est de 134,00 $ et de 154,00 $ pour une chambre avec très grand lit + taxes et frais applicables.
Reservations must be made on or before Monday, April 24, 2023 (based on availability) in order to be eligible for the group rate. Please mention group code name Energizing Efficiency when booking when calling to receive special rate. / Les réservations doivent être effectuées au plus tard le lundi 24 avril 2023 (en fonction de la disponibilité) pour pouvoir profiter du tarif de groupe. Veuillez mentionner le code « Dynamiser l'efficacité énergétique » en réservant votre chambre d'hôtel pour profiter du tarif réduit.
For reservations at Hilton Garden Inn Fredericton: (506) 999-1551 or online here.
For reservations at Crowne Plaza Fredericton : (506) 455-3371 or online here.
Where can I park? / Où puis-je garer ma voiture?
Delegates and hotel guests may use the Fredericton Convention Centre parking garage on King Street, that's attached to the Fredericton Convention Centre. Parking at the garage is $1.00 per hour for first 9 hours. Between 9 and 24 hours is prorated to a maximum of $15.00 / Les délégués et les clients de l'hôtel peuvent utiliser le garage de stationnement rattaché au Centre des congrès de Fredericton sur la rue King. Le tarif de stationnement est de 1,00 $ par heure pour les 9 premières heures. De 9 à 24 heures, le tarif est calculé au prorata jusqu'à un maximum de 15,00 $.
Crowne Plaza Fredericton offers convenient on-site parking at a rate of $1.75 per hour to a maximum of $13.00 per day and guests of the Crowne Plaza may charge to their guestroom folio. / Le Crowne Plaza de Fredericton offre du stationnement sur place au tarif de 1,75 $ l'heure jusqu'à un maximum de 13,00 $ par jour et vous pouvez ajouter ces frais sur votre facture de chambre.
Hilton Garden Inn Fredericton also has onsite covered parking available for $13 per day for guests staying at their property. Hotel guest are to their register licences plate upon check in. / Le Hilton Garden Inn de Fredericton offre également à ses clients du stationnement sur place pour 13,00 $ par jour. Les clients de l'hôtel doivent présenter le numéro de leur plaque d'immatriculation lors de l'enregistrement.
Driving an EV? / Vous conduisez un véhicule électrique?
There is a level 2 electric vehicle charging station at the Crowne Plaza for guests, and additional Level 2 and DC fast chargers at the NB Power office at 527 King Street and behind Fredericton City Hall on York Street. Il y a une borne de recharge pour véhicules électriques de niveau 2 au Crowne Plaza et des bornes de recharge rapide à courant continu au siège social d'Énergie NB au 527, rue King et derrière l'hôtel de ville de Fredericton sur la rue York.