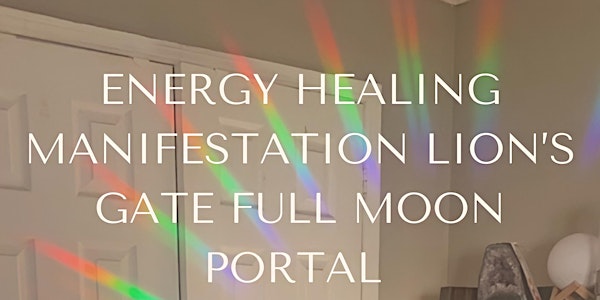 ENERGY HEALING MANIFESTATION LION'S GATE FULL MOON PORTAL CEREMONY
ENERGY HEALING MANIFESTATION LION'S GATE FULL MOON COSMIC CEREMONY
Refund Policy
Contact the organizer to request a refund.
Eventbrite's fee is nonrefundable.
About this event
I invite you to join me on Friday, August 12th at 8 PM EST for an ENERGY HEALING MANIFESTATION LION'S GATE FULL MOON COSMIC CEREMONY!
We have this potent and powerful alignment of Earth, Sun in Leo, Orion's Belt and Sirius which is a supercharged energy of light codes coming down to us. In this time we may notice sleep patterns changes, higher conciousness awarnesss, enhanced intuition, synchronicities, emotional release, courage, frequency upgrades, vivid dreams, stepping into our power and potent energy for manifestation, wanting to expand our horizons, widening the vision for our future, push to dream bigger and ask for more! It's a massive opportunity to take on more light and the changes you make will be revolutionary for the time to come! AFFIRM IT ✨
We also have a Full Moon in Aquarius! It is time to release and receive our alignment!
Leo represents our inner child and Aquarius represents our teenager self so if you didn't follow your passions the first time, it's not too late to rebel and create a new world that you truly desire. This is cosmic peer pressure and it's time to take your POWER BACK!
YOUR energy gets to level up, your spirit gets to be reborn, your heart to open up, your mind to be at peace 🫶🏼
THIS WEEK IS FOR FINAL DECISIONS! YOU GOT THIS SOUL FAMILY.
Through this Energy Healing Manifestation Ceremony, we use breathwork, EFT technique-guided motivational messages, a magical playlist, sound healing to activate/upgrade our DNA, open our hearts wide open, and help you break down old neural pathways in the brain that are responsible for self-sabotage. These safe, effective treatments for anxiety and trauma can reduce stress held in the body, boost self-awareness, and increase overall confidence. We clear from the DEEPEST place of these wounding/limiting beliefs. This is how we rewire our brain and therefore change our reality. Which will ultimately help you reduce your daily stressors massively and to practice mindfulness.
Here's everything you need to know:
We meet 8 PM EST via Zoom.
Your camera can be on or off – I recommend on so I can see all of your beautiful faces!
The night will go as follows:
- High Frequency Attunement Candle Lighting
- Intention Setting: Leo Courageous Heart Energy Healing
- Short lesson on the Energy of Cosmic Cycles & how we also move in cycles as a collective + remind of your incredible magical and creative abilities!
- 15 minutes of EFT tapping session that I created to amplify and enhance our Lion's Gate Portal manifestation capabilities plus + I added beautiful and powerful subconscious mind reprogramming affirmations to the session!
- 15 minutes of Journaling to write down our new beliefs and affirm it with a unique strategy and attuning to the frequency of gratitude and bringing in your goals to alignment.
- 15 minutes of Guided Breathwork – that's how we use our quantum energy to make leaps of consciousness to get to the life and vision we desire!
- Grouding In the New Frequency
What you'll need:
- Your present self
- Journal/paper & pen
- A quiet, comfortable place to sit and lay down (for guided breathwork)
- Blankets, pillows, anything to be comfortable
Optional:
For ceremony, it makes the energy even MORE potent to set up your space in a specific way.
Consider tidying up and cleaning up your space, having some fresh flowers near your ceremony space, a new candle, crystals, incense, whatever will take you out of the ordinary and into the magical.
Consider preparing your physical temple as well – enjoy a luxurious shower beforehand and come feeling fresh and ready to tap into miracles!
You do not NEED to do any of this – I am holding that sacred space for you already! However, it is important to leave the "mundane" behind and step into a feeling of "otherness" in ceremony.
Consider wearing white, pastels, or bright, summery colors.
AGAIN – all up to your discretion, my beloved!
I cannot wait to gather and manifest together, as we are meant to!
Please don't come with expectations. Just show up with an open mind. Simply set your intention to release any old habits/patterns and be ready to fill that space with love and gratitude.
Oh, and enjoy the ride! 😉
AFTER CALL SUGGESTIONS:
1. Drink lots of water.
2. Take an Epson salt bath that same night.
3. If you can't take an Epson salt bath then please shower (cleanses your aura/ old energies).
4. Don't call or text anyone that can trigger you or stress you out (24-hour minimum).
5. Do not drink or smoke marijuana after class. Just rest and relax, you worked hard for it.
I CAN'T WAIT TO SEE YOU THERE!