One day virtual event featuring experts, speakers & panelists from across the energy sector, and presenters sharing the latest innovations.
About this event
Thursday, May 26, 2022
8:00 am to 2:00 pm - Virtual (Zoom)
EnergyNow is hosting its annual Energy Innovation Month and Company Showcase from May 25th - June 25th, 2022. This month-long event will feature all of the latest innovation, technology, and research from experts across the energy sector.
To kick off a month of celebrating innovation, our conference will be held virtually on May 26th.
Our conference will feature topics such as:
Decarbonization
Energy Transition 
Energy Diversification
Digitalization & Cloud Services
ESG & Emissions Reduction 
Cleantech & Renewables
Investment Opportunities
We will cover this information with:
10 Company Presentations with technology and innovation experts from across the North American energy sector
Keynote speaker
Panel Discussion
Industry Experts - discussing the latest innovations
Investment Opportunities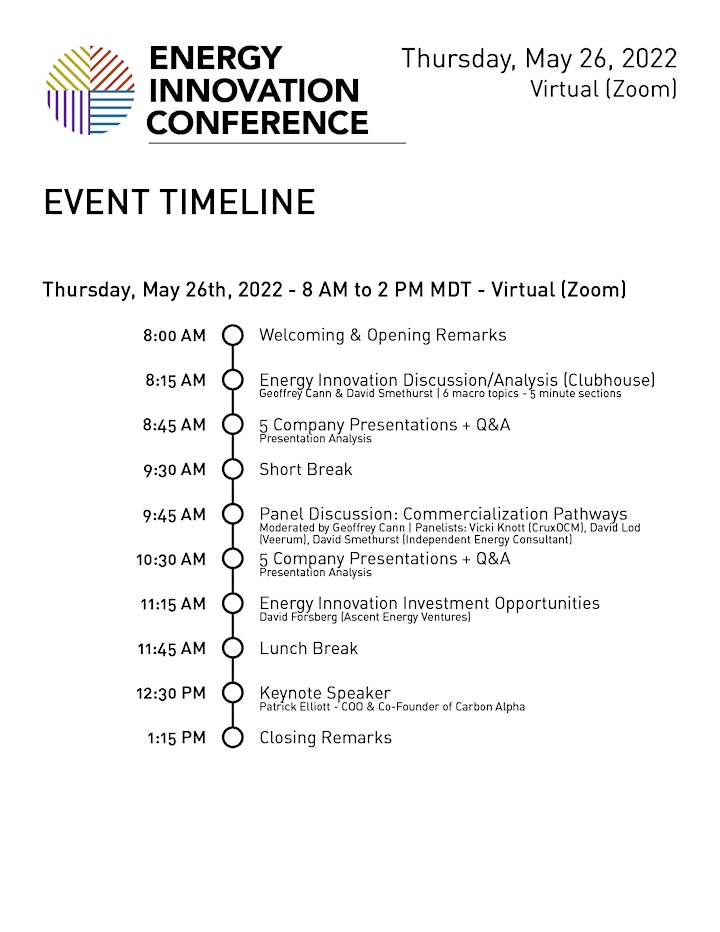 Last year, over 1,600 attendees learned, engaged, networked and collaborated with leading marketers, salespeople, business owners, executives, innovators, solution providers, stakeholders, academics, and more. This year we are expecting a much larger audience in Canada, United States and Internationally and we would love for you to be a part of it!
Tickets are FREE!
For more information about Energy Innovation Month 2022 - check out our landing page here: https://marketing.energynow.ca/energy-innovation-month-2022
All Attendees will receive a FREE Digital Copy of Carbon, Capital, and the Cloud by Geoffrey Cann