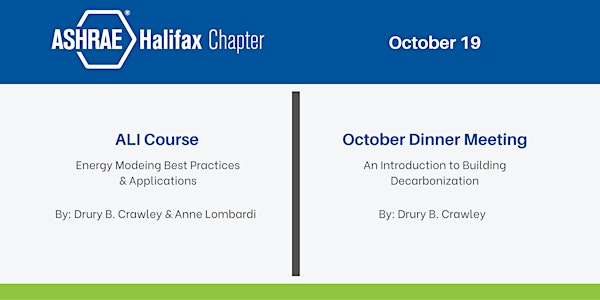 Energy Modeling Course and/or Decarbonization Dinner Meeting
"Energy Modeing Best Practices & Applications" Course followed by "An Introduction to Decarbonization" Dinner Meeting led by Dru Crawley
When and where
Location
Ashburn Golf Club 3250 Joseph Howe Drive Halifax, NS B3L 4G1 Canada
Refund Policy
Contact the organizer to request a refund.
About this event
Energy Modeling Best Practices & Applications
Course Length: 6 hours AIA and GBCI content + 1 hour of NECB-specific content
This seminar covers the fundamentals of building energy modeling and explains how to use modeling to guide design decisions. Course participants will learn how to integrate modeling into the design process from the programming stage through post-occupancy and measurement and verification. The course explains modeling principles and provides modeling tips related to the building envelope, plug loads, lighting systems, and HVAC systems. The seminar discusses valuable quality control steps and compelling methods for presenting results as well as the appropriate use of modeling throughout the project life cycle and life-cycle cost analysis. The seminar concludes with guidance on model calibration and the use of energy models for measurement and verification. Case studies and links to valuable modeling resources are included.
Recommended References - will be available for purchase at 50% off cover price:
ASHRAE Standard 55-2020, Thermal Environmental Conditions for Human Occupancy
ASHRAE Standard 62.1-2019, Ventilation for Acceptable Indoor Air Quality
ASHRAE/IES Standard 90.1-2019, Energy Standard for Buildings Except Low-Rise Residential Buildings
ASHRAE Standard 209-2018, Energy Simulation Aided Design for Buildings Except Low-Rise Residential Buildings
Instructors:
Drury B. Crawley, Ph.D., AIA, Fellow ASHRAE, BEMP
Anne Lombardi, P.Eng, Efficiency Nova Scotia
Course Agenda:
8:30–8:45 - Registration
8:45-10:00 - Introduction; Modeling to Inform Design; Modeling Fundamentals--Part1
10:00-10:15 - Break
10:15-11:45 - Modeling Fundamentals--Part2
11:45-12:45 - Q&A, Lunch
12:45-2:15 - Modeling Best Practices; Performance Rating Method
2:15-2:30 - Break
2:30–3:30 - Applying and Interpreting the NECB in New Construction Projects
3:30-3:45 - Break
3:45-5:15 – Calibration; M&V - END OF MODELING COURSE.
Evening Dinner Agenda
5:15 - 6:15 - Networking & Cocktail Hour
6:15 -8:30 - Dinner Meeting - "Introduction to Building Decarbonization"
This event is generously supported by Efficiency Nova Scotia.
Promo codes are available to Efficiency Nova Scotia's Preferred Partner members. Please contact your Efficiency Nova Scotia representative for more information.

Dinner Conference:
The ASHRAE Halifax Chapter's Research Promotion & Government Affairs Committees are happy to host an evening of networking and discussions.
The evening will begin with cocktails and networking starting just after the day's training session.
This month's Dinner Conference Presentation is "An Introduction to Building Decarbonization" presented by ASHRAE Distinguished Lecturer, Dru Crawley
This presentation describes the basics of building decarbonization are presented including building carbon dioxide and other emissions, key drivers for decarbonization, how carbon impact is measured, and the accepted international standards for defining carbon life-cycle calculations. The key decarbonization methods are then described including offset strategies, electrification technology applications, and ways they can be implemented in the building sector. Finally, the efforts that ASHRAE already has under way to provide relevant information about decarbonization to the membership, and to embed decarbonization in our standards and guidelines.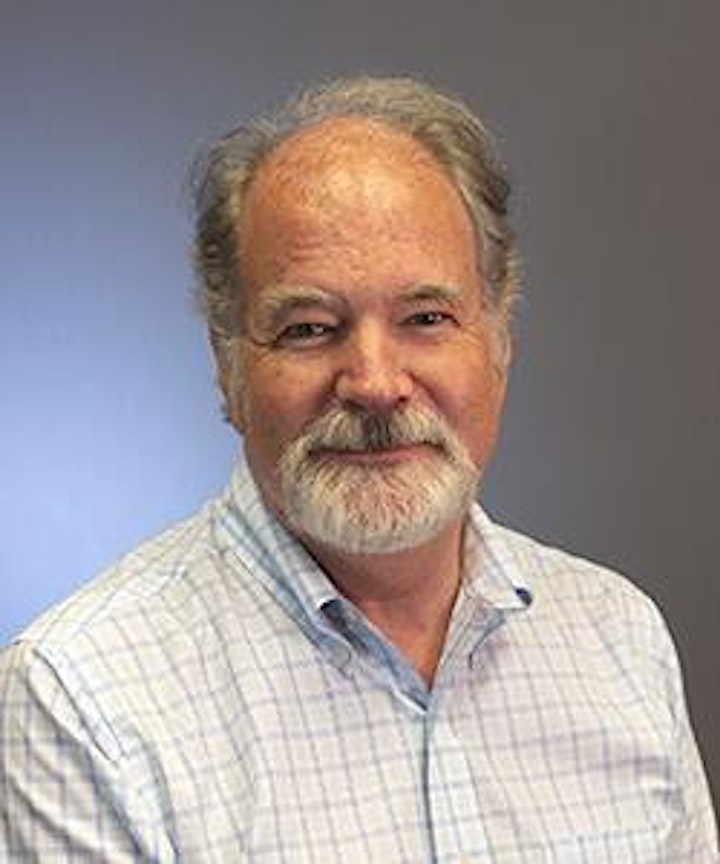 Dr. Drury B. Crawley, Ph.D., AIA, Fellow ASHRAE, BEMP, is a Bentley Fellow and Director of Building Performance Research with Bentley Systems Inc., focusing on building performance, BIM, zero-energy buildings, resilience, sustainability, and smart cities. With more than 40 years of experience in energy efficiency, renewable energy, and sustainability, Dr. Crawley has worked in engineering software development, government research, and standards development organizations, as well as building design and energy consulting companies.
Dr. Crawley is active in ASHRAE (Chair of ASHRAE Standard 169, Climatic Data for Building Design Standards; member and Vice Chair of Standard Committee; member of SSPC 189.1 [Standard of the Design of High-Performance, Green Building Except Low-Rise Residential Buildings]; member of SSPC 140 [Standard Method of Test for the Evaluation of Building Energy Analysis Computer Programs]; former member of the Technical Activities, Research Administration, Advocacy, and Grassroots Government Activities Committees; and past chair of Technical Committees 2.8, 4.2, 4.7, and 7.1). He was elevated to ASHRAE Fellow in 2009 and achieved ASHRAE BEMP certification in October 2012. He is the recipient of ASHRAE Exceptional Service Award (2013), Service to ASHRAE Research Award (2012), Distinguished Service Award (2003), and Symposium Best Paper Award (1999) for "Which Weather Data Should You Use for Energy Simulations of Commercial Buildings?"
Before joining Bentley Systems in 2010, Dr. Crawley developed, launched, and managed the USDOE's Commercial Building Initiative for cost-effective, low- and zero-energy commercial buildings, including sector Energy Alliances (now Better Buildings Initiative and Alliances). He also managed the DOE's building energy software research and development, including EnergyPlus (winner of 2003 R&D100 Award), OpenStudio plugin for SketchUp, Energy-10, and DOE-2.
A registered architect, he received a doctorate in Mechanical Engineering on the topic of building simulation as a policy tool, looking at the potential impacts of climate change on the built environment at the University of Strathclyde in Glasgow, Scotland. He also holds a Bachelor of Architecture degree from University of Tennessee and is a registered architect.
Dr. Crawley is also active in the International Building Performance Simulation Association (IBPSA) (Vice President since 2018, at-large board member since 1998, Fellow in 2012, Regional Affiliate Liaison since 2006), IBPSA-USA (IBPSA-USA President since 2019, board member since 2013, Vice President 2017-2019, Treasurer 2013-2017). He also is active in AIA and USGBC (LEED EA TAG, former Research Committee member) and on the editorial boards of three international journals. He has published more than 125 papers and articles, testified before the U.S. Congress, lectured at more than 30 universities, and made more than 500 presentations on building energy efficiency, sustainability, and renewable energy throughout the world.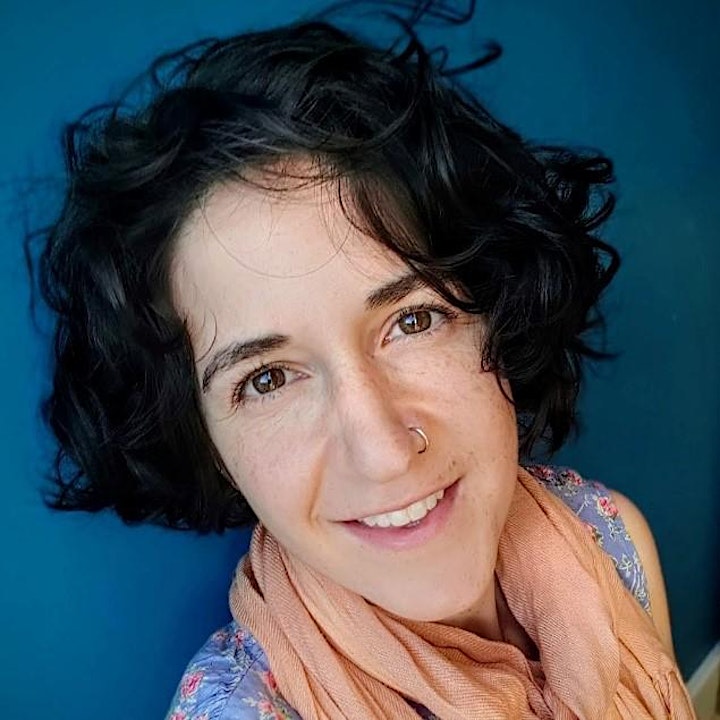 Anne Lombardi is a professional engineer with expertise in high-performance building design, energy modeling, and energy performance regulations. She currently manages Efficiency Nova Scotia's Commercial New Construction program, which promotes the use of energy modeling as a design tool and provides financial support for energy-efficient new construction. Prior to joining E1, Anne was the lead faculty in NSCC's energy sustainability program, and previously worked in tidal energy research and building automation design. She has been monitoring her carbon footprint since the age of ten, and is passionate about helping society understand and redefine the complex systems that shape our relationship with the earth – with the ultimate goal of reducing anthropogenic impacts on the natural world. Anne's favorite modeling advice: "All models are wrong, some are useful" – George Box