Description
Need innovative ways to save on energy, increase efficiency and increase your bottom line?
Are you responsible for saving money on electricity, gas and water?
Don't miss the leading energy event of 2019. ENERGY SOLUTIONS EXPO (ESX) brings a wealth of innovation and technology in energy efficiency, generation and storage. Over 50 exhibiting companies. Learn from leaders in the field about efficiency for the Commercial, Industrial, AGRI, MURB and Institutional sectors. The event also provides educational sessions and expert-led workshops covering the latest trends and technology for energy, gas and water efficiency.
INCLUDED, Complimentary Continental Breakfast, Lunch and Beverages, Networking Event and Hors d'oeuvres.
EVENT HIGHLIGHTS
50+ Industry partners/vendors showcasing the latest technology in energy efficiency, storage and generation

Free networking event for registered attendees

Education sessions and panels on compressed air, lighting, HVAC, energy generation, storage reducing costs through behavioral changes, internet of things and mitigating global adjustment

Suitable for businesses of all sizes

Admission includes free continental breakfast, free buffet lunch and free refreshments throughout the day
* NEW FOR 2019
May 28, 2019 8:00 am - 4:00 pm (meals and beverages included)
RETScreen Expert – A Quick Start and Refresher
Energy Analysis Tools for Developing and Tracking Energy Projects
Use RETscreen to help identify, assess and optimize the technical and financial viability of protential eneryg projects.
This workshop will provide an introduction to RETScreen Expert with a focus on using RETScreen to estimate savings from energy efficiency projects and to demonstrate improvement in energy performance from projects or other measures. Participants will spend a majority of workshop time in hands-on software activities. Bring your own laptop - required.
Part A will explore the application of the Feasibility Analysis tools in RETScreen to quick and easy project assessment considering both technical and financial analysis. Various project types will be considered from both buildings and industrial contexts.
Part B is designed to develop the ability of participants to monitor the energy performance of a building and verifying savings from efficiency projects using RETScreen Expert's Performance Analysis tools including the techniques of regression and CUSUM.
Cost is $499.00 - Eligible for 50% Save on Energy incentive, all supporting paperwork will be supplied *
---
May 28, 2019 8:00 am - 4:00 pm (meals and beverages included)
Existing Building Commissioning (EBCx) for Operational Efficiency
Finding Energy Savings by Taking What You Have & Making it Better
Increasing occupant comfort and satisfaction while reducing energy operating costs is a powerful way to unlock value in your building assets. It has been well documented that the practice of EBCx will reduce operating costs while improving the quality of the indoor environment.
This workshop will provide participants with a practical approach to EBCx, with a specific focus on the elements of a robust investigation. The workshop leader is a seasoned EBCx professional and will provide examples, case studies from a variety of commercial and institutional building types. A strong focus will be placed upon the operational efficiency of HVAC systems. Valuable spreadsheets tools that support the EBCx investigation will be provided.
Cost is $399.00 - Eligible for 75% Save on Energy joint incentive, all supporting paperwork will be supplied. *
* May 29th EXPO and NETWORKING EVENT are both included with either the RETScreen and EBCx ticket types.
---
May 28, 2019 5:30 pm - 7:30 pm (

Hors

d'oeuvres

included)
Evening Networking with Key Note Speaker
Meet colleagues, channel allies and customers during the evening in an informal setting. Listen to a Stephen Dixon, leading industry key note speaker discuss energy efficiency trends and technologies in the marketplace.
Must be a registered attendee of the tradeshow to attend. Registration to the tradeshow is available on site.
---
Education expo, sessions and panels are included in your tradeshow or RETScreen or EBCx registration. You must select each education session or panel discussion you would like to attend during the registration process. Space is limited.

---
May 29, 2019 7:30 am - 3:00 pm (Continental breakfast, beverages and lunch included)
Choose your education sessions after you have registered for ONE of the ticket types.
Tradeshow, Education Sessions / Panel Topics


AGENDA
---
---
7:30 am Registration Opens, credential pick up
8:00 am Tradeshow floor opens, continental breakfast is avaialble

EDUCATION SESSIONS / PANEL TOPICS

8:30 am Sessions
1. LOCAL ONTARIO COMPRESSED AIR SYSTEM SUCCESS STORIES & SOLUTIONS Sam Dick,Comairco - North York, ON

2. INTELLIGENT LIGHTING SOLUTIONS FOR C I & I APPLICATIONS - Combining Smart Lighting, IoT and Apps CREE Canada - Mississauga, ON
3. ONTARIO MARKET INTELLIGENCE - What You Need to Know to Minimize Peak Demand and Global Adjustment Willie Grove, Managing Director Business Development, Rodan Energy Solutions - Mississuaga, ON
10:00 am Sessions
1. ADVANCED ROOFTOP CONTROLS AFTER LED UPGRADES Kevin Hopkins, Director of Affiliate Relations for NA, Transformative Wave- Kent, WA

2. A BUDDING OPPORTUNITY, Energy Efficiency Best Practices for the Cannibis Industry Hadi Feltham, President, Your Grow To Guy - Calgary, AB
3. AIR MOVEMENT FOR ENERGY EFFICIENT COMFORT Patrick Wilson, Big Ass Fans - Lexington, KY
11:30 am Sessions
1. SAVE ON ENERGY PROGRAM FOR CUSTOMERS AND CHANNEL ALLIES - Independent Electricty System Operator (IESO)
2. THE SUCCESS OF REAL TIME MONITORING - Reporting and Analytics of Compressed Air Systems, Andrew Smith, Quantum Energy
3. IDENTIFY HIDDEN PUMP ENERGY SAVINGS POTENTIAL - Anida Sarker, Ammar, GRUNDFOS
1:00 pm Sessions
1. IoT - HOW THE INTERNET OF THINGS IS HELPING CANADIAN BUSINESSES SAVE ENERGY Darren Cooper, President, Renteknik Group - Burlington, ON
2. SAVE ON ENERGY NEW RETROFIT PORTAL INFORMATION - Independent Electricty System Operator (IESO)
3. MINIMIZING ELECTRICITY THROUGH ON-SITE GENERATION Jan Buijk, CEO, EPS AB Energy - Guelph,ON

Cost is $99 - includes May 28 NETWORKING, MAY 29 EXPO, all educations, continental breakfast and lunch
---
SPONSORED BY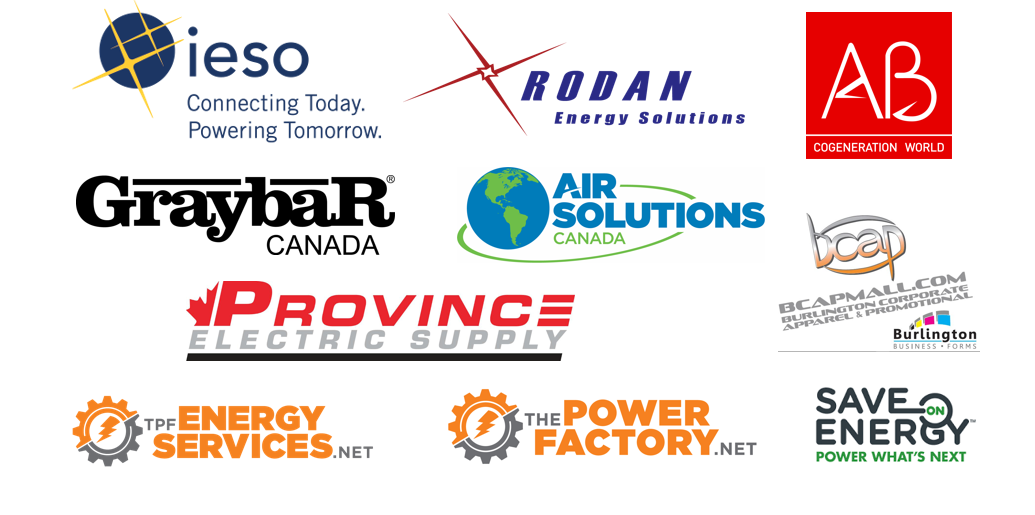 ---