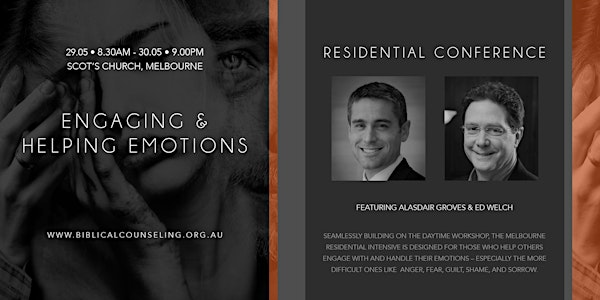 Engaging & Helping Emotions :Residential conference with A. Groves & E. Wel...
Event Information
Location
Scots' Church
156 Collins Street
Melbourne, VIC 3000
Australia
Description
Do you wish you could do more to help those who struggle emotionally?
Do you feel stuck when you work on thinking and it doesn't seem to help with troubling emotions?
How can we help bring peace when the turmoil of emotions won't stop?
Seamlessly building on the daytime workshop, Untangling Emotions, the Melbourne residential intensive is designed for those who help others engage with and handle their emotions – especially the more difficult ones like anger, fear, guilt, shame, and sorrow.
Pastors, counsellors and other helpers and leaders will grow in wisdom and skill as Ed and Alasdair speak from years of experience and extensive biblical reflection on this challenging area of ministry.
Connect with other helpers over shared dinners, lunch, breakfast, and morning and afternoon teas.
**Note for interstate attendees of the Melbourne Residential Conference: the residential conference begins with the Untangling Emotions one day workshop – which covers the same material one day workshop in your home state. If you register for the full residential, you can attend the workshp in your home state. **
Date and time
Location
Scots' Church
156 Collins Street
Melbourne, VIC 3000
Australia
Refund policy