The A to Z of Creating & Maintaining a Socially Inclusive Work Environment
About this event
On Thursday, August 12 at 1:00pm ET join us for our CSC-SJC Coalition Knowledge Exchange session on Engaging People with Disabilities: The A to Z of Creating & Maintaining a Socially Inclusive Work Environment.
Creating a truly inclusive work environment means involving people with disabilities at all levels. Developing an open line of communication to employ and maintain working relationships with people of all abilities requires an understanding of their networks, needs, and goals, and an openness to how everyone can contribute to the workplace.
This Knowledge Exchange session is designed for Human Resources specialists, community engagement workers, team leaders, and anyone with an interest in creating a more equitable, socially inclusive future.
In this webinar, strategies and tools to employ and engage people with disabilities will be presented. Taking into account organizational resources, discussion points will include:
Core teachings from critical disability studies that can assist in understanding people with disabilities –and in understanding yourself
Methods to recruit with people with disabilities, including creating programs with wide appeal and including the supports they may need for continued engagement
The importance of creating relationships with organizations led by the differently abled
Why flexible opportunities are necessary, and how they can improve the workplace for people with and without disabilities
Following the webinar delivered by Farrah K. Seucharan, Disability Advocate & Social Inclusion Researcher, there will be a 60 minute peer coaching opportunity in small breakout groups. This session has been coordinated by the Canada Service Corps Coalition Convening Team at TakingITGlobal in support of shared learning across CSC Partner Organizations.
Please note: There will be live captioning and live French translation only for the webinar content. An English-only recording will also be made available to registered attendees following the session.
--
Le jeudi 12 août à 13 h HE, rejoignez-nous pour notre Session d'Échange de Connaissances de la Coalition SJC-CSC sur l'Engagement Des Personnes Vivant Avec Un Handicap : De A à Z Pour Créer Et Maintenir Un Environnement De Travail Socialement Inclusif.
Créer un environnement de travail véritablement inclusif signifie impliquer les personnes handicapées à tous les niveaux. Développer une ligne de communication ouverte pour employer et maintenir des relations de travail avec des personnes de toutes capacités nécessite une compréhension de leurs réseaux, besoins et objectifs, et une ouverture à la manière dont chacun peut contribuer au lieu de travail.
Cette session d'échange de connaissances est conçue pour les spécialistes des ressources humaines, les travailleurs de l'engagement communautaire, les chefs d'équipe et toute personne intéressée à créer un avenir plus équitable et socialement inclusif.
Dans ce webinaire, des stratégies et des outils pour employer et impliquer les personnes avec un handicap seront présentés. En tenant compte des ressources organisationnelles, les points de discussion comprendront :
Enseignements de base tirés d'études critiques sur le handicap qui peuvent aider à comprendre les personnes handicapées et à se comprendre soi-même
Méthodes de recrutement des personnes handicapées, y compris la création de programmes très attrayants et y compris les soutiens dont elles peuvent avoir besoin pour un engagement continu
L'importance de créer des relations avec des organisations dirigées par des personnes vivant avec handicap
Pourquoi des opportunités flexibles sont nécessaires et comment elles peuvent améliorer le lieu de travail pour les personnes handicapées et non handicapées
À la suite du webinaire présenté par Farrah K. Seucharan, chercheuse en inclusion sociale, il y aura une opportunité de coaching par les pairs de 60 minutes en petits groupes. Cette session a été coordonnée par l'équipe de convocation de la Coalition Service Jeunesse Canada de TakingITGlobal à l'appui de l'apprentissage partagé entre les organisations partenaires du SJC.
Veuillez noter : Il y aura des sous-titres en direct et une traduction française en direct uniquement pour le contenu du webinaire. Un enregistrement en anglais uniquement sera également mis à la disposition des participants inscrits après la session.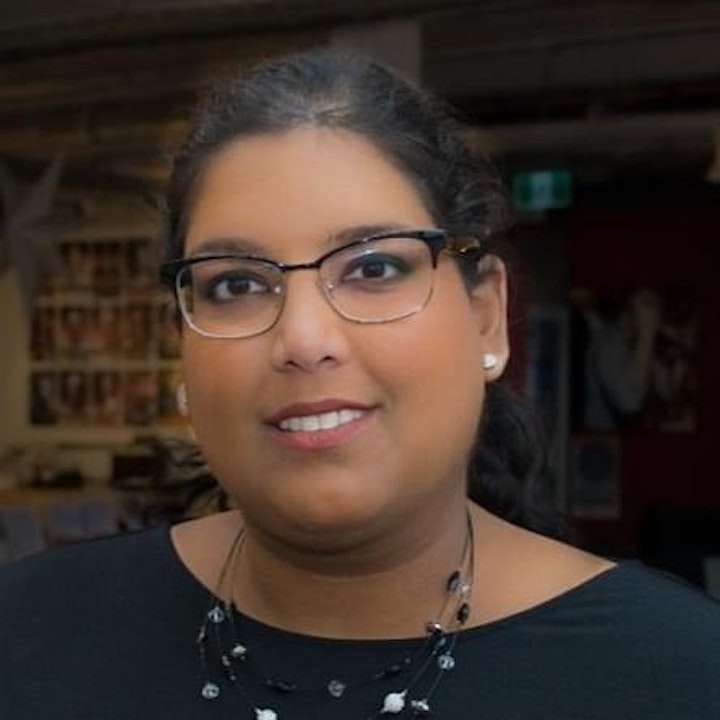 Farrah K. Seucharan holds (she/her) 15+ years of experience in community work, specializing in optimizing social change through outreach and coordination. As a young woman with chronic illnesses, Farrah's targets involve reducing inequalities for marginalized communities, advocating for people with disabilities, and creating space to discuss inclusive, hopeful futures. She has spoken at the University of Toronto on the patient experience, and has addressed the topic of increased representation of marginalized peoples in our political system at the Together│Ensemble 2020 Conference. An advocate of basic income, she also helped facilitate a summer webinar series educating the public about its history, purpose, and potential future in Canada.
Farrah is a current member of the Ontario Council for International Cooperation's (OCIC) Youth PolicyMakers Hub, and is a 2021 Inter-Council Network (ICN) Youth Delegate for Sustainable Development. She is a Master's Student in Poverty Reduction Policy at SOAS University of London, where her research focuses on virtual collective consciousness and its ability to shape social inclusion policies for more equitable futures.
---
Farrah K. Seucharan (elle) détient plus de 15 ans d'expérience dans le travail communautaire, spécialisée dans l'optimisation du changement social par la sensibilisation et la coordination. En tant que jeune femme souffrant de maladies chroniques, les objectifs de Farrah consistent à réduire les inégalités pour les communautés marginalisées, à sensibiliser aux besoins des personnes handicapées et à créer un espace pour discuter d'un avenir inclusif et plein d'espoir. Elle a fait un discours à l'Université de Toronto sur l'expérience des patients et a abordé le sujet de la représentation accrue des peuples marginalisés dans notre système politique lors de la conférence Together│Ensemble 2020. Partisane du revenu de base, elle a également aidé à animer une série de webinaires d'été pour informer le public de son histoire, de son objectif et de son avenir potentiel au Canada.
Farrah est actuellement membre du Youth Policy Makers Hub du Conseil ontarien pour la coopération internationale (OCIC) et est déléguée jeunesse pour le développement durable du Réseau inter-conseils (RIC) 2021. Elle est étudiante à la maîtrise en politique de réduction de la pauvreté à l'Université SOAS de Londres, où ses recherches portent sur la conscience collective virtuelle et sa capacité à façonner des politiques d'inclusion sociale pour un avenir plus équitable.