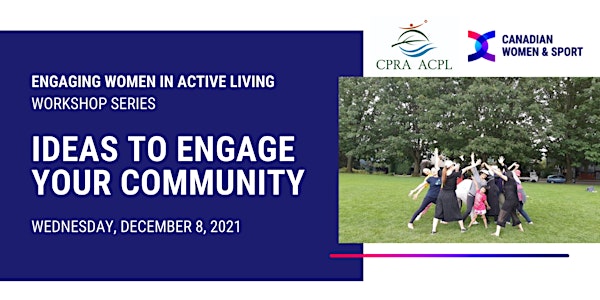 Engaging Women in Active Living: Ideas to Engage Your Community
Learn how to apply strategies to increase the participation of adult women in active living programs.
By Canadian Women & Sport
Date and time
Wed, Dec 8, 2021 8:00 AM - 9:30 AM PST
About this event
This interactive 6-part series will provide recreation and sport leaders with practical information on how to get and keep adult women active. The presenters will highlight the diversity of adult women and their many intersecting identities with specific considerations provided to engage women 55+, new mothers, Indigenous women and newcomer women.
In each 90-minute session, participants will learn about what motivates women to participate, and how to apply strategies to increase the participation of adult women in active living programs. Each presentation will highlight unique programs as case studies and feature regional guest speakers with expertise in leading successful recreation and sport programs for women. Plan to join us to learn more!
Guest Presenters
Shelley Callaghan will provide information on adult women in Canada and highlight what we have found works well to engage women in active living.
Valerie Fitzpatrick from Immigrant & Refugee Services Association PEI (IRSA) will explore the benefits of their women's dance and fitness program as well as their experience coordinating with local partners to get the entire community active together through Fresh Air Fun Events.
Sally O'Neill and Lilly Selvaraj will dive into their Ladies Only Trail Building Weekend and Active Pictou County's Welcome Winter Project highlighting the importance of partnerships and personal connections in getting and keeping women active.
This session is presented by the Canadian Parks and Recreation Association, in partnership with Canadian Women & Sport, Recreation NB, Recreation Nova Scotia, Recreation NL, and Recreation PEI.
The workshop series has been made possible by the Government of Canada.
About the organizer
 About Canadian Women & Sport 
Canadian Women & Sport (formerly CAAWS) is dedicated to creating an equitable and inclusive Canadian sport and physical activity system that empowers girls and women—as active participants and leaders—within and through sport. With a focus on systemic change, we partner with sport organizations, governments, and leaders to challenge the status quo and build better sport through gender equity.