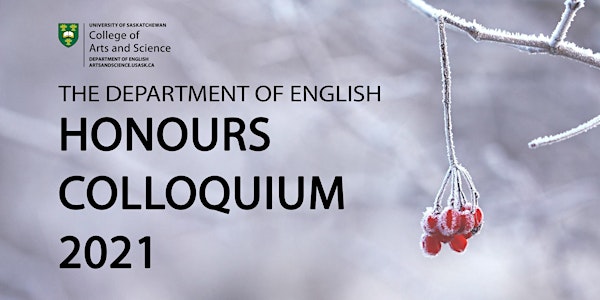 English Honours Colloquium
Our 11th Annual Honours Colloquium shares and celebrates the research of our graduating Honours students in four exciting Webinar panels.
About this event
Wed, Feb 3 to Fri, Feb 5
Fri, Feb 5
Four Zoom Webinar Discussion Panels (detailed schedule below).
Panel 1 - 11 AM
Panel 2 - 12 PM
Panel 3 - 1 PM
Panel 4 - 2 PM
Please note:
Each webinar panel has its own webinar link.
4 panels, 4 links.
On the morning of February 5, all registered attendees will receive one email, which will contain all four webinar panel links .
Fri, Feb 5 Schedule
11:00 - 11:35 AM
WELCOME AND OPENING REMARKS
Dr. Ann Martin, Professor and Acting Undergraduate Chair, Department of English
PANEL 1: DELVING INTO DICKINSON
Moderator: Dr. Jenna Hunnef, Professor, Department of English
Doubt as an Integral Component of Faith in Emily Dickinson's Poetry
Mae McDonald
"Were I with thee": The Distance between Desire and Love in Emily Dickinson's Poetry
Ana Cristina Camacho
Emily Dickinson and Involuntary Invasions of Privacy: The Problem with Defining the "Outer – from the Inner"
Lauryn Andrew
"I was the slightest in the House": Starvation, Smallness, and Self-Denial as Experiences of Anorexia in the Poems of Emily Dickinson
Megan Fairbairn
11:35 AM -12:00 PM
BREAK
12:00 PM -12:35 PM
PANEL 2: DUALLING LITERATURES; OR SOCIAL DIALOGUES IN LITERARY FORM
Moderator: Dr. Lisa Vargo, Professor, Department of English and Acting Head Department of Art and Art History
The Representation of Women in Fairy Tales from Marie de France to the Brothers Grimm
Chelsea Hill
Aemelia Lanyer, Ben Jonson, and the True Lineage of the English Country House Poem
Miguel Dela Pena
From Fear to Opportunity: The Napoleonic Wars in Maria Edgeworth's Belinda and Jane Austen's Persuasion
Cara Schwartz
12:35-1:00 PM
BREAK
1:00-1:35 PM
PANEL 3: MEDIEVAL FEMINISMS
Moderator: Dr. Yin Liu, Professor, Department of English and Coordinator, CMRS
Dido to Dames: Classical Antagonists in The Book of the City of Ladies
Deklan Iris-Hoscheit
"Both Dragons and Doves": Widows and Misogynistic Literary Archetypes in Dunbar's Tretiis of the Tua Mariit Wemen and the Wedo and Chaucer's Wife of Bath's Prologue
Megan Gorsalitz
Girls Also Want to Have Fun: Female Pleasure and Sexuality in Boccaccio's The Decameron and its Film Adaptation
Vici Herbison
The Modern Medieval Woman: Female Agency in Marie de France's Lanval, The Two Lovers, Equitan, and Chaitivel
Radiance Harris
1:35-2:00 PM
BREAK
2:00-2:35 PM
ACCESSING AUTONOMY
Moderator: Dr. Kathleen James-Cavan, Professor, Department of English
"Gratification of an innocent Curiosity": Resistance to Sexual Limitations on Women in Eliza Haywood's Fantomina, or Love in a Maze
Cori Thorstad
Resisting Racialized Narratives: Nancy's Visceral Impression in William Faulkner's "That Evening Sun"
Dana Kasdorf
Academic Libraries, UX (User Experience), and the Need for Accessibility in Academia
Ashley Lekach
2:35 PM
CLOSING REMARKS
Dr. Brent Nelson, Head, Department of English