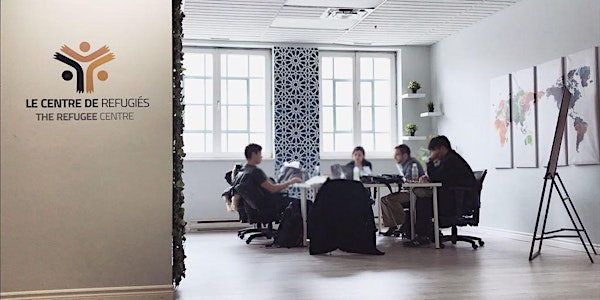 English - INTERMEDIATE - February 6 - March 30, 2023
**OUR CLASSES ARE ONLINE** They are held using a program called Google Classrooms. It is free and can be used on a phone or laptop.
By The Refugee Centre / Centre de Réfugiés
Date and time
Mon, Feb 6, 2023 5:15 PM - Thu, Mar 30, 2023 6:15 PM EST
Location
The Refugee Centre 1610 Rue Sainte-Catherine O Montréal, QC H3H 2S2 Canada
Refund Policy
Contact the organizer to request a refund.
About this event
Due to the COVID-19 situation, our classes will now be ONLINE using a program called Google Classrooms.
DATES for English classes:  February 6 - March 30, 2023
MON, TUES, WED & THURS - 5:15PM - 6:15PM
Please read class information below then click on the green button to reserve your place in the class.
----------------
À cause de la situation de COVID-19, nos cours seront maintenant EN LIGNE en utilisant le programme Google Classrooms.
DATES pour les cours d'anglais: 6 fevrier - 30 mars, 2023
LUNDI, MARDI, MERCREDI & JEUDI - 17h15-18h15
Veuillez lire les informations concernant les classes ci-dessous et ensues cliquez sur le bouton vert pour réserver votre place dans la classe
-------
(FRANÇAIS)
Voici quelques informations avant de procéder à l'inscription:
-En soumettant ce formulaire, vous serez inscrit au cours d'anglais. Vous soumettrez également un paiement de 50$ à travers Eventbrite. Ceci est un dépôt et il garantira votre place dans la classe. Vous recevrez ce dépôt à la fin des cours SI ET SEULEMENT SI vous participez à TOUTES les classes (vous aurez droit à 2 absences, voir ci-dessous).
- Vous devez correspondre à un des critères suivants pour pouvoir recevoir votre dépôt: vous êtes un réfugié/demandeur d'asile OU un nouvel immigrant OU un étudiant à Concordia. Si vous ne correspondez pas à ces critères, vous ne recevrez pas le dépôt.
- Il est obligatoire d'assister aux cours. Vous aurez droit à 2 absences. Si vous êtes absent plus de 2 fois, sans raison justifiée (rendez-vous chez le médecin, horaire d'examen...), vous serez retiré du cours et vous perderez votre dépôt de 50$. Vous devez nous prévenir d'avance de toute absence en envoyant un courriel à communications@therefugeecentre.org
- Seules les personnes qui se sont inscrits sur ce formulaire et qui ont payé le dépôt peuvent participer aux cours. Il est interdit d'amener ses amis ou sa famille pour assister aux cours sans inscription et sans avoir soumis le dépôt.
Les places sont limitées, donc inscrivez-vous à l'avance!
Pour des questions, contactez communications@therefugeecentre.org.
-----
(ENGLISH)
Here is some information about the classes, before you sign up:
-By submit this form, you will be registered in the English classes. You will also submit a 50$ payment through Eventbrite. This is a deposit and you will guarantee your place in the class. You will get your deposit back at the end of classes ONLY IF you participate to ALL classes (you are allowed to miss up to 2 classes only, explained below).
- You must correspond to one of these criterias: you are a refugee/asylum seeker OR a new immigrant OR a student at Concordia. If you do not correspond to one of these criterias, you will not receive your deposit. 
- It is mandatory to assist to classes. You are allowed to 2 unjustified absences. If you are absent more than twice, without a valid justification (doctor appointment, exam schedule...), you will be removed from classes and you will lose your 50$ deposit. You must send an email to communications@therefugeecentre.org to alert of any absence BEFOREHAND.
- Only the people who have registered to classes with this form can assist to classes. It is forbidden to bring friends or family without signing up and without paying the deposit.
Places are limited, so be sure to sign up early!
For questions, contact communications@therefugeecentre.org.
About the organizer
We are a group of students and alumni who have worked tirelessly to create an organization, which implores the student population to work together with the community to help strengthen the refugee & immigrant population through unity and integration.
__________________________________________________
Nous sommes un groupe d'étudiants actuel et anciens qui ont travaillé pour créer une organisation qui implore la population étudiante à travailler avec la communauté pour aider à renforcer la population des réfugiés et des immigrants par l'unité et l'intégration.