[EngSub] I Wish I Knew 海上传奇 - Mulan International Film Festival
Description
English Subtitles | Shanghainese and Mandarin Chinese | China | 138 minutes | 2010 | Documentary | PG
上海话和普通话 | 英文字幕 | 中国 | 138 分钟 | 2010 | 纪录片 | PG
The 30th Hawaii International Film Festival, Documentary Feature - Halekulani Golden Orchid Award
第30届夏威夷国际电影节 - 最佳纪录片
Mulan International Film Festival 2018 is proud to present I Wish I Knew (海上传奇, with English subtitles)!
About the Film 电影简介
Shanghai, a fast-changing metropolis, a port city where people come and go. Shanghai has hosted all kinds of people – revolutionaries, capitalists, politicians, soldiers, artists, and gangsters. Shanghai has also hosted revolutions, assassinations, love stories. After the Chinese Communists' victory in 1949, thousands of Shanghaiers left for Hong Kong and Taiwan. To leave meant being separated from home for thirty years; to stay meant suffering through the Cultural Revolution and China's other political disasters. Eighteen people from these three cities – Shanghai, Taipei and Hong Kong – recall their lives in Shanghai. Their personal experiences, like eighteen chapters of a novel, tell stories of Shanghai lives from the 1930s to 2010. An eternally wandering soul returns to Shanghai and, walking along the banks of the Huangpu River, awakens to all the changes the city has undergone.
Director 导演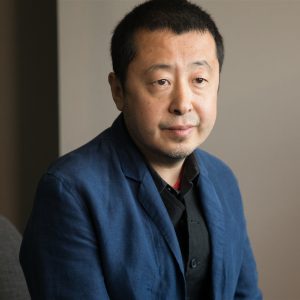 JIA Zhangke was born in 1970 in Fenyang, Shanxi Province of China. He graduated from Beijing Film Academy and made his first feature film Xiao Wu in 1998. Since then, he has been actively involved in filmmaking over China. His Still Life won the Golden Lion Award at the 63rd Venice International Film Festival in 2006. His latest feature, Ash Is Purest White, was selected to compete for the Palme d'Or at the 2018 Cannes Film Festival. In 2017, Jia, together former Venice festival head Marco Mueller, launched the Pingyao Crouching Tiger Hidden Dragon International Film Festival in his home province.
Credits 演职员名单
Director 导演:JIA Zhangke 贾樟柯
Screenplay 编剧:JIA Zhangke 贾樟柯
Executive producers 执行制片人:REN Zhonglun 任仲伦、CHOW Keung 周强、AN Gang 安钢、LI Peng 李鹏、LI Peng 李芃
Producers 制片人:WANG Tianyun 汪天云、YU Lik-Wai 余力为、Meg JIN 靳怡、LIN Ye 林野、XIONG Yong 熊勇
Cinematographer 摄影 :YU Lik-Wai 余力为
Editor 剪辑:ZHANG Jia 张佳
Sound 音效:ZHANG Yang 张阳
Music 音乐:LIM Giong 林强