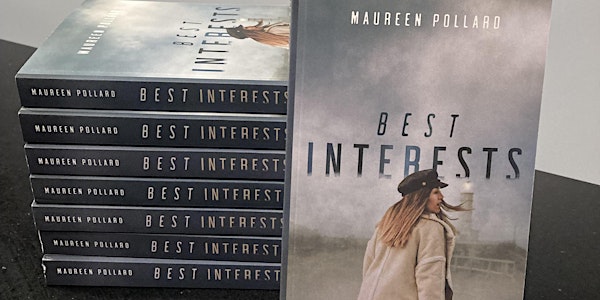 Enhancing Human Capacity from the Inside Out: An Innovative Learning Series
This 3-part webinar series is designed for helping professionals seeking to strengthen their capacity for resilience and self-preservation.
About this event
Register for all three webinars in order to receive your copy of the novel Best Interests and attend Webinar 1: Novel and Book Club Discussion. Participants may sign up for Webinar 2: Self-Preservation Strategies and/or Webinar 3 : Write for Wellness Experiential Workshop without participating in Webinar 1.
Webinar 1: Novel and Book Club Discussion
Facilitated by Kim Bergeron, participants will reflect on learning about self-care and well-being in helping professions from reading the novel Best Interests (1 copy included with registration). There will be an opportunity to share responses to discussion questions and ask the author, Maureen Pollard, questions. The objective is for participants to reflect on their own journey as a professional on the front lines in relation to what the characters in the novel experience. Guidelines will be provided to co-create the safest space possible for discussion.
Webinar 2: Self-Preservation Strategies
Participants will learn about factors related to personal resiliency and explore a range of practical self-care strategies. It is understood that working as a helping professional can erode our own human capacity and empathy. Strategies are needed to replenish and revitalize our own inner-strength to do this work. This session will invite participants to learn/relearn factors that have been shown to support resilience (acceptance of change, coping with thoughts and feelings, optimism and perspective, sense of control, sense of humour, creative problem solving, boundaries, SMART goal setting, social connection, gratitude practice, debriefing strategies) and how to develop a personalized wellness plan. By the end of the session, participants will have several strategies to add to their toolbox for self-care, ensuring attention to their personal growth.
Webinar 3: Write for Wellness Experiential Workshop
In the first part of the session participants will learn the potential benefits and risks of therapeutic writing for wellness, as well as strategies to reduce risk of emotional suffering that may arise during their writing practice. The second part of the session will focus on reflective writing practice and the use of a case study format. This session will include a series of short, focused sample writing exercises. No one will be asked to share their writing during the session. There will be an opportunity to ask questions about the writing process. The intention of the facilitators is to create a community of practice related to personal growth and writing for those participants who are interested.
About the facilitators
Maureen Pollard is a registered social worker with over 30 years experience supporting children, families, individuals and groups. After working for 20 years on the front lines of child welfare, Maureen opened a private practice where she focuses on the intersection of trauma and grief, as well as resilience recovery for professionals working on the front lines. With certificates in adult education and culturally inclusive education, Maureen taught social service work students at two Canadian colleges. She develops and delivers effective presentations and workshops for local and international audiences. Maureen also provides consultation and support in the development of wellness programming for organizations providing public health and public safety services. In addition to other self-preservation strategies, Maureen uses creative writing and songwriting as methods to process some of the emotional experiences of being human and working in high stress, trauma-exposed environments.
Dr. Kim Bergeron holds degrees in psychology and health studies and has over 25 years of experience working in community mental, public health and research organizations across Canada. She influences social workers, social service workers, nursing, rehabilitation and human geography students in undergraduate and graduate programs in Canadian institutions. Dr. Bergeron's current research focuses on aging and health and how to increase the capacity of all people to create a more inclusive and equitable world. Reflective practice and the use of writing are foundations for her own personal growth.