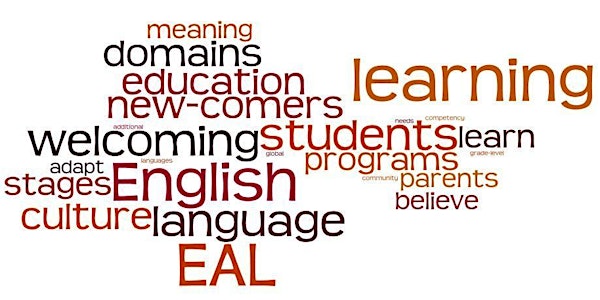 Enhancing Language Learning, PD for Grades 7-12 EAL/LAL Educators
TEAL Manitoba presents an exciting Mini PD opportunity: Thursday, March 20, 2022 5:00-8 pm
When and where
Location
Manitoba Teachers' Society 191 Harcourt Street Winnipeg, MB R3J 3H2 Canada
About this event
TEAL Manitoba presents an exciting Mini PD opportunity:
Wednesday, November 4, 2020, 5:00-8 pm
This session will be offered as a hybrid presentation - both for in-person and online participants.
Covid-19 Safety Protocols: All participants must:
have received two Covid-19 Vaccines 14 days prior to March 20, 2022
not be awaiting a Covid-19 test result on March 10, 2022.
not be managing Covid-19 symptoms at home
wear a mask upon entry and in-transit in common areas such as hallways and washrooms—masks may be removed when seated.
bring your own cup (for coffee, tea, water, etc.) - coffee, tea, and water will be available.
Thursday, March 10, 2022, 5:00-8:00 pm
In-person at Manitoba Teacher's Society, 191 Harcourt Street, Winnipeg
Target Audience: This workshop is intended for Grade 7-12 Educators.
Tickets: In-person and Remote Access tickets. In-person attendance is restricted due to restrictions so register early. In-person participants will receive a light dinner.
Registration Fee: There is no charge for Remote Access participants.
Fee to cover cost of food and expenses: TEAL Manitoba members—$5.00; Non-members - $15. Please bring exact change. You can pay by e-transfer to tealmb.eal@gmail.com
This practical workshop for Middle and Senior Years EAL/LAL students will explore teaching practices used by current teachers in their classrooms. There will be presentations by five teachers:
1. From Textbooks to PDFs: Giving EAL students an advantageThe session will demonstrate how to use free platforms such as Canva and Thinglink to remix their already made lessons plans and turn them into accessible media for new language learners. 
Dennis Nguyen is a divisional itinerant EAL/LAL teacher in Louis Riel School Division who supports newcomer and international students.  
2. Activities for the LAL Numeracy CoursesThis presentation will demonstrate LAL Numeracy Manipulatives Kit that addresses all four numeracy strands and how to infuse Financial Literacy in the course.
Lisa Desmarais is an EAL teacher, having taught in France, South Korea and Egypt for many years. Lisa completed her M.Ed. with a focus on English as an Additional Language.
3. Strategies for Adapting for Subject Area Courses
This session will center around adapting content area courses to accommodate EAL/LAL learners. Strategies will include adding visuals, teaching vocabulary, and simplifying language.
Jenn Beauchamp is an EAL teacher at Fort Richmond Collegiate who teaches both EAL tutorial courses and to content area courses adapted for EAL students. 
4. Signpost Reading Strategies This presentation will provide an overview of the close reading strategies outlined in Kylene Beers & Robert Probst's book, Notice and Note: Strategies and Close Reading. These strategies have been helpful in building literacy and providing students with concrete strategies for comprehending and responding to texts. 
Liz Teichroew is a teacher at Fort Richmond Collegiate for several years where she teaches E-sections of English Language Arts at the grade 10 and 11 level.
5. Outcome based Assessment for EAL Success  This presentation will focus on outcome-based assessment, specifically in the context of EAL learners. It will include both the philosophy of the assessment practice in an EAL classroom as well as specific assignments that use this method.
Ian Lindal's EAL teaching experiences include E sections of Grade 11 English Language Arts at FRC as well as Grade 8 and 9 Science at an international school in Thailand.