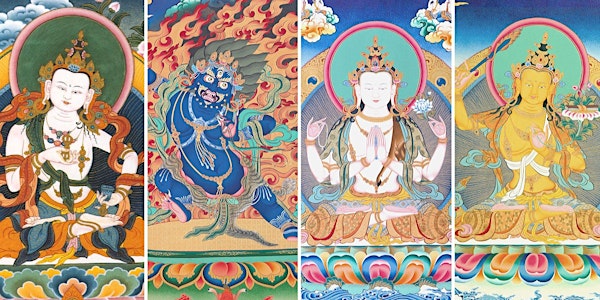 Enlightened Archetypes: Tantric Energies We Need to Awaken (ONLINE)
Refund Policy
Refunds up to 1 day before event
Eventbrite's fee is nonrefundable.
Description
NOTE: Due to ongoing COVID-19 concerns, we have restructured this weekend intensive originally set to take place in Calgary into online teachings. The original plan involved a Vajrapani wongkur. We will be looking at a future date when we can reschedule this for the Calgary participants. Stay tuned. In the meantime, if you would like an immersive experience of tantric deity practice, we encourage you to join the Tantric Deep Dive retreat that is still set to take place at Clear Sky Retreat Center in June. Click here for more details.
How is this event structured?
TWO online classes (the second will follow on from the first) at 10am Saturday 28th & 10am Sunday 29th March, 2020
[Note: Video recordings will be available to those who are unable to make the live teachings starting on Monday, March 30th in the morning. They will be accessible until end of the day Friday April 3rd. You must register before the event in order to access these recordings.]
Who is this experience for?
People interested in meditation and who want to:

shift stubborn habits and patterns - get 'unstuck'

stop self-sabotaging and embody their innate hero qualities

learn a powerful ancient practice that has been healing people for thousands of years
As humans, we're creatures of habit and patterns
The biggest habit, of course, is just being "me." I do this, I used to do that. I'm in a relationship with him or with her. I'm the smart one, cool one, artistic or spiritual one. Pick your schtick.
So, does this mean suffering? Yes, as wonderful as we all are, our unavoidable attachment to a sense of a fixed, permanent "me" lies at the heart of our suffering. The Buddha said it, in his first teachings after awakening to the truth of the Dharma - and he wasn't f***ing around, he went straight to the heart of the truth.
Think about it. We're subject to suffering when things don't go our way. (Which is often). How often do you not get what you want, or get what you don't want? It's happening all the time, from subtle things like not getting quite enough cream, to getting a speeding ticket or having a boss we don't like.
We suffer because our "me" wants control, our "me" requires a certain amount or kind of attention. Our "me" wants things, all the time, and won't let us dwell in peace. We're all a little different in how it manifests, of course. What causes us the most discomfort? Perhaps our self-image is suddenly challenged, our integrity doubted, or we don't feel respected, recognized, or loved, and our world spirals out.
If you're still reading this far, you've understood this to some extent. And what do we do when we 'hear' the calling to bring ourselves out of suffering? We listen to teachers, we read books, we contemplate "non-self" or "non-duality." Yet, this is still all within the framework of a "me."
We need to find a practice as powerful as our sense of "me", a practice that gives us energy to make changes and breakthrough heavy, sticky emotions.
Archetypes - helping us along on the hero's journey
Our minds are built on patterns and views. These come from our cultures, our families, and from our own preferences and experiences. They're necessary, because they're how we make sense of the world, how we're able to have conversations about things and not use up all our time making simple decisions.
Unfortunately, they are also mostly unconscious, or our understanding of them is incomplete. What's more, our views and sense of our fixed patterns, our "me", comprise the shadow - the parts of us we don't see or don't want to see, the blind spots in our views that limit our exploration and growth, and cause us and our loved ones unnecessary suffering. Until we bring light to these areas, the unconscious drives our decisions, reactions, views, and how we show up in the world.
Just get out of the way!
The beautiful thing is that we really don't have to do anything, so long as we can learn to get out of our own way. Our nature is to unfold, if only we can quiet the habitual mind enough to see these unconscious patterns in action.
And, there are ways to speed up the process. Tibetan practices (Vajrayana tradition) provide us with over 100 archetypal deities as tools to refocus the mind more consciously and also build a complete understanding of each energy.
Each deity represents a specific enlightened-energy focus. With Chenrezi (Om Mani Padme Hum), for example, the focus is building a sense of what compassion looks like:

With Manjusri, it is wisdom:

A Weekend Experience:
Over the course of 2 morning online talks, Doug Sensei will focus on the energies and teachings associated with Vajrayana Buddhist archetypes, and how they can be used wisely and compassionately for our unfoldment.
Part 1 – 10am Saturday Talk: Why do we need archetypes? An introduction to Tibetan deities
Part 2 – (Postponed) Empowerment Ceremony (Wong Kur) – Vajrapani, The Body of the Buddha
Part 3 – 10am Sunday: Embodying awakened energies through the practice
The Great Healing
Renowned psychologist Carl Jung studied archetypes, including the tantra of Vajrayana Buddhism. He believed that we all have access to such strong, healthy archetypes through the collective unconscious, yet individually they are largely misunderstood or incomplete.
Jung believed that one healing modality is to call them forth into consciousness and make them whole again. Indeed, enlightenment or the process of awakening is referred to as the Great Healing.
From this weekend experience you will:
Learn ways to shift blocked or flat energy

Gain a better understanding of archetypal energies how they can be used to heal hurt and aid your meditation practice

Learn techniques to use visualization in meditation

See how mantras can transform your energy at any moment
About the Teacher
Although a hermit at heart, Doug Sensei walks his talk as a proponent of a fuller awakening through community and working together. He lives with his teaching partner Catherine Pawasarat and their students in conscious community, at Clear Sky Center in BC.
With five decades of meditation practice and four decades of teaching, Achariya Doug Duncan is a master in the Vajrayana lineage. He received lay ordination from Namgyal Rinpoche in 1978, and is a lineage holder in that teaching. Known for his direct, humourous and compassionate engagement with students, Doug embraces various traditions, contemporary psychology, and science, to mentor all beings to a more awakened state.
Doug Sensei's teaching partner Catherine will be doing a one-month retreat at this time. Read more about Doug and Catherine at PlanetDharma.com, including student testimonials.

Read more testimonials of Doug Sensei here.
What's Expected?
Bring an open mind. No prior experience of meditation or Tibetan/ Vajrayana practices is necessary.
By coming to these talks you won't be expected to believe in deities, or to accept any particular doctrine.
Questions are welcomed.
Talks will start promptly at 10am and end at around 11:30am. Please arrive about 10 minutes early to ensure you don't have any technical issues joining the online Zoom session. (Instructions on how to access the online space will be included in your confirmation email.)
Dana (the practice of generosity)
These online teachings are offered on the basis of generosity. They are offered by Doug Sensei in the spirit of generosity and we encourage participants to reciprocate by giving as generously as you can based on your means.
You can learn more about the practice of dāna here.
Contact us
Message the contact@dharmahub.ca with any questions.