Location
Birken
8946 Pemberton Portage Rd
Birken, BC V0N 1L0
Canada
Refund policy
Contact the organizer to request a refund.
Eventbrite's fee is nonrefundable.
a place where you can go to be radically you. a place of profound healing, authenticity, joy, connection. more than a festival - a community
About this event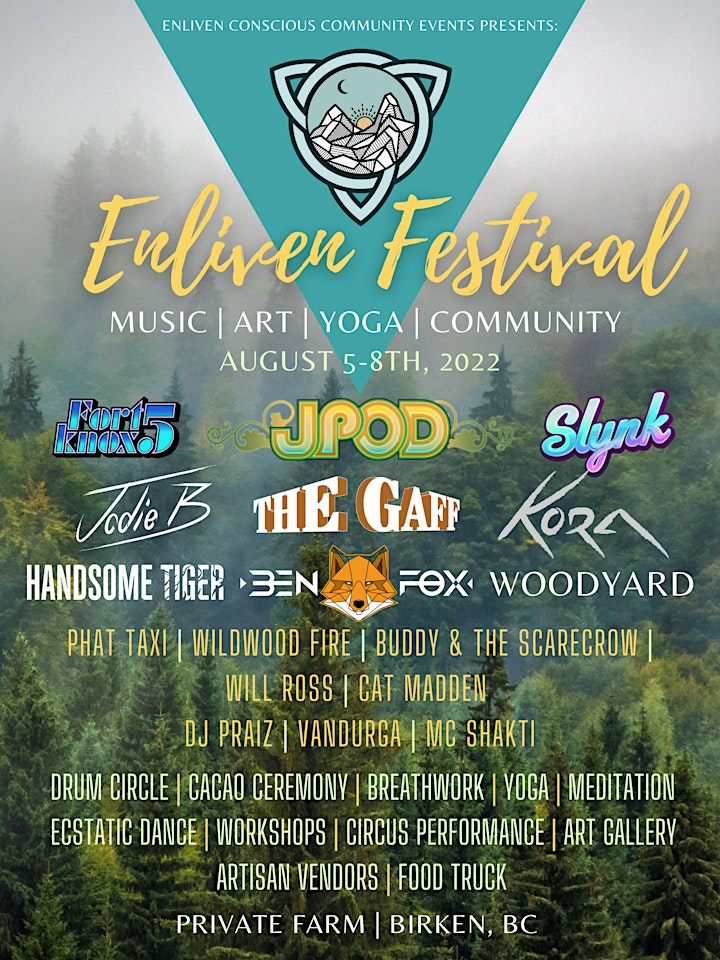 Enliven Festival is the coming together of human beings who passionately share their slice of life through creative expression.
It is a space to remove our masks and step into the truth of who we are.
To move past limiting beliefs and elevate our creative life force..
To dance to the beat of our own drum in devotion to mother nature.
To surrender to her sweet intoxicating rhythm, the sway of earth, water, flames and sky. 
To connect with the most loving and supportive soul family, the ones who see us, walk with us, dance with us, cry with us.. 
Our inspiration: an intimate version of the lovechild of old school Shambhala and Wanderlust
Gathering, ceremony and celebration are the medicine of our ancestors. They are the antidote to the disconnection we face as a society, and the support we need to move through transformations in our lives
The location.. a quaint yet exquisite garlic and flower farm in Birken BC.
Nestled in the mountains with Gates Lake a minute away, it is a little slice of paradise
We can't wait to share this special space with you on the unceded territory of the Lil'Wat Nation
It's time to gather to dance, move, shake, breathe, connect, learn and grow together as a community.
At Enliven, we want to leave you feeling nourished on a soul level and make all of your cells come alive.
Our intention is to create a safe space where people can be free, fully expressed and experience profound healing as well as authentic joy <3
Let's just say...this isn't your average bush rave :)
We have come to know that when it comes to connecting a community, the people create the vibe!
Our motto for this year is "quality over quantity". To maintain the intimacy of the Festival, tickets are limited to 250 people.
LINEUP COMING SOON
​
Festival Guidelines: 
​
At Enliven, we are committed to creating a safe and inclusive environment for people to connect and grow together. We ask that you treat others the way you would like to be treated (or better!). Make someone's day, show kindness, smile and let your beautiful light shine. We are here to create magic together <3 
​
Pillars: 
This gathering was founded on the following principles:
1. Participation : YOU are the heart of this festival. Your willingness to be open to new experiences, fully commit to participating and become part of the event is what will make this weekend come alive. 
2. Respect : Always treat others with respect. That means respecting their space, their wishes, their choices and speaking to them in a respectful and compassionate way. 
3. Inclusion : If you see someone hanging out alone, don't be afraid to talk to them. Some people are shy but will open up when there is an invitation to interact. We want everyone to feel included and welcome. 
4. Creativity : Just as with Participation, your creativity is of enormous value at this event and will help to make it possible. If you have decorations for our stage, ideas to make the space beautiful or want to join our organizer team please reach out. We are always open to more creatives joining the team who are bursting with colorful ideas! Further to this, we strongly believe that your experience at this event will be what you make it. You CAN create magic, you CAN create a container for healing within and you CAN create a more authentic expression of you! 
5. Consent : Kindness isn't consent. If you like someone and want to connect with them through touch, please ask first. 
6. Community : Connecting like-minded members of the Enliven community is at the heart of this event. We hope that you feel at home here, and that we can start to create a sense of belonging for those who are new here. 
7. Expression : Collective self expression is a rich and potent recipe for magic. However you feel fully expressed, know that that is welcome. You can move, shake, act, sing and dress how you want. We want you to be the real YOU, in the full spectrum of colors of your expression. Also, share your feelings with our support staff if there is something bothering you, you will be seen and heard. 
8. Authenticity : This is a place where you can remove your mask and embrace vulnerability, there is space for all of you here without judgement.
9. Presence : Now more than ever, we are facing an epidemic of technology addiction and disconnection of our people. Please do your best to remain present at the event, immerse yourself in the experience and turn your phone off unless you really need it! 
Have questions? See FAQ on our website:
www.enlivenwellness.ca/enliven-festival-2022  
Contact Us : festival@enlivenwellness.ca 
Can't wait to see you all!!! <3