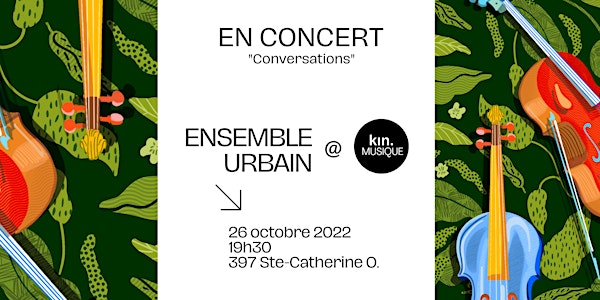 Ensemble Urbain: "Conversations"
Ensemble Urbain et leur programme "Conversations" propose au public le dialogue le plus intime entre musiciens : le duo
When and where
Location
Kin Musique 397 Rue Sainte-Catherine Ouest Montréal, QC H3B 5H1 Canada
Refund Policy
Contact the organizer to request a refund.
Eventbrite's fee is nonrefundable.
About this event
Le programme "Conversations" propose au public le forme de dialogue le plus intime entre musiciens: le duo. Le programme explore les différentes approches des compositeurs sur le médium, mettant en vedette des œuvres de Maurice Ravel, Paul Wiancko et de la compositrice actuelle de l'École de musique Schulich, Lila Wildy Quillin. Pour conclure le programme, tous les musiciens du programme se réunissent pour interpréter une autre œuvre de Wiancko « Only Ever Us », une pièce que le compositeur décrit comme « une excuse pour rassembler… une raison de mieux connaître quelqu'un et une chance de partager un moment avec lui. »
Conversations treats the audience to the most intimate form of dialogue between chamber musicians – the duet. The program explores composers' different approaches to the medium, featuring works by Maurice Ravel, Paul Wiancko, and current Schulich School of Music composer Lila Wildy Quillin. To conclude the program, all the musicians on the program come together to perform Wiancko's Only Ever Us, a piece the composer describes as "an excuse to gather… a reason to know someone better and a chance to share a moment with them.
--
Programme:
American Haiku (2015) – Paul Wiancko (1983- )
書法 Calligraphy (2020) -- Lila Wildy Quillin (1999- )
Sonata pour violon et violoncelle (1922) -- Maurice Ravel (1875-1937)
Only Ever Us (2021) – Paul Wiancko
Russell Iceberg, Julia Mierzoet & Will Thain, violons
Troy Stephenson, viola
Joshua Morris, cello
--
L'Ensemble Urbain est un ensemble à cordes sans chef spécialisé dans les œuvres de compositeurs sous-représentés. En tant qu'ensemble basé à Montréal, nous nous efforçons de faire des concerts de musique de chambre une partie intégrante de notre communauté en apportant notre art dans des espaces au-delà de la salle de concert traditionnelle. Nous aimons ces espaces parce qu'ils favorisent les liens entre nous et notre public. Nous accordons la priorité à la programmation musicale par des compositeurs de tous les genres, de toutes les ethnies et de toutes les orientations sexuelles, et nous sommes fiers de jouer de la musique qui invite notre public à vivre quelque chose de nouveau.
@ensembleurbain
Ensemble Urbain is a conductorless string ensemble specializing in works by underrepresented composers. As a Montréal-based ensemble, we strive to make chamber music concerts an integral part of our community by bringing our art to spaces beyond the traditional concert hall. We love these spaces because they encourage connections between us and our audience. We prioritize programming music by composers of all genders, ethnicities, and sexual orientations, and we pride ourselves in performing music that invites our audience to experience something new.
@ensembleurbain