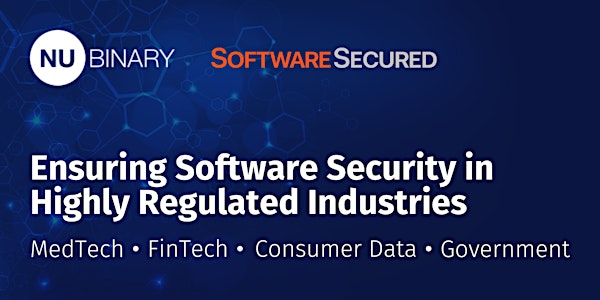 Ensuring Secure Software in Highly Regulated Industries
Insights on how highly SaaS platforms in regulated industries such as FinTech and MedTech can meet higher software security standards.
About this event
Join NuBinary and Software Secured for an open discussion on how to ensure secure software in highly regulated industries such as FinTech and MedTech.
This is an open conversation between NuBinary's Co-Founder, Alireza Sharifi, and Software Secured's CEO, Sherif Koussa. Some guiding points for the session include:
Who is responsible for security & who should be making decisions
What security processes need to be in place (general)
What security processes need to be in place (specialized to highly regulated industries)
What compliance standards exist for highly regulated companies to comply by
What are common challenges of managing security in highly regulated industries (+ how to overcome/prepare)
Ideal for CTOs, CISOs, VPs of Engineering, and Security Directors who manage an application or software in a highly regulated industry.
The session will be recorded and send to participants following the session. By registering, you consent to your information being shared with both NuBinary and Software Secured. Please email info@softwaresecured.com and reference "NuBinary and Software Secured August 16th Webinar" if you have any questions, concerns, or specific conversation points you would like to hear about during the session.