Este evento ha finalizado.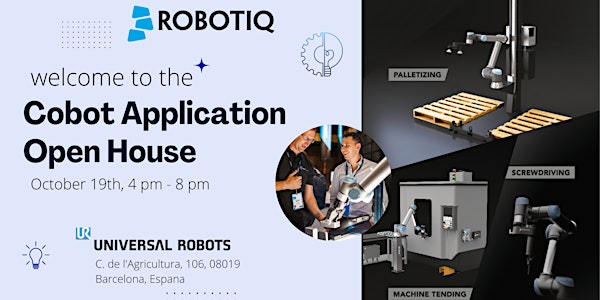 Robotiq Cobot Applications Open House x UR Barcelona
Join Robotiq x Universal Robots Users Open-House & meet the leaders of the Cobot Applications in Palletizing, Machine Tending & Screwdriving
Cuándo y dónde
Ubicación
Universal Robots A/S 106 Carrer de l'Agricultura 08019 Barcelona Spain
Acerca de este evento
Today's smart manufacturers want to automate manual tasks with robots, but getting robots up and running is complex.
Robots should simplify your life, not make it more complicated.
Working with manufacturers globally (and being a manufacturer too!), we understand the challenges of maintaining quality, delivery time, and cost amidst the labor shortage.
Come find concrete and easy-to-deploy solutions during the first Cobot Applications Open House. happening in Barcelona, on October 19th. Here is what you can expect:
- 4:00 - Welcome moment
- 4:15-5:00 - Keynotes on Collaborative Robots Application Solutions
- 5:00 - 8:00 - Hands-on Sessions & Demos:
Smart Scaling with Cobot Palletizing;
Consistent Screwdriving around the clock;
Automating your CNC Machine Tending the easier way;
Drinks and fun!
*Seats are limited, make sure to register now!
*Demos & Keynotes held in Spanish & English.
Since 2008, Robotiq has pursued its mission of freeing human hands from repetitive tasks enabling more than 13,000 collaborative robots, or "cobots", worldwide. From SMEs to multinational companies, we're helping manufacturers simplify their processes with easy-to-use automation solutions.
Since 2005, Universal Robots has worked to make a difference in our customers' lives in ways that matter most to them.
More than simply automation, Universal Robots changes how people work and live around the globe by empowering their ideas and dreams – whether it's helping a non-profit improve people's vision in the poorest countries or allowing a manufacturer to reduce the strain of repetitive tasks.