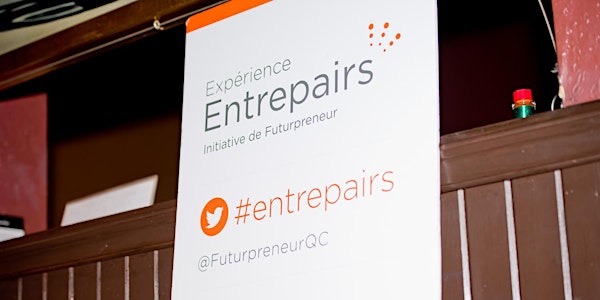 Entrepairs/Entrepeer - Montréal (QC)
When and where
Location
KEG VIEUX-MONTRÉAL 25, Rue St. Paul Est. Montréal, Québec H2Y 1G2 Canada
Description
Prenez part à l'Expérience Entrepairs, présentée par The Keg Steakhouse + Bar
Les événements Entrepairs sont des occasions uniques pour tisser des liens avec les entrepreneurs, les mentors et les plus remarquables chefs d'entreprise de votre ville.
Faites des rencontres
Intégrez une communauté de jeunes entrepreneurs, de mentors expérimentés et de chefs d'entreprise locaux, et bénéficiez ainsi de conseils, d'opportunités de collaboration et de la puissance d'un réseau.
Apprenez
Assistez aux prises de parole d'experts, invités pour partager leurs connaissances, leurs expériences et échanger sur les sujets et les défis que rencontrent les entrepreneurs.
Gagnez
Participez à un événement dans votre ville pour tenter de gagner de très beaux prix!
---
Join us for the Entrepeer Experience served up by The Keg Steakhouse + Bar
Entrepeer events offer an opportunity to make in-person connections with young entrepreneurs, mentors and business champions in your city.
Connect
Join a community of young entrepreneurs, seasoned mentors and local business leaders for support, collaboration and networking.
Learn
Hear from guest speakers who are sharing their skills, experience and subject matter expertise on the topics and issues that are most relevant to entrepreneurs.
Win
Attend an event in your city for the opportunity to win a $50 gift card to The Keg Steakhouse + Bar.